Dilli 32
The Leela Ambience Convention Hotel, New Delhi
Rs 3000 for two
This price is indicative and exclusive of taxes
North Indian
Today, 07:00 PM to 11:45 PM
The Leela Ambience Convention Hotel, Maharaja Surajmal Road, Vishwas Nagar, New Delhi
7861004444
INSIDER TIPS
The shahi galawat ke kabab are the best in town
It is worth a drive to dine here
Live music on the weekends adds to the charm
Intemperance and extravagance a gorgeous zenith of the lavishness of the former Indian royalties and the fashionable Indian design, reflects as one enters. Most dishes served have a balance of flavour and texture, the exquisiteness of simplicity, and the understated sensuality with well paired spirits and wines. Try the vodka infused shikanji, flavoured iced teas, and mojitos made with seasonal fruits. On the food menu here is the best of kababs, curries and breads. For starters, do not miss out on the 'tandoori jheenga', and the 'nukti kabab' a perfect blend of aromatic and robust spices, done to perfection out here. Vegetarians would love the 'palak ki asharfian' a house creation by the chef, which is basically a spinach cake blended with apricot, betel leaf, khoya and pine nuts. The Daal Dilli 32 which is stewed for 48 hours with home churned butter is to die for. Do try the gucchi Zaffrani, exceptional Kashmiri morels in piquant gravy, best harmonising with hot and fresh Kashmiri naan. To end on a sweet note, try not to miss the fabulously creamy 'kulfi faluda' this is a true bounty of subtle almond and sandal flavours or the 'hari mirch ka halwa' which far from putting off, might win a few converts yet.
Wi-Fi
Alcohol Served
Credit cards
Air Condition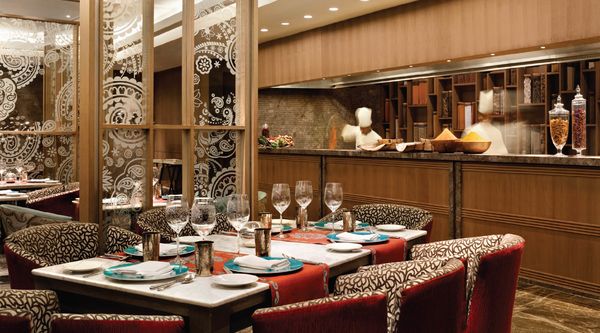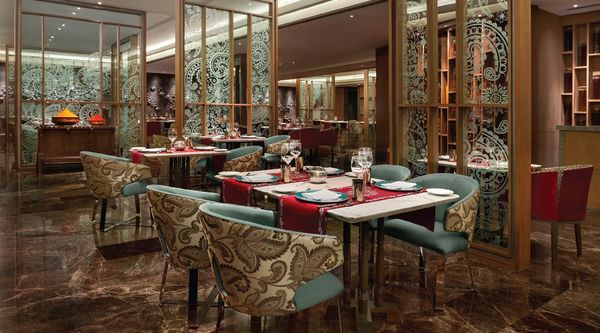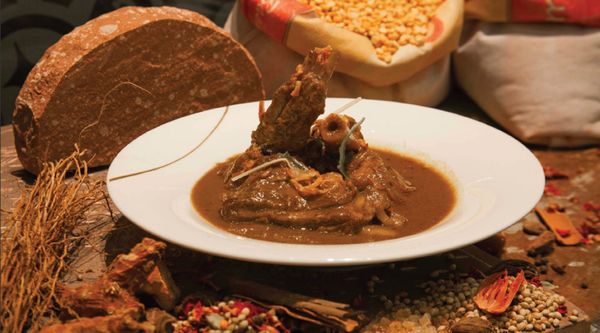 User Reviews on Dilli 32 , The Leela Ambience Convention Hotel, New Delhi
---
Kabir Midha
Posted on : 14 Nov, 2016
☆ ☆ ☆ ☆ ☆
Good Restaurant
I visited this restaurant about 3 months back. The food is decent but what makes up for the average food is the exceptional service and the attention to detail displayed by the staff members. The Mirchi Halwa was unique and very tasty. Try visiting this place on a weekday as the weekends get a little busy.
---
Deepakshi Bakhi
Posted on : 26 Mar, 2015
☆ ☆ ☆ ☆
Must visit once
I visited only one time to celebrate my husband's birthday. The ambience is nice and the quality of food is good.Really had a great service and delicious dinner. Price are little high but its worth going there. The place is royal and you feel like royalty :) They respect their customers and their customers satisfaction is nice :)
---
Read All Reviews
Publish a Review
BOOK A TABLE
Earn Free Meals
Earn 100 EazyRupees per person on every booking and get closer to your free meal.
Know more
Other Relevant Links To Dilli 32 , The Leela Ambience Convention Hotel, New Delhi
Food Articles and Trends where Dilli 32 is Featured
Best Places To Eat in Delhi NCR
Popular Cuisines In Delhi NCR
Top Restaurants To Eat In Delhi NCR
---
EazyDiner
---
---
By continuing past this page, you agree to Terms & Conditions and Privacy Policy. All trademarks are property of their respective owners.
© 2017 EazyDiner Private Limited. All Rights Reserved.