Indian Accent
The Manor, New Delhi
4.5
|
1559 Reviews
This price is indicative and exclusive of taxes
Today, 12:00 PM to 02:30 PM, 07:00 PM to 10:30 PM
The Manor, 77, Friends Colony West, New Delhi
7861004444
INSIDER TIPS
Book! It is a small room and walk-ins are unlikely to get a table
Chef Manish goes to each table so tell him what your preferences are and he will accommodate them
Groups of 8 to 12 should book the chef's table from which you can see Manish in action
Global critics are agreed. This is India's best restaurant and probably one of the best modern Indian restaurants in the world. Tucked away in the tiny Manor boutique hotel in the residential sprawl of Friend's Colony, this small, simply-decorated restaurant is nearly impossible to find unless you know where to go. Genius chef Manish Mehrotra changes his menu nearly every week but his signature dishes have included Chilean Spare Ribs with pickle flavours and deep Fried Soft Shell Crab with Coconut Chips.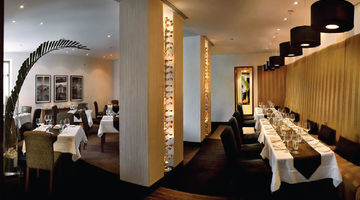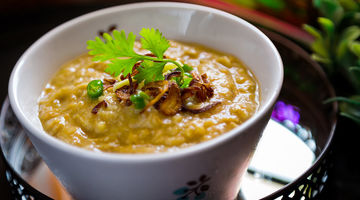 User Reviews on Indian Accent , The Manor, New Delhi
---
Overall Rating
(Based on 1559 reviews)
Powered By
Food
Atmosphere
Service
Value
---
Saarthak_Mahapatra
Posted on : 28 Jun, 2017

Worth all the hype
Dining at Indian Accent is an experience to remember for a long time. It was our wedding anniversary and we are glad we chose to dine at this restaurant. Whether it's the taste of the dishes, or the presentation or the impeccable service, everything was exceptional. Not surprising at all that they are listed among the top 50 restaurants in the world. I hope they become the first restaurant in India to get a Michelin star as well. After deliberating on the menu for a while, we decided to go for the chef's tasting menu and we are glad we did so. The six course degustation style meal was one of the best we have ever had in any restaurant. The amuse-bouche and the palette cleanser were exceptional too. They were happy to customise the dishes according to our dietary requirements. I decided to have the baked fish instead of mutton for one of the courses and it was extra ordinary. The fish was perfectly cooked. It almost melted in the mouth. I would have liked a tiny bit more coconut flavour in the chettinad chicken keema. But it's just nit-picking. The dish was great nevertheless. While booking the table, I had mentioned to them over the phone that it was our wedding anniversary. They remembered that and our desert platter had a candle and a message to wish us. It was certainly a very nice gesture. Needless to say the staff were very friendly and attentive without being annoying. We are looking forward to dining there again. Although it is not their fault, being unable to serve alcohol because of the changed law, is a bit of a disadvantage for them. No wine at a fine dining restaurant is bit of a miss. I hope they find some sort of a work around.
---
jeff-watkins77
Posted on : 24 Jun, 2017

Tasting Menu, Indian Style
We were lucky enough to be staying in the hotel where this, the best restaurant in India for 201X, was located. Even luckier, we arrived frazzled but they had a table left for us. This is not cheap food my friends, it's expensive, even by UK standards, but sometimes in life, you get what you pay for! Their vegetarian tasting menu is transcendental, each dish amusing and challenging. Highlights included pulled jackfruit curry, a giant stuffed morel, little pani puri stuffed with angels' tears (or so it tasted) and a genuinely excellent wine pairing. My girlfriend had the meat equivalent and it was also amazing. The service was attentive and polite. Extra "secret" dishes were brought out to further amuse. The whole experience lasted over two hours! Michelin star quality food. My only compliant that if you're not there for the tasting menu, service can be slow and inattentive. They favour the big spenders, leaving guests dry sometimes. Overall though, I'd highly recommend.
---
Alokmili77
Posted on : 22 Jun, 2017

Great
A good concept contemplary Indian food with a twist.Each & every item is innovative & good in taste.Fast efficient service smiling staff overall a good experience
---
Billy G
Posted on : 18 Jun, 2017

Simplicity at its best.
I've eaten here before with a client and his family before, but only until my return to IA did I remember being there. I know what you're saying "well it can't be that memorable" well no. I'm very BAD when it comes to area names and POI to remember, although I am getting better. If you asked me to tell you about it? I could've described its interior and quiet relaxing feel as we were greeted with a warming nature as my clients wife received a rose on arrival. You don't forget that and I wasn't surprised that on my return myself and my date received the very same treatment. It's simple minimalistic interior screams "UPDATE ME" but when you settle into your surroundings you realise it's exactly as it should be. Italian, cloth, mahogany, dim lighting and creams enclose your body to make it calm, relaxing and cute in a way. The food was possibly the best Italian ice experienced in Delhi. With India and it's beef ban that's the only disappointment in an Italian restaurant that could t be provided but it's totally out of the owners hands. It was hard to find a problem with the food we ordered and the same with the choices of wine to go with it. If you have a small group, ask for the secret down stairs room (I'll say no more) that's just score the bathroom. I diffuser you go see it. Whilst you read the stories on your way there with plaques on the walls. In all. I wouldn't say a 10/10 but it's so close tat you can taste it.
---
vinod p
Posted on : 15 Jun, 2017

Exclusive!!
Visited Indian Accent, Friends Colony, New Delhi with family last week. It was one of the MOST delicious food I've had in a loong time. Manish Mehrotra, the great Chef was also there. What superb & unique ideas he has for creating the delicacies. We took the Chef's menu, which served small portions of all his special dishes (with repeats if requested) and they were delicious. At the end our tummy was full and we were completely satisfied. Last, but not least, the mouth fresheners on a miniature bed an a small parting gift!! Though a little expensive, the food and experience is definitely worth it.
---
BOOK A TABLE
Earn Free Meals

Earn 100 EazyPoints per person on every booking and get closer to your free meal.
Know more
About Indian Accent, The Manor, New Delhi
Indian food is considered to be rich and covered in gravy. But Indian Accent has changed all that and created a new definition of our cuisine. The modern avatar of Indian dishes generated by chef Manish Mehrotra are a revelation. He is a genius who tries to give his regulars a change every week. He is innovative and keeps within bounds of the authenticity offering dishes like pulled kathal phulka taco which is essentially a jackfruit wrap.
Duck khurchan cornetto and potato sphere chaat represents as impeccable entrée. Pao bhaji with ricotta wada is exceptional. Tamarind fish with coconut barley reminds of coastal ghat, its each morsel a pleasure to eat. The chef has strewn the menu cleverly playing with textures and different flavours. The menu is written in composed and well thought manner. The plate prepared comes to you a visual delight. The bread bar is unconventional with its chilli hoisin duck kulcha, Applewood smoked bacon kulcha, wild mushroom kulcha. The combinations are so unique and untried in India. Wasabi raita is unheard of! For dessert section he keeps on his winning streak. His mishit doi cannoli and besan ladoo tart is just an extention of his talents. You can also opt for chef's dessert platter for best of everything. The wine list supplies to every need. Be it champagne or wine it is equipped to match each occasion. The staff is very observant and intuitive to your needs.
The best part of the meal is that the chef comes personally to discuss the meal so you can pick his brain with this awesome bonus. Indian Accent is expensive but worth every penny with its once in a lifetime experience. It maintains its exclusiveness by being hard to find so be prepared to tour friends colony west pretty well. Its location make it even more elusive. Book in advance so you don't miss out on the restaurant's hidden delights. If you are fortunate enough to be seated then don't forget to try chef's signature dishes. Ask for chef's table if you have a large gathering so you can watch chef Manish in all his glory. The décor is deceptively simple and classic but the food served is exceptional. Such talent within our reach should be savoured and tried often.
Other Relevant Links To Indian Accent , The Manor, New Delhi
Food Articles and Trends where Indian Accent is Featured
Popular Locations in Delhi NCR
---
Popular Cuisines in Delhi NCR
---
Top Restaurants in Delhi NCR
---