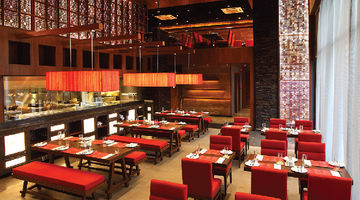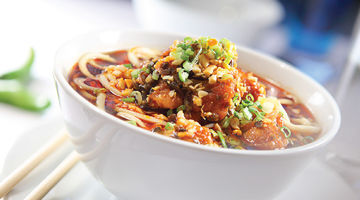 User Reviews on Nooba , Golf Course Road, Gurgaon
---
Overall Rating
(Based on 28 reviews)
Powered By
Food
Service
Value
---
Nupur M
Posted on : 18 Jan, 2018

authentic pan Asian food
a casual dine in restaurant that serves dilicious varieties of Thai, Asian food .they have amazing interiors and subtle ambience.the service was dam speedy and people serving were also very polite and generous.we ordered the seafood soup which was preety good in taste.being sea food lover I loves their soup.i also liked their jasmine tea which had nice fragrance .they have live kitchen as well .also ordered the Virgin Mojito which was different than you get served in all restaurants.in dessert I tries the Brownie with vanilla ice cream
---
Shravani27
Posted on : 13 Jan, 2018

Quite a favourite
We love Nooba. Love their ma po tofu chicken and their corn pepper appetizer. Great soups too. All in all great Chinese food
---
Sumant S
Posted on : 01 Jan, 2018

Great food and service..
The ambience is good..Food is of good quality and service is great..We tried soups, starters and main course with desserts..Chicken rice bowl was good and apple pie was really nice..
---
Dishaa S
Posted on : 27 Oct, 2017

super food
a basically meal bowl restaurant, it has restricted menu but nonetheless excellent food for all courses. their chocolate roulade is to die for.
---
MUTTOOS
Posted on : 26 Aug, 2017

Nooba : Revisit
Back at Nooba. Another wonderful experience. Had soup. main course and dessert.standards maintained in terms of quality, quantity ,service and price.Would recommend to all to visit once.
---
BOOK A TABLE
Earn Free Meals
Earn 100 EazyPoints per person on every booking and get closer to your free meal.
Know more
About Nooba, Golf Course Road, Gurgaon
Nooba is a gem of a Chinese restaurant, located in the buzzing lanes of Golf Course Road, Gurgaon. Beautifully done up with red sofas and dim lights in the background. This restaurant in Gurgaon offers combo meals besides a la carte menu. Fish with dry chilli bean, chicken cucumber soup, chicken with oyster sauce, tenderloin hotpot, fried rice with lamb and Sichuan sauce are few dishes that one must have. With a wide variety of noodle bowl on their menu, this place serves delicious noodles in Gurgaon. They have happy hours from 4 pm – 8 pm. Their dessert menu has darsan with ice cream and Arabian honey cake that one must have. This place is perfect for dining with friends and family.
Other Relevant Links To Nooba - Chinese Restaurant in Golf Course Road, Gurgaon
Other Chinese Restaurant Menus in Delhi NCR
Food Articles and Trends where Nooba is Featured
Other Branches / Outlets of Nooba in Delhi NCR