The Grill Room
The Lalit, New Delhi
4.5
|
73 Reviews
This price is indicative and exclusive of taxes
Today, 07:00 PM to 11:45 PM
The Lalit, Barakhamba Avenue, Connaught Place, New Delhi
7861004444
INSIDER TIPS
Steak lovers can choose between various kinds of wagyu and angus from the US
The wine list is much too basic but the French sommelier has devised some interesting pairings including waygu carpaccio with Chablis – it works because of the citrus in the dressing
If you are a vegetarian, go somewhere else
The Lalit Hotel, in its many avatars, has always had a grill room. But now that Keshav Suri, the hip young son of the founder has taken over, there is a conscious attempt towards world-class food and beverage standards. The new menu at the Grill Room, with its range of steaks, is among the most outstanding of its kind in the city. There are no concessions to local tastes. This is an international operation run to international standards.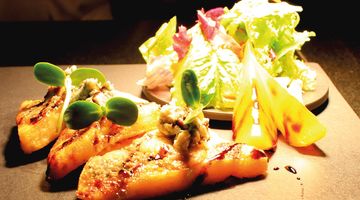 User Reviews on The Grill Room , The Lalit, New Delhi
---
Overall Rating
(Based on 73 reviews)
Powered By
Food
Atmosphere
Service
Value
---
wineguyindia
Posted on : 03 Jun, 2017

Excellent European Cuisine
We had a wine dinner with a full house of 33 people. Excellent food and fabulous, seamless service. Delicious wines, well paired with food. Charles Donnadieu, the French Sommelier does a great job of food and wine pairing and Aman Gujral, the restaurant manager and his team, charm with their service with a smile. Butter garlic prawns matched divinely with Baron Albert Brut champagne. One misses the old venue though- which was a landmark restaurant for a fabulous view of Lutyens Delhi The current location has practically no window and only the main entrance to the restaurant.
---
VASUDEVAN1532344
Posted on : 20 May, 2017

Grill Room dining was a different experience,
Visited with a colleague for Tandoori dishes and like the food too much. Ideal for leisurely dinner with friends or family
---
Vivek0710
Posted on : 10 May, 2017

Hopeless
Even they are not able to prepare basic drinks like fresh lime. Lalit loyalty doesn't work here. Services and seating are disappointing
---
Sunil K
Posted on : 02 May, 2017

Good food
Very good grilled food but ambience needs to changed earlier this restaurant was on the top floor which made the difference how ever service is good
---

Family dinner
After coming back from agra looking at the Taj Mahal . We decided to have dinner at our hotel Grill Room.Food we ordered came out nicely done n delicious We were served and hosted by Anil and Pan Singh who both have exceptional customer service. Pan Singh has displayed his passion for the work he does. Me and my family will definitely recommend this restaurant to my familys and friends when they come to Delhi anytime.
---
BOOK A TABLE
Earn Free Meals

Earn 100 EazyPoints per person on every booking and get closer to your free meal.
Know more
About The Grill Room, The Lalit, New Delhi
The Grill Room at The Lalit in Connaught Place, Central Delhi offers exotic meat, seafood and poultry dishes around the world. Located at the 28th floor of the hotel, the 360 degree view of the city is spectacular from their windows. They serve the best steaks in Delhi paired along with the best European wine. Wagyu carpaccio, goat cheese tart, filet mignon, rib eye steak, New York strip steak are a must have. You can also order potatoes or vegetables as a side dish with your steak. This restaurant in CP is done up in a posh and sophisticated way. The presentation of the food is classy and beautiful. A bit expensive, this place is most definitely the best restaurant in Delhi to have steaks.
Other Relevant Links To The Grill Room , The Lalit, New Delhi
Other European Restaurant Menus in Delhi NCR
Popular Locations in Delhi NCR
---
Popular Cuisines in Delhi NCR
---
Top Restaurants in Delhi NCR
---