Jumka Bhakar, Poran Poli, Usal Pav, Dahi Misal: Marathi dishes making their entry into sweet Ahmedabad!
One thing the Gujarati is famous for is their love for travelling and being enterprising apart from, of course, being business minded. So, it is no surprise that they are always open to trying out new flavours and cuisines. But till recently, the taste of neighbouring Maharastra had not made too much of an inroad into Ahmedabad. Now newer places are offering Maharashtrian delicacies and there are also a few dedicated Maharashtrian restaurants in the city.
Unlike Gujarati food where even savoury dishes are sweet, Maharashtrian food is spicy but it is flavourful and quite a few dishes are also made in Gujarat like Poran Polli, Usal and Poha. So, Gujaratis are familiar with the flavours of their neighbouring state.
We present to you some of the restaurants serving delicious Maharashtrian food. Here is the list of top 5 restaurants serving Maharashtrian food in Ahmedabad.
This place serves Maharashtrian Thali and it specializes in Maharashtrian cuisine. It is located on the first floor on Prahlad Nagar Road and it is open from 11:00 am to 11:00 pm.
1
Sabudana Wada
Kothimbir Wadi
Misal Pav
Here you can get snacks like Sabudana Wada, Kothimbir Wadi, Misal Pav, Dahi Misal, Usal Pav and Crispy Patra.
Puran Poli
Also, the menu has great combos like Zunka Bakri and Batata Bhaji Srikhand Puri. There is also Poran Poli and Jaggery Ice-cream.

Price for 2: 600 INR
This is a famous snack place which originated in Mumbai. Since then it has opened many branches one of which is in Ahmedabad. It is open from 12 noon to 10.45 pm and it serves various snacks and light meals like Dahi Misal, Thalipith Pithla, Batata Shak, Srikhand and Puri and such other Maharashtrian dishes.
Price for 2: 600 INR
This restaurant located on Drive-in Road serves great combo meals of various cuisines apart from Gujarati Thali which tastes just like home-made meals. Run by a mother-son duo, Purohit Thali serves Jhumka Bhakar along with Bharli Vangi or Stuffed Brinjals which is a delicacy and must at weddings.
Price for 2: 400 INR
Located on S G Highway, this restaurant is very popular. It is a multi-cuisine restaurant which serves traditional dishes with a twist.
Usal Vada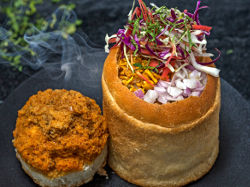 Kolhapuri Missal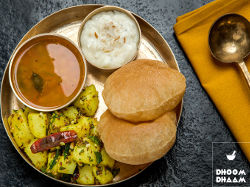 Batatyachi Bhaaji, Amti & Shrikhand
They serve Usal Vada, Batata Bhaji, Ambi and Srikhand, Kolhapuri Missal and Saoji Chicken Curry. It is open during lunch and dinner time and is the only non-vegetarian restaurant serving Maharashtrian food.
Price for 2: 700 INR
This is a small outlet which serves mainly Maharashtrian food like Usal Pav, Missal Pav, Vada Pav, Sabudana Vada, Kanda Bhaji, Puran Poli and Dahi Misal. It is a reasonably priced eatery and is open from 12 noon to 12 midnight. It serves only vegetarian food.
Price for 2: 300 INR