There was a time when Rum was synonymous with Old Monk in India. Almost every teenager used to be baptised for spirits with the Old Monk in the 80s and 90s. Today there are many more run varieties which have become popular in India. We also have the use of White Rum and Dark Rum. After Vodka, perhaps Rum is the most widely used spirit in cocktails in various bars worldwide. Let us check out the best of the Rum-based Cocktails that Kolkata has to offer on International Rum Day 16th of August.
Location: Fort Knox, Camac Street 
You cannot talk about cocktails and give Monkey Bar a pass.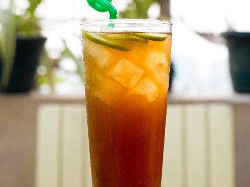 Classic LIIT
This gastropub with its fantastic view of the city from the 9th floor has some of the best cocktails to offer and is a city favourite. However, when we are talking about Rum, they do make a potent LIIT. Do not indulge too much though since this drink is almost like a loose cannonball, ready to charge especially when guards are down. 
Timings: 12 noon to midnight Price: Rs.475 plus tax and Rs.1895 plus tax for a pitcher 
Location: Quest Mall, 5th Floor
Along with their palate sizzling Indian food from across the country, they serve some brilliant cocktails too. Four Rum-infused cocktails - Pina Colada, Daiquiri, Kollywood Pop and Fauji Party Special are especially interesting.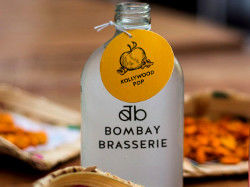 Kollywood Pop
Out of the above, Kollywood Pop is a must-try cocktail with White Rum as its base and some spunky ginger notes too.
Timings: 11:30 AM to 11:00 PM
Price Range: From Rs.350 to Rs.475
Location: Park Street
In the old Calcutta set up of British India, with wooden floors, tiled panels and a lot of woodwork, this pub is a great place to hang out for an experiential evening. Rum based cocktails like TLB Grenade, Caribbean Orgasm, Tropical Star, Daiquiri and Mojito are popular choices but what stands apart is the TLB Grenade made with dark rum, shaken with apple cinnamon reduction, orange juice, fresh thyme and served in a grenade can.
Timings: 01:00 PM – 11:30 PM
Price Range: From Rs.430 to Rs.500
Location: Topmost floor of Quest Mall
With views of the fabulous Kolkata skyline, the name SKAI combines two important aspects "Sky" and "Kai" (Food in Maori).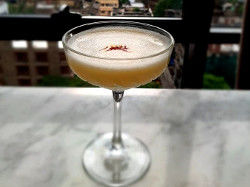 Milky Way
With some eclectic food from around the world, this premium lounge has three unique Rum-based cocktails - Milky Way, Hurricane LIT and Mojito. However, our recommendation is their signature drink Milky Way made with rum, cream, cardamom, saffron. It is almost like a dessert in a cocktail glass.
Timings: 05:00 PM – 12 Midnight (Mon – Fri) & 01:00 PM – 12 Midnight (Sat-Sun)
Price Range: From Rs.450 to Rs.750
Location: City Centre 2
A place popular for its music, food and quirky décor; this place also has the longest 25ft bar.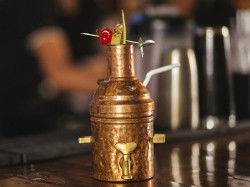 Daru Ki Tanki
They have a jazzy menu with an assortment of dishes to choose from and these 5 refreshing and innovative Rum based cocktails such as Daru Ki Tanki, Coke-In, Maal Ka Gola, Rastafarian and Daiquiri amongst many. Daru ki Tanki is the one which is highly recommended though. This refreshing cocktail is made with White Rum, Baileys, Dark Rum, Banana Liqueur, Pineapple Juice, Fresh Cream and also Banana Slices. The drink once ready, is served in a copper tank, garnished beautifully with some Pineapple and Cherry leaves.
Timings: 12 Noon to 12 Midnight
Price Range: From Rs.395 to Rs.625