Holi is the messiest festival out of all the festivals that we celebrate. Well, let us accept the fact; when we think of Holi, two things that pop up in our head are Gujiya and Bhaang. Although it is a festival of colours and cheerfulness, it also revitalizes the happy faces with scrumptious yet mouth-watering Gujiya - a crescent-shaped deep fried sweet which is filled with even sweeter filling.
Traditional Gujiya is made up of Mawa but nowadays, we have a modern version of everything then why not give a shot for our food segment? There are other creative and lip-smacking variations of Gujiya that everyone will love undoubtedly.
So keeping in mind Holi madness, here are the variants of Gujiya that will leave you spoilt for choices.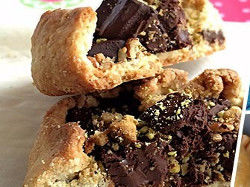 Chocolate Gujiya
To all the chocolate lovers out there, you have got the best of both worlds. Melted chocolate drizzling into the sweet bags of scrumptiousness. Ahh, amazing is the only word I want to use right now!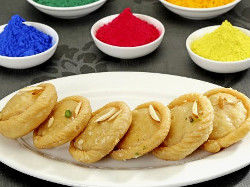 Bhaang Gujiya
The festival of colours is incomplete without Bhaang and Gujiya. The best part is when you can mix both of them. Give your sweet tooth a flavourful rush by adding Bhaang along with Khoya in Gujiya.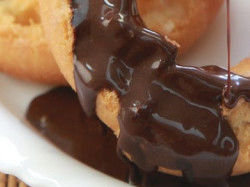 Nutella Gujiya
Nutella Gujiya! Oh yes, you read it right. Nutella goes well with everything. You can boost the richness of the old-fashioned holi dish by adding Nutella to it. What else do you need?
Fruit Jam Gujiya

Kissan Mixed Fruit Jam Gujiya! Yes, still remember the days when we used jam on slices of bread for the perfect school breakfast then why not try jam in Gujiya? A delightful combination of Jam Gujiya will take you on the ride of nostalgia.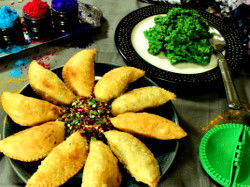 Paan Gulkand Gujiya
Paan Gulkand Gujiya is a must-try. The Paan palette has become richer with delectable flavours as it gives an explosion of flavours in your mouth of sweet, tangy and even spicy mix.
Pro Tip - Add an edible green colour to the dough to make this dish more interesting.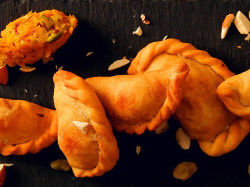 Carrot Halwa Gujiya

Gajar ka Halwa is sumptuous in its own way. Imagine it to be the stuffing of Gujiya! It is an interesting approach to make Gujiya by using any halwa for the filling like suji halwa, gajar halwa and moong daal halwa.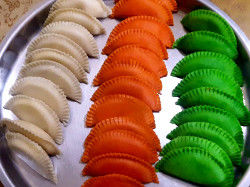 Colourful Gujiya – A perfect surprise for your guests
Let your guests be surprised with these colourful Gujiya this Holi. Whatever filling you choose, add edible colours to the dough and let them guess what the flavour is. Make your Gujiya as colourful as this festival is; let the fun begins!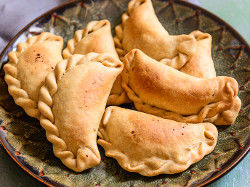 Baked Gujiya
Baked Gujiya is for you all the fitness freaks. It is low on calorie count, fat-free and life saviour for diabetic people too. A fusion of grated coconut and dried milk solids with nuts will make a remarkable filling for this baked delight.
Which one do you choose this Holi? Whether you try Paan Gulkand Gujiya or Nutella Gujiya, it will give you a remarkable memory.
Happy Holi to all.
*EazyDiner Promotional Feature*