Just as September draws to a close and the month of October starts, Germany readies to raise an annual toast to beer. Oktoberfest, as the festival is called, has now found its way into celebrations around the world. While in Munich, the festivities are no less than a carnival consisting of exotic brews, sumptuous food and festive music, closer home things are pretty happening as well. Here is our selection of places where you can get a fine brew and some sumptuous food as well.
35 Brewhouse, JW Marriott, Chandigarh
Staying true to its promise of brewing unique experiences, the newly-launched 35 Brewhouse is serving an assortment of Bavarian delicacies coupled with choicest brews crafted in-house as part of its Oktoberfest celebrations.
Beer
Also, on offer are a host of experimental and innovative beer cocktails which also include Beer Margarita and Beer Sangria.
Special delicacies including select German preparations prepared for the Oktoberfest
You can pair up your lager and ales with traditional German dishes like Flammkuchen - more often described as a German version of a pizza – as well as Pretzels and Chicken Schnitzel. To make it a festive affair, there are special musical performances as well.
The Great Bear, Sector 26, Chandigarh
This popular microbrewery kick-started its Oktoberfest celebrations on September 27 with four new beers - Belgian Wheat Ale, Brown Ale, Dunkel Wheat and Green Apple Beer. While the Belgian Ale is pale with a fluffy body and cloudy appearance, the Brown Ale is fruity and moderately bitter. Dunkel Wheat, which will be available only during the Oktoberfest celebrations, has a mildly bitter taste and slightly hoppy aroma. Do try the Green Apple Beer. It is a combination of Weiss beer with natural apple extract and apple crush. The result is a refreshingly smooth beer with a crisp, clean finish with notes of fresh apple aroma. The special brews have been paired with a special menu comprising of vegetarian and non-vegetarian dishes.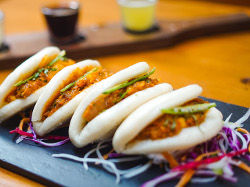 Paneer Butter Masala Bao
Roasted Chicken Drumstick
These include dishes like Paneer Tikka Butter Masala Bao, Fresh Veggie Quiche, Roasted Chicken Drumstick, Dark Ale Braised Lamb Shank and Mustard Maple Soya Glazed Chicken Sausages.
Hops 'n' Grains, Sector 9, Panchkula
One of the oldest microbreweries in the tri-city, Hops 'n' Grains has been a front-runner when it comes to freshly crafted beer and Oktoberfest celebrations.
Freshly Crafted Beers
For this year's festival, the microbrewery has rolled out Weiss Beer, Black Rice Beer along with Pilsner Lager and Stout Beer. There is also a menu to match the flavours and the mood. The new vegetarian line-up includes Crispy Rava Party Box, Grilled Soya Kebab, Hara Bhara Kebab and Olive-Tomato-Feta Bruschetta. Meat lovers will relish Baked Chicken Buns, Tandoori Chicken Sausage, Oven Roasted Drumstick and Crispy Grilled Chicken Patty.

Ooze The Brauhaus, Sector 9, Panchkula
With a huge beer cask housed at the entrance, it is hard to miss the flight of stairs leading to this microbrewery in Panchkula.
Oktoberfest
Popular for its brews and musical nights, Ooze The Brauhaus has timed the launch of a new beer with Oktoberfest. Beer lovers can look forward to the American Pale Ale, a new craft beer here. It is a refreshingly smooth and light pale ale with tropical, juicy sweetness. The floral notes are hard to miss. Team it up with their signature Tacos or the Fiery Tandoori Chicken Wings.