Hot, scorching summer is here in Hyderabad with temperatures shooting up well above forty degrees. People are bracing themselves up for more heat in the coming days. However, not everything is bleak in this season. Summertime is mango time in Hyderabad, and you get many exquisite varieties of the King of Fruits during this period. Hyderabadis love mangoes in all forms, be it the Aam Ras, Green Mango Salad or the local Mamidikaya Pappu (Mango Dal).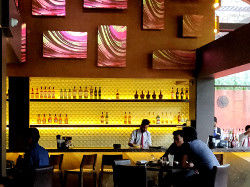 To celebrate the mango season, Farzi Cafe Hyderabad has introduced a special menu of mango-based dishes only for the month of May. Mango Fiesta is a special tent card menu, which has about 15 dishes incorporating mangoes in one form or other. Farzi Cafe has already created a special position in Hyderabad, due to a more than a contemporary touch to many of their dishes. The present promotion also works on the same philosophy with the clever use of mango in some of the well-known recipes.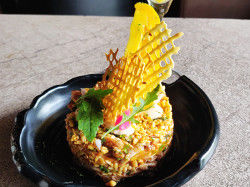 Tawa Chicken Koshimbir, for example, is prepared in mango jam, while Pan Tossed Aubergine and Asparagus is served with a mango and cherry tomato based gravy. Andhra Fish Curry goes well with a mango and coconut rice, and among the desserts, Vanilla Cheese Cake is accompanied by Aam Ras. They also have a special Summer Cooler promotion alongside serving a wide variety of ice teas.
Here are my picks among the dishes being served as part of the promotion.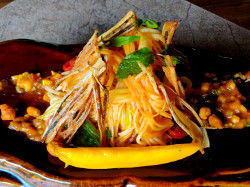 Green Mango and Papaya Salad
The refreshing salad with papaya and mango is an ideal thing to cool the body in this hot summer. The salad also has a special peanut and tamarind chutney as well as crispy lotus stems.
Old Delhi Aloo Tikki Chaat
The bylanes of Old Delhi are known for sinful chaats, and the Aloo Tikki Chaat around Chandi Chowk is legendary. A twist here is the sweet and sour mango relish Aam ki Launji in it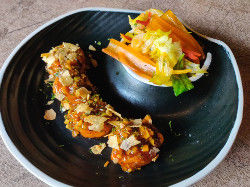 Ginger and Aam Papad Prawns
This was my favourite dish on the menu. Marinated and fried prawns really go well with a sprout and nut salad along with slices of Aam Papad.
Honey Mango Lamb Chops (refer cover image)
The healthy looking lamb chops are cooked in a masala of honey and mangoes, along with mint. The result is an absolute treat for meat lovers.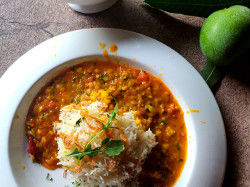 Kacchi Ambi ki Daal with Ghee Pulav
The comfort food for the day, the Mango Daal is served with some flavourful ghee Pulav. Enjoy the table theatrics as the dal is poured into the rice.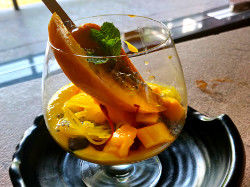 Mango and White Chocolate Popsicle
The popsicle has mango and white chocolate and tastes heavenly in isolation. However, it tastes even better when served in a glass with some fresh Mango Falooda with ample Sabza Seeds.