This is a great opportunity for people in Kolkata who love South Indian food. There are an impressive lot of delicacies beyond the normal Dosa and Idli from the 4 South Indian states which is being presented in the Southern Spice festival at Sonargaon, the iconic food destination of Taj Bengal Kolkata.
A selection of dishes from across all the regions of South India is presented in this festival.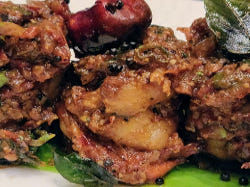 Karuvepillai Yeral Varuval (Tiger Prawns cooked with Curry Leaves and other spices
The spread opens with Rasam and exciting starters like Karuvepillai Yeral Varuval (chunky and meaty tiger prawns cooked with curry leaves and other spices), Murungellai Vada (deep fried cutlets made with drumstick leaves and lentils) and more.
Kayar Katti Yerachi Kola Urundai
Watch out for Kayar Katti Yerachi Kola Urundai which is just not a visual stunner but taste wise, is splendid.This one is a wedding delicacy from Thanjavur and is essentially Lamb Dumplings without any binding agent. The dumplings hold shape with the help of banana fibre strings. With the stone ground spices, the lamb is moist at its best and literally melts in the mouth.
The main course comprises of some very popular and some unique dishes from the southern regions.
Sannas, Parota and Appams

Kari Sukkha
Tomato Pappu ( While the Allepey Fish Curry from Kerala and Appams are extremely popular, especially amongst people with lesser knowledge of south Indian food, there is Tomato Pappu, which is a fiery Andhra style preparation of lentils infused with tomato and Kari Sukkha, which is a Madurai style dry mutton preparation, where the cut of the mutton is the shoulder specifically. Every dish is unique in its texture and flavour profile and surprises the guests with bombardment of flavours.
'Chef Shankar' from Taj Coromandel has especially flown down with his bag of whole spices to create this exciting menu along with our very own 'Chef Sonu' from Taj Bengal. The whole spices have then been ground here in the hotel which has resulted in fresh aromatic experience in each of the dishes. While there are traditional dishes from all 4 states, more emphasis has been given to Tamil Nadu and its rich gastronomy. As the chef says, a perfect balance has been maintained with the spice levels while curating the menu. The eastern states primarily have more of chicken, lamb and vegetarian dishes and have higher spice levels. Whereas the western states of Kerala and Karnataka have more emphasis on seafood and coconut as ingredients. Interestingly, there is also a crab dish available here which is made with freshly ground black pepper and shallots and tomatoes which is a must-try, if you are a seafood lover.
For vegetarian lovers, there is an ample scope of taking on this intriguing culinary journey as well. Combinations like Pachakari Kururma (a medley of vegetables made in Kerala style kurma curry with coconut and cashew paste), Urulai Vathakal (baby potatoes slow cooked with ghee giving it a crispy exterior while retaining the softness within and tossed in mild spices), Sambar made Tamil Style with stone ground spices and more provide the necessary warmth and comfort.
The food is presented in a beautiful Thali format with Rasam and starters followed by main course and accompaniments. The desserts are chilled and are a perfect way to cool you down after an explosion of fiery and tangy flavours.

The festival is on till 2nd of September and available for both lunch and dinner where the pocket pinch for veg and non-veg a la carte will be about 4000 INR approximately for 2 people. The thalis are also available in veg and non veg at 5000 INR for 2 people.