The Brass Room at ITC Royal Bengal is a tribute to the old Calcutta heritage of jazz, blues and western music. With high ceiling, muted brass coloured walls, gleaming mirrors and a stunning chandelier merging up to Ottimo, which is right on top, it is a reminder of the bygone era. From a complete white marbled look of the rest of the hotel, as you step into The Brass Room, you are enveloped in the old world charm and warmth.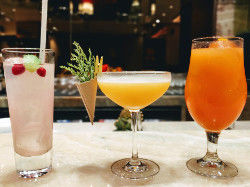 It is their bar with the choicest of spirits, signature cocktails and a specially curated tapas menu with a local touch.
Let us talk about 10 must try out food and beverage from the menu of The Brass Room
Watermelon and Chili Collins - This is a brilliant Collins cocktail. Using Watermelon Juice with Gin and a hint of green chilli, this is quite a sensational cocktail. It is the balance from the sweet watermelon and the spicy chilli that makes it quite an exciting drink.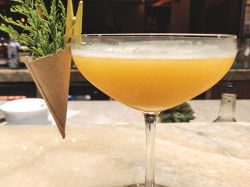 Pornstar Martini - If you are one for the aromatics, then the Pornstar Martini is the one for you. It is quite a famous Martini, not sure because of the name or the flavour, but basically it is a Passionfruit Martini with Prosecco.
Hot Chilli Pepper - This one is Lemongrass and Serrano Chilli infused Tequila poured over ice and splashed with Sparkling Wine is not meant for the weak-hearted. The chilli hits you hard and this is quite a potent drink.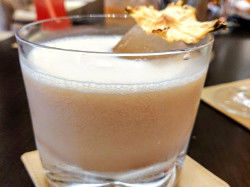 Food For The Gods - For a mellow and refreshing taste, go with Food For The Gods, a cocktail dedicated to the Bengali sweet tooth. It is a Rum-based Cocktail made with Mishti Doi and Apple Juice, and, Pineapple and many more flavours punched into one. You can even get a virgin version of this one named as East India.
Bandel Cheese Mousse - Bandel cheese is a local cheese made in a small town called Bandel in Hoogly district. This cheese is used as a mousse and crusted with pistachio crumbs. But the interesting part is the sweet caramelised Onion Jam which comes as a side with this mousse, cutting off the saltiness of the cheese and making it a beautiful medley in the mouth.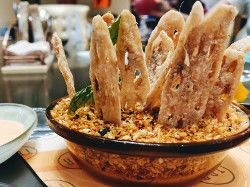 Lotus Stem Crisp - Lotus stem slices are deep-fried and tossed in mild spices. These are then served with a bowl of garlic crumbs along with a Sriracha Dip. Pick up a Lotus Stem Crisp, dip it in the Sriracha Mayo and then gently dunk it in the garlic crumbs before popping them in your mouth.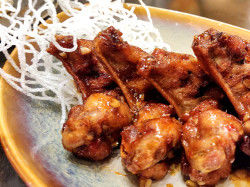 Naga Honey Glazed Chicken Wings - Chicken Wings are always the best kind of finger food for an evening with friends over beer and other drinks. These juicy chicken wings have a sweet and spicy coating and they are an explosion of flavours.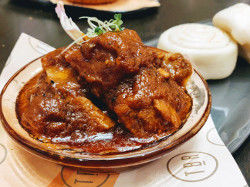 Sous Vide Panch Phoran Pork - Panch Phoran has a unique flavour profile and the combination with pork is a genius. The soft Pork Belly sits on a rich tomato-based sauce. It is served with steamed T Buns. All you have to do is smother the T buns with the supremely delicious sauce and then have a bite of the Pork Belly. This one is their showstopper of the menu.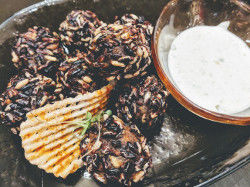 Black Rice Arancini - Black Rice from the North-Eastern states is used in this dish to recreate the Italian Arancini classic. The outcome is quite appetizing and when you have the Arancini Balls with the Caper Red Onion Aioli, its is just an epicurean experience. Who knew rice could get this exciting.
Prawn n Chips - There are Fish and Chips but Prawns n Chips are perhaps more interesting. What can be better than thin battered plump and juicy prawns served with a curry leaf Gondhoraj Mayo?
The food will make you want to come back for more and then there is the music to entice you too. Every Wednesday, Friday and Saturday night, they have live music from local and international bands playing jazz and blues.
The Brass Room is open from noon to midnight every day and price for two would be INR 1200 without alcohol and INR 2600 with alcohol approximately.