It is that time of the year again. The first set of Navratras of the year are underway, and for many diners, it is the time to fast and detox. But that does not mean you have to compromise on taste or eating out. The nine days of fasting also brings in customary Navratra specials in menus across fine-diners and restaurants in the city. Even for those who do not fast, but choose to skip non-vegetarian meals during the period, this becomes an opportune time to treat one's taste-buds to some exciting vegetarian and satvik (sans onion and garlic) fare. Here is a look at what's on offer in the city.
Cafe@JW, JW Marriott, Chandigarh 
Invoking the spirit of Navratra, JW Marriott Chandigarh is celebrating the occasion with a Satvik Food Festival. What makes the Satvik food festival special is the fact that the dishes on the menu have been handpicked from different states of India. On offer is a melange of flavours. So you have the likes of Kashmiri Methi Chaman from Jammu and Kashmir, Chana Madra from Himachal Pradesh, Gatta Curry from Rajasthan, Qasar-e-Pukhtan from Uttar Pradesh, Nilgiri Korma from Andhra Pradesh, Amritsari Gud Ka Kaada from Punjab and Paruppu Payasam from Tamil Nadu, to list a few. The festival brings in a live smoothie counter serving refreshing and nutritious smoothies including Ashwagandha Smoothie, Gotu Kola Smoothie, Saffron Smoothie and Tulsi Smoothie. 
The specials are part of a buffet meal and there's also the Navratra Thali on offer. The cyclic menu of Navratra thali will include dishes like Sabudana Wada Skewers, Bharwan Paneer Tikka, Kuttu Aur Shakkarkandi Ke Parathe, Bharwan Tandoori Aloo, Paneer Tamater Kut to list a few.
Through the Navratras, guests visiting Social can look forward to a range of Satvik food. A team of specialized chefs have put together a cyclic food menu using Satvik ingredients.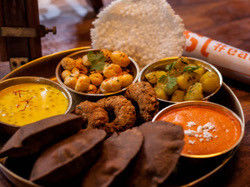 Navratra Thali
A special Social IX-C ki Thali prepared without onion and garlic will also be served. Apart from the thali, the specials include Sabudana Vada with Coconut Chutney, Aloo Tiki Chaat with Pineapple, Tamarind and Mint Chutney, Kuttu Paneer Pakodas, Navratri Khichdi, Homemade Banana Ice Cream with Kuttu Crumble and Kulfi with fresh fruit.

Shree Rathnam, VIP Road, Chandigarh
If you are looking to eat out during the fasting period but are keen to try a thali that packs in everything, then this is a meal for you. Shree Rathnam has put together a special thali keeping the Navratras in mind. The all-Satvik specials include Kuttu Ke Atte Ki Puri, Paneer Makhani, Sabudana Papad, Kheere Ka Raita, Fruit Chaat, Sabudana Kheer and more. The Chaach here is very refreshing.
The quintessential Navratra thali at Gopal's outlets across the city includes dishes made from pure ghee and are completely garlic-onion free. The special thali includes Shahi Paneer, Aloo Ki Sabzi, Kaddu Ki Sabzi, Samak Rice, Kuttu Puri, Sabudana Kheer, Sabudana Papad and Raita. While most fine-diners and casual restaurants restrict their Navratra specials to just a special thali, Gopal's is also offering Navratra special snacks and sweets.
Kuttu Chaat
Do try their Kuttu Singhara Papri Chaat and Kuttu Aloo Pakora to satiate cravings.
Baluchi, The LaliT, Chandigarh
One of the most popular north Indian restaurants in the city, Baluchi is offering a Navratra thali too. It is a wholesome meal for those breaking their fast and packs in the essential dishes. What's more, Baluchi makes it gourmet spread with as many as 9 dishes on one plate. The Satvik special also includes refreshing Raita.
Baithak, Manimajra, Chandigarh
It is the perfect place to enjoy with the family in a traditional ambience. And if you have members in the family who would like to try Navrata fare, then Baithak does not disappoint. The chefs have curated a separate Navratra menu that offers dishes like Banana Pakora, Kuttu Samak Pakora, Sweet Potato Tikki, Paneer Ki Sabzi, Aloo Kaddu Ki Sabzi, Arbi Ki Sabzi, Makhane Ki Sabzi, Kuttu Atta Puri and more. The dishes are flavoursome and the pakoras are well done.
Country Inn & Suites by Radisson Chandigarh Zirakpur
Making sure that diners at the Country Inn and Suites by Radisson have a Navratra option, the hotel has put together a special Navratra Thali that offers quintessential dishes like Kuttu Ki Poori, Aloo Ki Subzi, Paneer Ki Subzi, Samak Ke Chawal etc. The Sitafal Ki Subzi and Kachhe Kele Ke Kebab are a must try here. All the dishes on the thali are prepared using sendha namak.
Masala Grill, The Cove, Chandigarh
If you are looking to dine out in Panchkula and need a recommendation for a restaurant that also offers Navratra fare, then you can opt for Masala Grill at The Cove. While a robust buffet spread is among the restaurant's USPs, they now offer a Navratra thali as well with dishes made using Satvik ingredients.