Elma's at Good Earth
Select Citywalk Mall, Saket
This price is indicative and exclusive of taxes
Today, 10:30 AM to 08:00 PM
Select Citywalk Mall, Inside Good Earth Store, Saket, New Delhi
7861004444
INSIDER TIPS
You might need to wait for a place here, as most of the times it is occupied, especially the sofas
It is a great option if you want to host a birthday or kitty party over high tea with friends or family
With a smaller menu than the original Elma's outlets in Hauz Khas Village and Lodhi Colony, the choices are limited, however, unique and delectable
As their saying goes – "we don't look for people, we want people to look for us", this statement holds absolutely true in terms of its location, being situated on the third floor of the Good Earth store in Select Citywalk Mall, Saket. The entrance gives a welcoming and soothing feel that you have landed at the right place for high tea or a hearty breakfast. With a mix of sofas and chairs, there is an option for you to choose. Among food options, the must-tries include mac n cheese with bacon and ham, and chicken and mushroom pot pie with the classic cold coffee. Known for its desserts, the recommended ones are black velvet and cranberry New York cheesecake.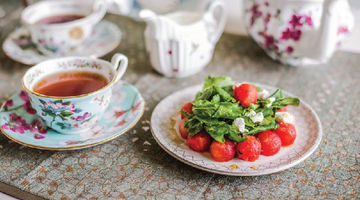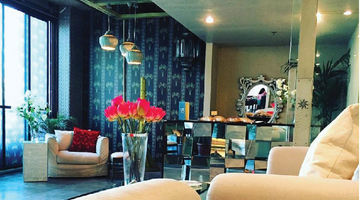 User Reviews on Elma's at Good Earth , Select Citywalk Mall, Saket
---
Overall Rating
(Based on 8 reviews)
Powered By
Food
Service
Value
---
danvir s
Posted on : 22 Jun, 2017

a highly popular place
The place is highly popular and is great for a quick cup of tea with snacks. Offers variety of tea and is worth giving it a try.
---
Dishaa S
Posted on : 31 May, 2017

good ambience
we went with some friends and although we had to wait for a while but it was well worth it. we had the masala chai, the bun maska and the shikanji. everything was good. especially the tea was delicious and the portion was good.
---
Asharathi
Posted on : 25 May, 2017

Sit relax and have a cup of tea ..
Good earth is a happing place with lots of food joints and much more .. all we were missing was a place to sit and relaxe and the answer is chaayos .. the best place for tea lovers they offer you a number of Indian and fusion snacks that you love to have with yours tea . A large variety to choose from and not just tea a lot of other interesting drinks available too . A place to hang out with friends and relax ..
---
blugras190
Posted on : 10 May, 2017

Unique Breakfast with which to kick-start the day!
Was at Chaayos this past Sat' morning meeting up a friend and had the most wonderful time. We arrived early so no one was there and started out with discovering Aam-panna Chai which was so refreshing. Not at all strong with just the right amount of spice...loved it! We then tried the Thepla Tacos (YES!) and the Palak Patta crispies which again was a big surprise. Basically, for those not aware of theplas ( a Gujrati snack) this dish had a mild flavor of Methi ( fenugreek leaves) with chicken cubes , some bhujiya sprinkled as garnish. I felt a hint of acchar masala in it but I could be mistaken. The Palak-patta crispies reminded me of crispies we Bengalis make at home using various kinds of leaves. While the mango chatni could be reduced in amount I felt, the crispies were....CRISP! The place is unassuming and small although once the crowd started filtering in ,I thought the place could do with some better ventilation/ exhaust-system! But over-all, we had the most enjoyable time catching up..enough to pack some goodies for pals ! My suggestion---leave the option to the customer for garnishing the chutney according to taste...less is more!
---
PiyushKTiwari
Posted on : 26 Apr, 2017

Great hospitality
I stepped into the place really hungry wanting to have a quick bite and tea, so I ordered the kulhad chai and a spinach corn sandwich, having paid them I sat down in wait for them to make my sandwich and tea, in few minutes I had the store manager (I guess) walks to me and suggested if they should make me another veg or non veg sandwich as that would come faster then the one I ordered, I choose the chicken one and good I did so... It was really tasty and just the right portion.. Now the pleasant part is that this sandwich was more expensive than the one I had originally ordered but when I asked them how much should I pay as differential and they said nothing it's complimentary from us...👍 not that I am suckered for free food but the gesture is what made me happy 👍👍
---
BOOK A TABLE
Earn Free Meals

Earn 100 EazyPoints per person on every booking and get closer to your free meal.
Know more
Other Relevant Links To Elma's at Good Earth , Select Citywalk Mall, Saket
Other Cafe Restaurant Menus in Delhi NCR
Other Branches / Outlets of Elma's Bakery in Delhi NCR
Popular Locations in Delhi NCR
---
Popular Cuisines in Delhi NCR
---
Top Restaurants in Delhi NCR
---