Mr Choy
Khan Market, Central Delhi
This price is indicative and exclusive of taxes
Today, 12:00 PM to 11:00 PM
15, Middle Lane, Khan Market, New Delhi
7861004444
INSIDER TIPS
Really cool music, especially in the evenings at dinner time when the place is packed
The landing between the two floors is the hottest place for selfies with paper parasols in the background
Do not miss the South American touches in the menu
A win-win situation for everybody. Basically, such as Augusto Cabrera who worked with The Oberoi, so did Mr. Choy. In their present avatar, both oversee kitchens with the same degree of genius, except that the costs are surprisingly low. Excellent dim sums – hargao, baos, cheung fun and siu mai – can be ordered for Rs 325 for four and the quality will be that of a five star hotel. Service is good too: the staff is very friendly and knowledgeable. The second floor has an open terrace as well as a bar, while downstairs, the first floor is the main dining area with a glass-in open kitchen.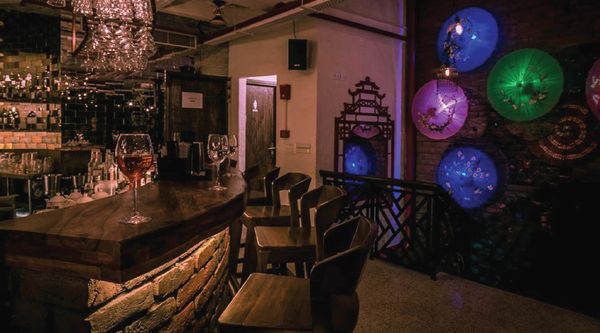 User Reviews on Mr Choy, Khan Market, Central Delhi
---
Anchal Chaudhry
Posted on : 29 Dec, 2015
☆ ☆ ☆
Surprisingly different!!
Pining for the old THE KITCHEN in khan market, Mr.Choy has taken not only its location but the regular visitors also to at least try it. We went as a trial post starters at a different place. The menu was interesting the way it is presenting to tick boxes and order, however its a rather small menu with almost no interesting options for the vegetarians. We ordered the Mr.Choy Special noodles, which were interesting mix of Filipino and normal noodles served in a mason jar. The taste however was decent. Still hungry and with no great veg options the server suggested the curry special noodles which were a chef special. They wee not the khao suey but were fragrant of lemongrass in abundance and were noodles in a thai soup concoction wit peanuts fried as garnishing. That was the great dish and my friend loved it. It was different yet same and it must for them to put this on the menu. permanently. I ordered minty mocha but wasnt impressed, it was a lackluster drink. Overall great options for non vegetarians, limited for vegetarians, but a must try. Music they played was good and the service decent.
---
Read All Reviews
Publish a Review
BOOK A TABLE
Earn Free Meals

Earn 100 EazyRupees per person on every booking and get closer to your free meal.
Know more
Other Relevant Links To Mr Choy, Khan Market, Central Delhi
Other Chinese Restaurant Menus
Popular Cuisines in Delhi NCR
---
Popular Locations in Delhi NCR
---
Top Restaurants To Eat in Delhi NCR
© EazyDiner Private Limited