Punjab Grill
Ambience Mall, Gurgaon
This price is indicative and exclusive of taxes
Today, 12:00 PM to 11:30 PM
Ambience Mall, NH 8, Gurgaon
7861004444
INSIDER TIPS
One standout vegetarian dish is the Gucchi Pulao that beats the meaty ones in delicacy
The food comes under the category of 'grand'. The interiors are more modest as are the prices
Do try the signature dishes on the menu, they are rightfully recommended
On a good day, it can be very good, celebrating as it does the food of Punjab: rustic, hearty and appealing. The standouts on the menu include the Beetroot Kanji (which has a longer season than black carrots), Salmon Tikka and Rahra Meat. Vegetarians are looked after too, albeit not with the same enthusiasm as their meat-eating counterparts: Rawalpindi Chana is standard issue chana without the bells and whistles of, say, kadhai murgh.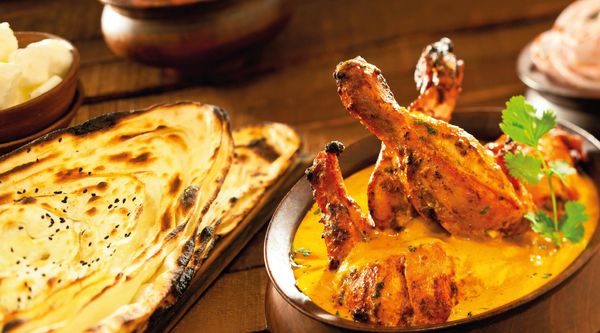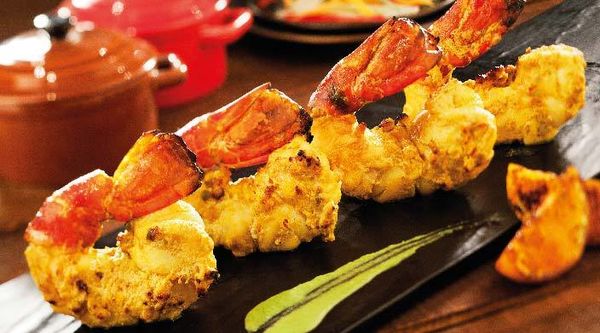 User Reviews on Punjab Grill, Ambience Mall, Gurgaon
---
Karan Kaul
Posted on : 03 Feb, 2017
☆ ☆ ☆ ☆ ☆
Nice experience
It had a nice and difference ambience as compared to any pub. We ordered rasberry soda, cold coffee, egg kejriwal and chicken fiste. Drinks were really nice but chicken was okay okay...and not to forget egg kejriwal was really awesome....we ordered it twice it was that yummy....overall a nice experience.
---
Rajan
Posted on : 04 Jan, 2017
☆ ☆ ☆
lunch buffet
I had gone for a lunch a la carte meal. The buffet menu looked tempting so we decided to try that. The menu included amritsari fish, chicken malai tikka and seekh kababs. The fish and tikka were served fresh and were tasty. The service was slow but the wait did not bother as freshly prepared dishes were served. The main course was a big disappointment. The butter chicken and the breads from the tandoor were a big disappointment. One had great expectations from a restaurant associated with Jigs Kalra. The other dishes were also average. In the dessert section only the phirni was above average. Over all I would rate it an average experience and would not like to have the buffet again.
---
Shobhit Khare
Posted on : 17 Nov, 2016
☆ ☆ ☆ ☆
Amazing food
Amazing food. starters curries were both good. kebab was exceptional. at the end we got a complimentory pan shot and halva as well. And beware of the rotis, they r really big, almost twice as other places. The rara gosht is exquisite in taste, having been slowly cooked in a thick gravy of minced meat. The only reason I am not giving a full 5 is because i'v found the service to be slow a couple of times.
---
Kabir Midha
Posted on : 15 Nov, 2016
☆ ☆ ☆ ☆
The Indian breads are unique
I was amazed when I went to this place. Not because the quality of the food was something exceptional or the service was outstanding but because I felt the breads were just awesome. Different flavors and yummy taste. I can be back here just for the Indian breads. I will be back soon and with more people too.
---
Chandan Kumar
Posted on : 07 Nov, 2016
☆ ☆
Tasty but lack variety
All the food available in buffet were tasty, but at this cost of Rs 900 per person tax what is offered is 3 starter (paneer, fry aaloo, fry pineapple), 3 vegetable (daal makhni, paneer masala, chole masala) and biryani. + seets + 1 drink A bit slow for buffet as I have to ask again and again for roti etc. You can get much better variety at same price be it at Barbeque nation or any other place. But finally no complaint over taste of food. They were really tasty.
---
Read All Reviews
Publish a Review
BOOK A TABLE
Earn Free Meals

Earn 100 EazyPoints per person on every booking and get closer to your free meal.
Know more
About Punjab Grill
Chef Jiggs kalra has done it again. He has bestowed on us one more gem from his collection. This guy can take north indian cuisine and transform it into something sensational. Punjab grill at ambience mall, Gurgaon is haven of dals and chicken. If you take your chicken seriously then come and visit this restaurant. It is a fantastic place to host a special dinner for your family for there is ample of room and elegance. Interiors are as expected of Jiggs kalra, classy and regal. The live kitchen really connects you to your meal. The staff is intent to make the visit memorable for you by giving you personal attention. They are well aware of the menu so don't hesitate to ask any questions. The food is for granted delicious.
The first page of the menu starts with murgh badami shorba and khumb pudina shorba. Vegetarians open the meal with tandoori guchchi which I have on strict authority worth eating. Paneer tikka multani, hara bhara kebeb, bharwaan khumb peshawari and veg kurkuri are your other choices. In non-veg starters murgh malai tikka, raan-e-sikandari, tawa jheenga and salmon tikka (amazing) are juicy and well marinated. For the next level of your meal order bharwaan kesari guchchi, amritsari malai kofta, Rawalpindi channa and paneer makhni. For chicken lovers club straight away head towards non-veg mains and order murgh lababdar. Its one of the best dishes on the menu. If you want more variety then go for raarhya meat, kadhai jheenga, Patiala shahi macchi. Guchchi pulao is a highly approved recommendation. In breads go for zaafrani paronthi naan and bharme amritsari kulche.
No meal is complete without sweets and especially for us Indians. Dare to choose different dessert from the menu and take advantage of Jiggs kalra's reputation. Litchi ki tehri sounds fab and if you have more than average sweet tooth choose assorted dessert platter. There is no eating chicken without a patiyala peg. Punjab grill houses a pretty smooth collection of drinks of every kind. From scotch to virgin mary they have everything. Their own concoction screwdriver tak-a-tak is a cocktail with a spin. Chaat masala! The place is slightly expensive but all the quality places are. If your ambition is to find a solid chicken curry then head to Punjab grill and be amazed.
Other Relevant Links To Punjab Grill, Ambience Mall, Gurgaon
Other North Indian Restaurant Menus
Food Articles and Trends where Punjab Grill is Featured
Other Branches/Outlets of Punjab Grill