Smoke House Deli
DLF Promenade Mall, Vasant Kunj
This price is indicative and exclusive of taxes
Today, 10:30 AM to 01:00 AM
DLF Promenade Mall, Vasant Kunj, New Delhi
7861004444
INSIDER TIPS
DLF Promenade Mall has the oldest branch with a charming courtyard space
Khan Market has its fair share of well-known faces; Hauz Khas Village has the most character
Ask for the cheesecake and you won't go wrong
Part café and part delicatessen, each of the three branches in the NCR have wall art that fits in with the location. The simple but effective black-ink line drawings have become synonymous with the brand. Half-a-soup and a sandwich, eggs florentine and the signature trio of bagels, burgers and hot dogs are what most people go to eat in this smart casual eatery. The decor and service sometimes outperform the food. The 'deli' in the name is just that: a name.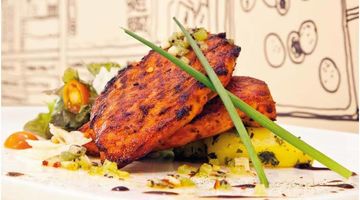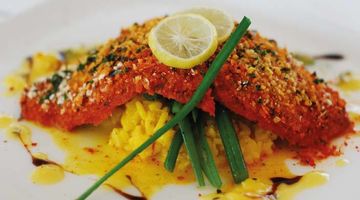 User Reviews on Smoke House Deli , DLF Promenade Mall, Vasant Kunj
---
Overall Rating
(Based on 118 reviews)
Powered By
Food
Atmosphere
Service
Value
---
ST_INDIA
Posted on : 12 Aug, 2017

Awesome food and Drinks
Tried this restaurant and found the food awesome. Tried Italian pastas and some American food and the Taste was bang on. Tried sangria and it was also good. Only flip side was the cost which is way too high.
---
gauravbagga
Posted on : 01 Aug, 2017

SUPER LUNCH
We came to Smoke House Deli for Lunch. It was not too crowded and no waiting! We were ushered in quickly and made comfortable. The ambiance is nice and there is a sense of space and privacy as compared to most of its contemporaries. The food came up in good time. The food was delicious and had rich flavours. Th Chicken was succulent and tasty so was the lasagna. Over all a good experience. The issue of FORCED services charges was a let down.i refused since I was not asked.
---
aadityanagpal
Posted on : 22 Feb, 2017

Great Food with Amazing Ambience
We went there on a Sunday Evening and the place was full. We had to wait for about 10-15 mins to get a table outside but it was completely worth the wait. We ordered sangrias which were very good. The breads in the bread basket were fresh and nice. We ordered a veggie pizza and a cottage cheese skewers. Both dishes were very different and tasted nice. The service was good and overall it was a great experience.
---
Haaris H
Posted on : 16 Feb, 2017

Can be much better
We visited this place for dinner. The food was great, however, I feel that the ambience of the restaurant can be much better. The set up is a bit gloomy. Also, the service can still be improved.
---
Niharika T
Posted on : 15 Feb, 2017

Good European food.
Everything on the menu we have tried so far has been delicious. The staff can be little more attentive. Outside seating area is quite refreshing to sit and enjoy your meal.
---
BOOK A TABLE
Earn Free Meals

Earn 100 EazyPoints per person on every booking and get closer to your free meal.
Know more
About Smoke House Deli, DLF Promenade Mall, Vasant Kunj
My friends and I wail on the lack of places in delhi serving hearty continental breakfast. Some time back I was recommended this place 'smoke house deli' in DLF Promenade mall, vasant kunj which dispersed my woes. Don't be fooled by its name. Smoke house deli is a deli style restaurant serving casual aclectic food with flair. The menu is heavily influenced by American culture but here is where the similarity ends. The owner has very brilliantly designed the décor turning the restaurant into a tunnel of light. The pale walls are covered in hand made sketches of Mughal architecture blending nicely with the view. The location compliments the interiors in every way. To sit in a beautiful room flooded with vivid sunlight sampling the gorgeous cuisine puts a big smile on your face.
In breakfast the kitchen prepares bagels, buttermilk pancakes, eggs in classic styles and hash browns. For starters they make fritters, skewers, lamb & chipotle patties, chorizo & potato picante and much more. You can make a meal with your bowl of soup and salad by adding half a sandwich. The restaurant serves various burgers and hotdogs with lamb/chicken/vegetable options. Pepperoni & bacon pizza is a pizza after your own heart. Its salty goodness gives you a pause and go mm. Their mains page is an interesting collection of recipes featuring lemon & mascarpone polenta, market vegetable pan crumble, peri peri grilled chicken and steak pit. Add cobb on side to make a picture perfect platter. The food speaks for itself. Its simplicity yet flavours packed punch bombards the mouth. The beverage menu is as extensive as well. From teas, coffee, juices they store smoothies too. The desserts created are architectural masterpieces. Hazelnut mousse flan, crème brulee, warm apple crumble all wraps up the end of meal in a neat bow.
Under two thousand you have mastered quite a bit of variety. Kids are most appreciated in this establishment. They have their own part in the menu to suit their tiny appetites. Their food is presented in fun ways too like helping of French fries arriving a mini toy truck. No two year old can resist that! On children's day the kids get special deals too. Smoke house deli is a fantastic piece of culinary addition to our community. Visit them or lose onto a great dining experience.
Other Relevant Links To Smoke House Deli , DLF Promenade Mall, Vasant Kunj
Other Casual Eclectic Restaurant Menus in Delhi NCR
Food Articles and Trends where Smoke House Deli is Featured
Other Branches / Outlets of Smoke House Deli in Delhi NCR