SodaBottleOpenerWala
Khan Market, Central Delhi
4.0
|
142 Reviews
This price is indicative and exclusive of taxes
Today, 11:30 AM to 12:30 AM
73,  Khan Market, New Delhi
7861004444
INSIDER TIPS
The chicken Farcha makes for a nice crunchy appetizer
The Masala Pepsi is an interesting desi twist on the plain old cola
Sandwich pick: the Tardeo AC Market Mama's Grilled Sandwich – a spicy potato mash with Amul cheese and chutney
The quirky Mumbai-style Iranian cafe comes to Delhi with SodaBottleOpenerWala. Built with affection and an aesthetic that would please both Freddie Mercury and Monty Python, this cafe with its old-world charm is a nostalgia trip. The food is quintessential Irani Cafe with Bun Maska, Parsi Bheeda Par Eeda (Rs 165) - an egg preparation with lady fingers - and the pricier Kolmi Fry (fried prawns). The signature Parsi dish, Patra Ni Machi is a must-try. The dishes are well-priced keeping in view the modest pricing of the original Irani cafes.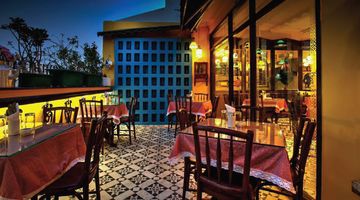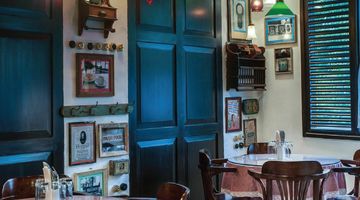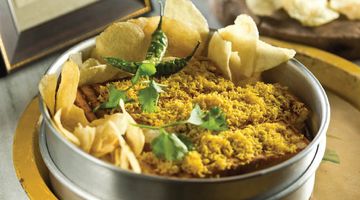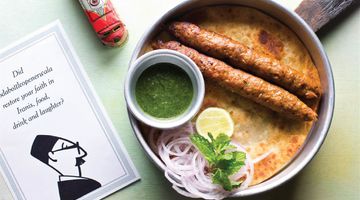 User Reviews on SodaBottleOpenerWala , Khan Market, Central Delhi
---
Overall Rating
(Based on 142 reviews)
Powered By
Food
Atmosphere
Service
Value
---
j d
Posted on : 18 Jun, 2017

Good Parsi restaurant. Mid range and well worth it for the price
Good ambiance, good staff. Menu like old Irani café in Mumbai. Mocktails are unique and worth trying Overall good experience
---
Ashutosh U
Posted on : 17 Jun, 2017

Awesome Parsi food
This place is a must visit for anyone who is a foodie and appreciates different kinds of food. They have authentic parsi food that one may find in little cafes in Bombay. My friend from Bombay said this is authentic and similar to what one may find in Bombay. Also their ambience and decor is as such you feel like you've transported to 1970s Bombay. The staff is very good, only in one of my visits I feel they didn't attend well but usually it's good. It's something that makes you feel your money was spent well as the portions are big and the quality cannot be overrated
---
Rashi0425
Posted on : 12 Jun, 2017

Long Awaited Visit!
Long Awaited Visit To the Place! Waited for almost 1 hour, being the cleaning work that began just then. being a Dusshera Day, too full, enjoyed the day to the fullest with dinner at SodaBottle. Reviewing it almost 8-9 months late. Soda Bottle Had been on my bucket list since Long, and it was fortunate that we were in Khan Market area for Dusshera Celebration, so without doubt had to visit this place. The history and family chart was interesting, the write ups were fun to read, artworks on wall fun. Ambiance gave a totally retro feel, it was fun with the songs being played and fortunately the scene of crackers and fire works from the window made it more special. Food was good, not much spicy, balanced as if homemade. Price compared to quantity was on a higher side, but once a while is OK and wen it is long awaited visited then Chalta hai ;) Food: 4.5/5 Quality: 5/5 Presentation: 5/5 (Interesting) Quantity: 3.5/5 Ambiance: 4/5 Service: 4/5 Food Ordered: Dhansak, Sali Boti, Berry Pulao.
---
meghaa409
Posted on : 01 Jun, 2017

Confused between pocket and taste buds
One thing for sure is that the food is SUPER EXPENSIVE! It is tasty, but expensive. I have not been able to go there again n almost a year because there was that much food i could experiment with. Most of the food i ordered was ok settling for my taste buds, but i how i ordered it was very funny- looking onto what other tables had and a bit of what I understood from the menu. The servers were too busy to help. Oh and the quantity was too less so we had to order multiple things and basically couldn't relish everything as much as we would if there was some extra portion.
---
Devabrataray
Posted on : 18 May, 2017

A different taste to your palate!!
This is a Parsi food restaurant with a lot of inspiration drawn from Iranian food. Food was served in quite an interesting manner.. Salli boti was good... but what we really enjoyed was Tareli Macchi...Great taste and flavor full....Sekanje Bin was also good in the drinks.. however was a little let down by the raspberry soda.. The place is light on wallet with the food feeling like home made... must place to go for people looking for something different!!!
---
BOOK A TABLE
Earn Free Meals

Earn 100 EazyPoints per person on every booking and get closer to your free meal.
Know more
About SodaBottleOpenerWala, Khan Market, Central Delhi
Iranians are wonderful and interesting people. They are quirky yet traditional just like their food. And thank the lord they have bought Gurgaon to life with 'Soda bottle openerwala'. The cuisine is fun, spicy, old-fashioned and very very yummy. The décor is like a time capsule transporting you to Mumbai's parsi era. The glass jars containing home baked cookies adorn the counter as if a backdrop for a parsi uncle in vest and black cap just waiting to pop out. Cyber hub in Gurgaon has added one more gem to their crown with this café. Its popularity has caught on fast amongst the youth. But you can also take along your favourite aunt or uncle who wants to relive the old world charm.
Soda bottle openerwala is pretty reasonable for two. Costing you somewhere under two thousand it's a perfect place to drop in for a quick bite. Starters like vada pav, kanda bhajii, bun maska are filling yet light on your tummy. They are just right to squeeze in a middle of a shopping spree. Just deposit those bags on the corner of the booth and order raspberry soda or cold coffee to quench the thirst. If you are slightly bit more hungry then dishes like berry pulao, dhansak, patra ni macchi, prawn patio are superb. They will leave you wanting for more and telling yourself to try Sali mutton next time. The egg lovers will not go disappointed here. Irani wrestler's omelette are made out of –wait for it- SIX eggs! Eggs kejriwal is another unique starter to try.
For your sweet tooth lagan nu custard which is a parsi wedding custard is a must try. Toblerone mousse, brownie and apple pie with custard fits impeccably with the menu. The desserts are flavoured with cardamom and vanilla. Your soda bottle experience need not end here. A wide variety of nan khatai and biscuits will make a wonderful addition to your cookie jar. While leaving you are offered pan flavoured toffee to refresh your mouth. The café is original in itself and adds a unique twist to cyber hub stopover.
Other Relevant Links To SodaBottleOpenerWala , Khan Market, Central Delhi
Other Parsi Restaurant Menus in Delhi NCR
Food Articles and Trends where SodaBottleOpenerWala is Featured
Other Branches / Outlets of SodaBottleOpenerWala in Delhi NCR