SodaBottleOpenerWala
Khan Market, Central Delhi
This price is indicative and exclusive of taxes
73,  Khan Market, New Delhi
7861004444
INSIDER TIPS
The chicken Farcha makes for a nice crunchy appetizer
The Masala Pepsi is an interesting desi twist on the plain old cola
Sandwich pick: the Tardeo AC Market Mama's Grilled Sandwich – a spicy potato mash with Amul cheese and chutney
The quirky Mumbai-style Iranian cafe comes to Delhi with SodaBottleOpenerWala. Built with affection and an aesthetic that would please both Freddie Mercury and Monty Python, this cafe with its old-world charm is a nostalgia trip. The food is quintessential Irani Cafe with Bun Maska, Parsi Bheeda Par Eeda (Rs 165) - an egg preparation with lady fingers - and the pricier Kolmi Fry (fried prawns). The signature Parsi dish, Patra Ni Machi is a must-try. The dishes are well-priced keeping in view the modest pricing of the original Irani cafes.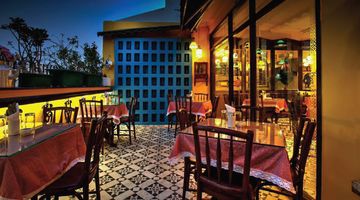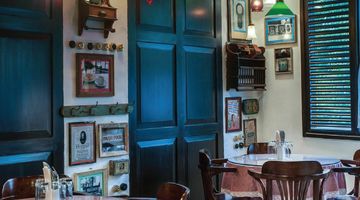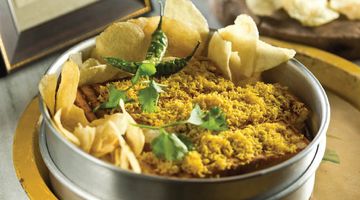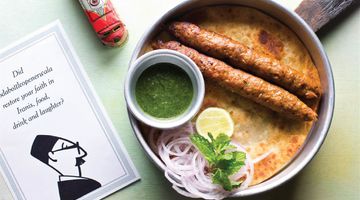 User Reviews on SodaBottleOpenerWala , Khan Market, Central Delhi
---
Overall Rating
(Based on 150 reviews)
Powered By
Atmosphere
Food
Service
Value
---
dfish121
Posted on : 09 Aug, 2017

Absolutely delicious food!
I had never tried Parsi food before, and sodabottleopenerwala was a great first experience! The ambience is great, and the food was absolutely incredible--I really recommend the meat stuffed paratha-esquedish (don't remember exactly what it was called), and the Paneer Sanju Baba, which was AMAZING.
---
Samar G
Posted on : 01 Aug, 2017

Brunch
This place is pretty famous in Delhi. if you look at the ambiance it is some what parse and food costs you a lot which is worth for price we are paying. For one thing we requested the Eggs Kejriwal and Chicken cutlet. The cutlet was psyche blowing. An absolute necessity attempt. The fresh delicious cutlet sandwiched between the pav qualified as the Parsi answer to the KFC Zinger and doubtlessly beat it without a doubt! Eggs Kejriwal was wonderful too with heaps of mushrooms! You can go that place and defiantly you will like the theme.
---
YummySingh
Posted on : 31 Jul, 2017

Parsi food at its best
I have a knack of always trying something different on special occasions as far as food and eating out is concerned. So after searching many options, I picked up Soda Bottle opener wala for their unique Bombaiyya love tiffin which was being offered this valentine season. The khan market outlet is easy to locate and has a cute ambiance of a Mumbai Parsi café, nicely lit with walls loaded with framed pictures and antiques. The music is mild with a few old bollywood numbers playing in the background. From the drinks menu, we ordered a cocktail called PARSIANA, a great concoction of rum with plums berries and figs. My partner ordered a MASALA COLA, the tangy famous drinks of the Parsi cafes. The offerings in the bombaiyya tiffin comprising of a starter, a soup, main course and dessert. First served was the SEAFOOD BHEL, regular Bombay bhelpuri with a twist of calamari, squid and fish. Corn and veges were added in the vegetarian version. Next to follow was the mildly flavored SCOTCH BROTH, a soup with barley, carrots and beans. The main course was presented in steel tiffin or dabba, which had 3 dishes. SANJU BABA CHICKEN, a spicy recipe of actor Sanjay dutt, the chicken was nicely cooked with whole ground spices and ghee, The CUTLIS, or the cutlets had a bright red colour from beetroot from inside and were crunchy. THE BOMBAIYYA BIRYANI too was delicious. Not too dry and mildly flavored. The meal rounded off with sinful FERRO ROCHER CAKE and KALA KHATTA CHEESE CAKE. Though the cheesecake was nice, I had a little problem eating the biscuit base which was hard and was in the bottom of the chai glass, the cheese cake was served in. Overall it was a nice dinner outing with my partner and an evening well spent over some great Parsi meal which made us fall in love with the Mumbai culture 
---
Shikhar B
Posted on : 31 Jul, 2017

Loved it !!
It got a very rusty feeling and very refreshing indeed. As you enter the place, you see the place got an old charm and a proper parsi touch.. The food is amazing, we tried Sheekh Kabab and Berry Pulav. Recommended !!
---
Menulone
Posted on : 30 Jul, 2017

Service is something that will not go un noticed
I have been other outlet of the same brand in Mumbai but this was something special, it has got seating arrangement spread over two floors. They menu is same at out let. The difference maker is the service. Here i really like the staff behavior. The interiors of the place is full of antiques. The staff is prompt in the their response. Try their mocktails.
---
BOOK A TABLE
Earn Free Meals

Earn 100 EazyPoints per person on every booking and get closer to your free meal.
Know more
About SodaBottleOpenerWala, Khan Market, Central Delhi
Iranians are wonderful and interesting people. They are quirky yet traditional just like their food. And thank the lord they have bought Gurgaon to life with 'Soda bottle openerwala'. The cuisine is fun, spicy, old-fashioned and very very yummy. The décor is like a time capsule transporting you to Mumbai's parsi era. The glass jars containing home baked cookies adorn the counter as if a backdrop for a parsi uncle in vest and black cap just waiting to pop out. Cyber hub in Gurgaon has added one more gem to their crown with this café. Its popularity has caught on fast amongst the youth. But you can also take along your favourite aunt or uncle who wants to relive the old world charm.
Soda bottle openerwala is pretty reasonable for two. Costing you somewhere under two thousand it's a perfect place to drop in for a quick bite. Starters like vada pav, kanda bhajii, bun maska are filling yet light on your tummy. They are just right to squeeze in a middle of a shopping spree. Just deposit those bags on the corner of the booth and order raspberry soda or cold coffee to quench the thirst. If you are slightly bit more hungry then dishes like berry pulao, dhansak, patra ni macchi, prawn patio are superb. They will leave you wanting for more and telling yourself to try Sali mutton next time. The egg lovers will not go disappointed here. Irani wrestler's omelette are made out of –wait for it- SIX eggs! Eggs kejriwal is another unique starter to try.
For your sweet tooth lagan nu custard which is a parsi wedding custard is a must try. Toblerone mousse, brownie and apple pie with custard fits impeccably with the menu. The desserts are flavoured with cardamom and vanilla. Your soda bottle experience need not end here. A wide variety of nan khatai and biscuits will make a wonderful addition to your cookie jar. While leaving you are offered pan flavoured toffee to refresh your mouth. The café is original in itself and adds a unique twist to cyber hub stopover.
Other Relevant Links To SodaBottleOpenerWala , Khan Market, Central Delhi
Other Parsi Restaurant Menus in Delhi NCR
Food Articles and Trends where SodaBottleOpenerWala is Featured
Other Branches / Outlets of SodaBottleOpenerWala in Delhi NCR