The restaurant scenario in Hyderabad is pretty fragmented with a few places doing well and most of the others struggling. It is not enough for the leaders to rest on their laurels, they have to continuously innovate to lure new customers as well as give something different to existing customers. A revamp of the menu is one of the initiatives to attain this, and many of the popular places regularly undertake a churning where less popular dishes are removed and promising new items are incorporated. Here is a look at the new menus introduced recently by some of the top restaurants in Hyderabad.
Rika, the modern Oriental restaurant at Park Hyatt Hyderabad is the new buzz in town and they have now come in with new additions to their menu. The new menu has been curated with the help of Chef Xiangbin Li from China House at Grand Hyatt Mumbai.
Chicken in Sichuan Sauce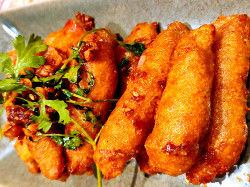 Crispy Pomfret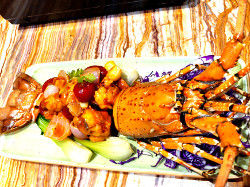 Wok Fried Lobsters
Crispy Pomfret, Wok Fried Lobsters with Garlic and Chilli Beans Sauce, and Chicken in Sichuan Sauce are some highlights from here. Vegetarians can opt for Edamame Dumplings, Tofu Salad in Sichuan Dressings and some lovely Wok Tossed Chinese Greens.
The new cocktails introduced by mixologist Roxanne Read are also quite interesting – Sushi Hard Shake has Black Label whisky with sushi rice water and miso paste, while vodka-based Jade Cup comes with an infusion of banana peel.
Book now! Click here
Zega, Sheraton Hyderabad Hotel
The latest restaurant to announce their new menu is Zega, the fun place with a view at The Sheraton Hyderabad. In tune with their motto of Eat, Drink, Socialize, the menu has some excellent new items ranging from soups, short eats and main courses.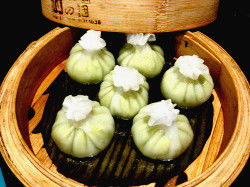 Edamame Dumpling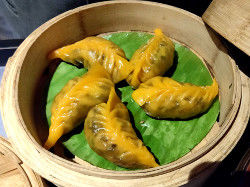 Minced Pork Balls
The dumplings here are always sought after, Edamame Water Chestnut Dim Sum and Minced Pork Balls are the new additions here.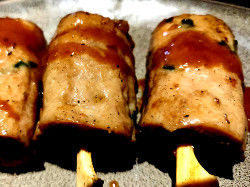 Minced Chicken and Prawn Skewers
The Minced Chicken and Prawn Skewers and Lamb Chops with Cilantro, Peanut and Sesame are the other appetizers that merit a mention. Vegetarians also do not have to miss out here, Grilled Corn in Sichimi Butter, Tofu with Crushed Pepper Celery and Crisp Vegetable Uramaki are some of the dishes for them.
Book now! Click here
Farzi Café, the modern Indian restaurant chain has made their presence felt in Hyderabad in a very short time. Farzi Café has this practice of revamping their menu every few months. Their latest change brings in about 20 new dishes which are mostly North Indian, of course with a Farzi twist.
Quite a few new chaat dishes are included in the new menu – Masala Aloo Sandwich, Shakarkhand Ki Chaat and Papri Chaat Nacho being some of them.
Bhatti Ki Chaap
'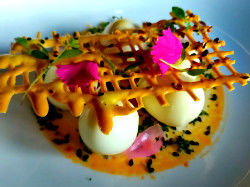 Farzified Quail Egg Curry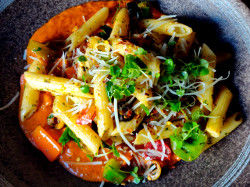 Penne Chicken Tikka Masala
Bhatti Ki Chaap with Mint Pesto, Penne Chicken Tikka Masala and Farzified Quail Egg Curry are some other dishes of note. Hyderabadis may fancy Sausage 65, chicken sausages prepared the Hyderabadi 65 way. As usual, apart from taste, the presentation is one of the major attractions of the dishes.
Olive Bistro, Jubilee Hills, Hyderabad
Olive Bistro at Jubilee Hills has a new Chef in, Viraf Patel, and the new menu introduced has his stamp all over it. The menu delves deep into the flavourful Mediterranean cuisine with a focus on healthier and lighter dishes.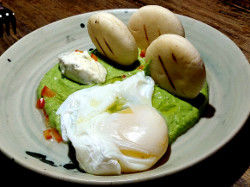 Green Peas Hummus
The colourful Green Peas Hummus served with truffle oil and poached egg, Herbed Cannelloni of Pulled Duck, and Assorted Seafood Risotto with fish and shrimp are some of the interesting dishes on offer.
Olive has always been a haven for pork lovers, BBQ Pork Ribs is the dish to go for in the new menu.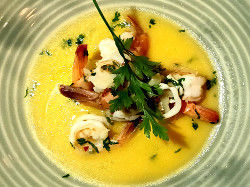 Sautéed Prawn and Calamari
One dish which is a clear winner from this new menu is Sautéed Prawn and Calamari in olive oil with garlic and chilli flakes.
Classic Baked Cheesecake
The Classic Cheesecake is a beauty among the desserts, the Tiramisu is also good as usual.