The legendary Marco Pierre White was in Bangalore early June as the headliner for World on a Plate (WOAP) Season 4, Edition 2 at the Ritz-Carlton. His reputation naturally precedes him and you often wonder what it would be like being at the receiving end of that fixed gaze and even-toned voice. Would it be intimidating? Well, when I entered the press conference that evening, Marco was sitting at the corner seat of the first row and was chatting with a renowned chef from Bangalore. I sat quietly behind him, already a little star struck. He got up to take a few photographs with fans and when he returned to his seat, looked straight at me, greeted me with a good evening madam, and told me that he would move his chair a bit to the side so that I would have an unhindered view of the stage! Intimidating? Not at all, charming? You bet!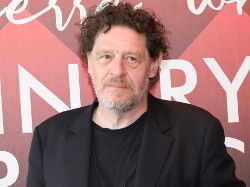 Here are some interesting insights into the life and times of Marco Pierre White that he shared with us that evening.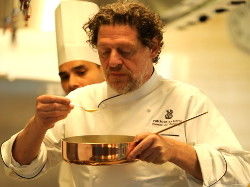 There was really no question of an alternate career
As a young man at school, I never thought it would come to an end, like most boys did. But it did. Coming from humble beginnings, I was expected to work. My father, grandfather and uncle were chefs. I never wanted to be one though. My father told me to put on my Sunday best, approach a hotel, find the kitchen door at the back and ask for a job. So I set off from Leeds, got off at Harrogate, approached Hotel St George, went around the back and knocked on what I thought was the kitchen door and asked for a job. I was hoping the door wouldn't open, but it did. I went in, I sat down with the chef for two minutes and got a job. The fear in me of going back and telling my father I hadn't got a job was enormous, because that would have been accepting failure in front of my father which was something I did not want.
Of the headline that once made the rounds in England, that a wine from Marco's wine list was as expensive as an island in the Bahamas!
Well, that was only one bottle and not the whole cellar! I was fortunate to buy it in Christie's. The bottle was an 1874 Chateau d'Yquem. It was one of the great wines of the world, and, was perhaps one of the last few bottles left. In those days, I billed my wine list for a few thousand and the truth is we never sold that bottle. One evening, I was entertaining and thought of showing my friends the bottle. One asked what it tasted like – so we opened it – and I must say that the bottle no longer exists and more delicious wine has truly never been corked.
No favorites, just the love of food cooked well
I don't have a favourite dish. Everything is delicious if it is cooked well. When I travel the world, I want to try the food of that country. I want to sit with the people and eat the food that they eat, to indulge and to get lost in it. For me eating is about the emotional impact food has on you. I am not pacified by pretty food, but by delicious food. With Instagram today, more importance is goes to the visual, rather than eating. I see some pictures where the ratio of protein to sauce or garnish is wrong and so you end up eating plain pieces of food. When you focus on presentation, there is a loss of heat. Just like an espresso or cup of tea loses its taste when it is cold, so does a plate of food. That scent, those spices, all lose their magic, when it goes cold. I used to walk into restaurants and smell food, but today they have got such good air-conditioning that you cannot smell food anymore!
Grande cuisine vs petit cuisine
I come from the world of Grande Cuisine and not petit cuisine. When I say petit cuisine, I mean small. I don't have the patience to sit at a restaurant and eat 16 courses of little knick-knacks. When you go I these restaurants, I feel rather patronized –where you get these small plates and the emphasis is placed on visual. And then the waiter tells you what you are eating, and how to eat it. I don't want to be told what to eat and how to eat. I would like to choose from a menu what appeals to me, and, go home with a full tummy.
Women in the commercial kitchen make a world of difference
My experience firstly is – women tend to more disciplined and punctual. They are also tidier than men. Their real gift is that they have a better palate than men as well as a sense of smell. This means that their seasoning is more accurate. Palate for a man, unlike for a woman, doesn't come naturally and they have to work on it. Women are also more conscientious. They may not have the physical strength of men, but the qualities they have make a world of difference. I have worked with women in my kitchen and I could rely on them to be consistent. With no disrespect to men, but being brutally honest, men will take the shortcut if they can. And the truth is, when I was young, if I could take a shortcut, I would!
Perception of Indian food internationally?
Indian cuisine is one of the finest cuisines of the world. My favourites are Indian, French, Italian and Cantonese as well as English, when it is done well. At the competition held in Mumbai in the first edition of WOAP, I had to taste food from the top 5 restaurants. What impressed me was the quality and versatility. And what impressed the most was the balance of spices and flavours. Nobody in the world knows to use a spice like in India and I can see why chefs from America, Europe and France are coming here to learn the skill.
*EazyDiner Promotional Feature*