Is there any special occasion coming up? Book a table and head over for the feast of a lifetime at the Sheraton Grand Bengaluru Whitefield Hotel & Convention Center. They have a vast array of dishes and restaurants ranging from International cuisines to your favourite Indian ones which are perfect for large groups.
This hotel has some top 'wining' and 'dining' options that include Feast, Chime, Inazia and Upper Cut.
A 24-hour coffee shop that will sort you out with breakfasts and will make you want to skip lunch. Not really, they have about 5 stations with Western, Indian, organic and healthy options. International favourites on the menu include pasta, roasts and grilled items, seafood, fresh fruit and salads. The restaurant also offers one of the largest assortments of desserts, fresh juices, a vast array of cocktails, aromatic coffee drinks and an exhaustive wine list. They also offer a relaxed and fun-filled Sunday Brunch with live cooking stations where dim sum, kinds of pasta, wok noodles, hot breads and much more are served fresh. Be it breakfast, lunch or dinner this restaurant provides a unique and exciting experience for its guests to savour new taste and flavours.
Book now! Click here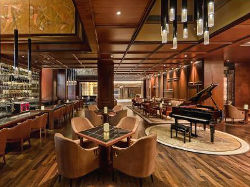 It is the ideal place for those who wish to unwind with "tiny bites and happy highs". In other words, treats to munch on while sipping on drinks from a range of creative cocktails, mocktails, wines, martinis and single-malt whiskeys. Experience a casual surrounding during the day and a cosy, cheerful aura by night. The lavish bar assures of excellent service and aims to give the guests an enjoyable time. The beverage menu boasts of draught and bottled beers from across the world, while the food menu is a mix-match of both Indian and International finger food which includes appetizers such as Spicy Tapioca Chips, Kasundi Mahi Tikka, Bengal Mustard Marinated Fish, Lamb and Camembert Croquette, Artichoke Basil and Burrata Crostini, Roasted Pine Nuts and Hummus, Baba Ghanoush, Labneh, Fattoush, and Pita. Addition to the list is Live Band Performances and Karaoke. It is a must-visit for an eventful nightlife.
Book now! Click here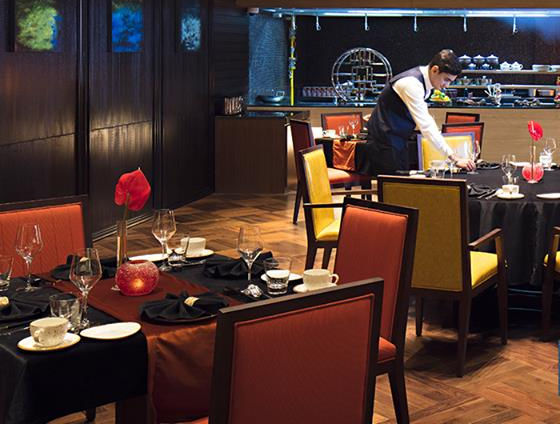 It is a fine dining restaurant where all your frowns turn into joys, the very moment you enter. Be it the foremost menu that features delicious Asian delicacies or the magnificent and elegant ambience, that one gets under one roof. The variety of delicacies that the place offers spoils one for choice. InAzia boasts of a contemporary yet original style of Asian cooking, that encompasses an array of delectable Thai and Chinese cuisine such as Crabmeat Celery Crystal Dumpling, Mapo Tofu, Celery, Young Corn, Black Bean Sauce, Chicken Thai Curry, Pea Aubergine, Basil & Coconut Cream, Massaman Curry, Slow Cooked Aromatic Lamb and Baby Potatoes Fried Shallots. Not to forget, the beverage menu comprises of an exciting selection of innovative cocktails infused with Chinese influenced non-traditional cocktail ingredients such as 'Sichuan Chili', 'Lemongrass', 'Osmanthus Honey', 'Jasmine Tea', 'Matcha', 'Ginger', 'Five Spices' and 'Goji Berries'. It is an ideal place for people who want to go for that noble dining experience and boast about it to their friends and loved ones.
Book now! Click here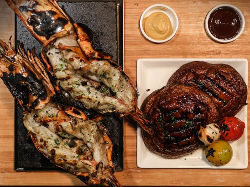 Set in an al-fresco ambience, Upper Cut is a grill establishment at the Hotel. It specializes in premium steaks and fresh seafood. Guests can enjoy the special craft and boutique beer to complement their meat cuts, sip on an experimental or classic cocktail. It is an ideal place for people who want to go for that noble dining experience and boast about it. An addition to the offering is outdoor seating. Another exclusive feature of the Upper Cut is that it is child-friendly and has plans to unveil a variety of cooking and butchery classes between meal periods conducted by the resident culinary team for both adults and children.
Book now! Click here
*EazyDiner Promotional Feature*