Uttarayan - the famous kite-flying festival, which is hugely popular in Ahmedabad, is here again. The government of Gujarat organises special kite-flying events which first began during Prime Minister Narendra Modi's tenure as chief minister to attract kite enthusiasts from all over the world. Therefore, Uttarayan has become a time where restaurants offer special food festivals so that families and friends can enjoy this two-days of the festival with lots of kite-flying along with it.
We present to you the various festival-related food festivals that are currently going on in Ahmedabad.

This is a South Indian restaurant located on the first floor of The Fern hotel. It is the best place for tasty and authentic South Indian cuisine from Kerala, Tamil Nadu, Karnataka and Andhra Pradesh cuisines. It serves both vegetarian and non-vegetarian food.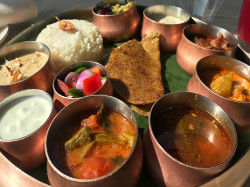 Pongal Thali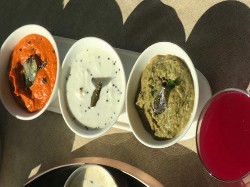 Currently, there is a Pongal Food festival being organised. This is festival time even in the Southern states, so enjoy a hearty meal at Dravida called Pongala Pongal. The festival will continue until January 19, 2020.
Cost for two: Rs 1500 plus taxes 
Agashiye, The House of MG, Ahmedabad
This is a stylish restaurant for Gujarati thali food. It is part of the heritage property The House of MG. Here you can enjoy half a day or full day of kite-flying along with traditional Gujarati sweets and fruits which include Chikki, Ponk Bhel, Laddo, Fafda, Boor, Guava and other eatables during this festival.
Cost for two (during the festival): Rs 5000 (full day) and Rs 4000 (half day)
Rang, Crowne, Plaza, Ahmedabad
This is a Gujarati restaurant which has been newly opened up in the Crowne Plaza Hotel. It is located on the first floor. This place is open from 11 am to 11 pm. Currently, there is a Kathiyawadi Food Festival which will continue until January 16.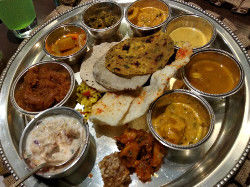 Gujarati Thali
Here they serve Gujarati Thali meal. 
Cost for two: Rs 1500 plus taxes