As Navratri and Durga Puja celebrations come to an end, the hotels in Hyderabad are back with their food promotions. Here are 3 festivals going on till October end which may be worth looking at for some diverse and interesting food.
Magadh Food Festival at Sheraton Hyderabad
Food festivals showcasing Bihari cuisine are rare. After their successful Odia festival in August, Sheraton Hotel at Gachibowli is back with Magadh food Festival.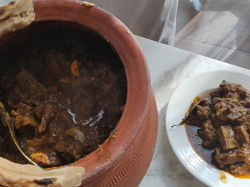 Ahuna Mutton
Curated by 'Chef Satish' who hails from Bihar, the festival presents different delicacies from the Magadh region. Starting with Mutton Tikki and Kathi Roll, the festival presents the famous Ahuna Mutton from Champaran as well as the flavourful Toddy Chicken. Litti Chokha, the signature dish from Bihar is served with a range of chutneys, while Masoor Dal Khichri brings forth the comfort food element. Live counters dishing out Pani Puris and Alu Kachalu will wow the guests, while the Sattu Sharbat is a refreshing drink to have.
Desserts
An elaborate dessert spread including Lavang Lata, Thekua, Gaja, Gujiya and Tilkut completes the meal. The festival, which is part of the dinner buffet is on till 28th October.

Venue: Feast, Sheraton Hyderabad Hotel, Gachibowli
Turkish Food Festival at Radisson Blu Plaza

Last year Radisson had hosted a very successful promotion of Turkish cuisine. The festival is back this year with cooperation from the Turkish Consulate. 'Chef Osman Cavus', a lecturer in Gastronomy at Bolu, Turkey is in Hyderabad to curate the festival at Chill, the buffet restaurant at Radisson Blu Plaza Banjara Hills.
The extensive menu has quite a few dishes from Turkey and the Mediterranean region.
Dolma
Pastrami
Pastrami, a dry smoked beef preparation is a unique dish, while Kuru Viver Patlican Dolmasi (Rice stuffed bell peppers) is another interesting item. Among the main courses Tenderloin in Turkish Gravy, Hunkar Begendi (a lamb and eggplant stew) and Zeytinagli Enginar (a mixed vegetarian curry) are the dishes of note. The desserts included the signature Basbousa, Baklava, and Kunafa. Chill is hosting this festival only till 28th October as part of the buffet.
Venue: Chill and Terrace, Radisson Blu Plaza, Banjara Hills
Feast from the East at ITC Kakatiya
Right after Durga Puja, Deccan Pavilion at ITC Kakatiya is hosting Feast from the East, a festival of traditional Bengali food. As part of the dinner buffet, the menu has many delicacies from the Bengali kitchen.
Radhaballabi with Alu Dom
After feasting on Vegetable Chop and Chicken Dak Bungalow, one can move to the combo of Radhaballabi with Alu Dom.
Luchi and Kosha Mangsho
The Kosha Mangsho here is authentic, while the Bhetki Paturi where fish is steamed in a mustard-based masala inside a banana leaf is quite special too. Other main courses include Prawn Malaikari and Murgir Jhol.
Kalojam
'Chef Shiben Ghosh' is known for his Bengali sweets, Misti Doi, Kalojam and Malai Sandwich do justice to his reputation. This festival too is on till Sunday 28th October.