Oktoberfest is one of the most celebrated festivals in Germany and it looked forward to by many across the globe. It is a 'beer festival' from Munich, which started in the year 1810 at the royal wedding of the Crown Prince Ludwig to Princess Therese of Saxony. The relevance has changed today but the celebrations and the merry-making continues. JW Mariott Kolkata had started Oktoberfest at JW Kitchen from last year and it was one of the most talked-about festivals. This year, there is a repeat of the celebration at the Sunday Brunches through September at JW Kitchen with the best of German food and drinks.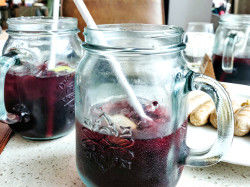 Red Wine Spritzers
You can begin with a very interesting drinks cart with the choicest of beers, spritzers and many more beverages. However, it is the Red wine Spritzer which is highly recommended. With mild spices and on a fruity note, the Red Wine Spritzer is a refreshing way to begin your brunch.
Cold Cuts

Order some cold cuts and a warm German Potato Salad to make an interesting start to your Sunday brunch.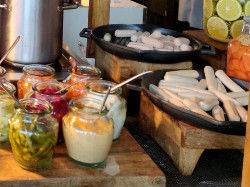 Sausage Cart

There is a sausage cart lined up with many varieties of sausages. German food is all about sausages and at this Oktoberfest at JW Kitchen, you will get plenty from chicken to pork sausages.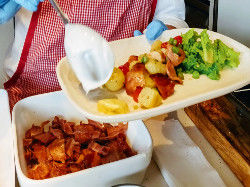 Warm Potato Salad
The salad/s do not end at Warm Potato Salad. There is a wide selection of salads to pair with your drinks and sausages. German Chicken and Barley Soup is simple and heartwarming with mild flavours.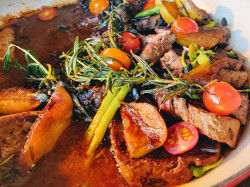 Beef Pot Roast

The main course has Sauerbraten or the Beef Pot Roast with plenty of vegetables. Now, who does not like a Pot Roast? The meat is tender and can be pulled apart with the fork and tastes absolutely delicious. A bowl of Sauerkraut Apple Potato Casserole is the perfect accompaniment.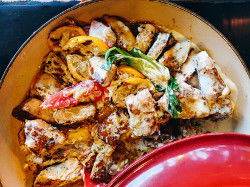 Pan-seared Fish in Mustard Sauce
Pretzels
There are pretzels and other German breads to dunk into the Pot Roast. For fish lovers, a creamy Pan-seared Fish in Mustard Sauce is a must-try.
The showstopper of this brunch is a station dedicated to pork carving.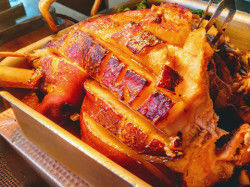 Ham Hock
A whole Ham Hock or Pork Knuckle is glazed in a sweet and salty jus and roasted with pineapple, apple, baby carrots, baby potatoes, fennel, asparagus, brussel sprouts and beetroot. All the juices from the vegetables add to the flavour of the dish. Take a piece of the carving and drizzle from one of the six jus available on the side - Rosemary, Bbq, Pepper, Apple, Whole Grain Mustard or Maple.
With or without Oktoberfest at JW Kitchen, the lavish Sunday brunches are the talk of the town. So, the Asian station with dim sums, noodles and other dishes, a very elaborate North Indian station, salads, dips and many more are there to satiate your hunger.
Black Forest Cake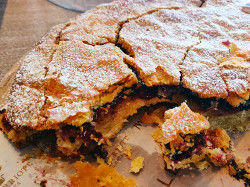 Cherry Pie
The dessert section is very attractive with several German delicacies like the original Black Forest Cake, German Apple Strudel, Cherry Pie and so much more.
With Durga Puja around the corner, this year Oktoberfest at JW Kitchen will only be held on the Sundays in September. So without wasting any time, make your reservation for this brunch. The brunch is priced at INR 1699 with the unlimited soft beverage, INR 1999 with unlimited premium brands and sparkling wine, INR 2999 with unlimited premium brands and champagne.