If you need your fix of Parsi food, there are plenty of restaurants to visit that will keep you satisfied. However, if you truly want a feast then this is the perfect time to visit these restaurants and indulge in their elaborate Parsi menus specially curated for Parsi New Year this month. From sweet treats to hearty plates of fish, cutlets and lots of meat, these are some of the best Parsi New Year menus at restaurants in Mumbai.
Neel - Tote On The Turf, Mahalaxmi, South Mumbai - The restaurant is embarking on a 10 days food festival to celebrate a week of festivities including Independence Day, Raksha Bandhan and Bakri Eid. Along with this, there is a special Parsi food menu to celebrate the Parsi New Year from the 15th - 18th of August 2019. The menu includes dishes like Chicken Berry Pulao, Tatreli Prawns, Patra Ni Paneer and much more.
Book now! Click here
SodaBottleOperWala - This is one of the best restaurants to enjoy a Parsi meal at any time of the year because of its quirky decor and ambience, but in August, it is all about their special Parsi New Year menu. While the new year is on the 17th of August, the festivities begin here on the 12th and end on the 24th of August with their set Bhonu of traditional Parsi recipes. Lots of Parsi favourites like Kid Ghost, Gajar Mewa Nu Achaar, Russian Pattice, Falooda, Dar ni Pori and many more.
Book now! Click here
Amadeus - Chef Farrokh Khambatta is known for his exquisite catering service as well as his popular restaurants and every year he curates a special Parsi Menu at his restaurants. This year Amadeus has a set meal that can be enjoyed at the restaurant or even packed as a takeaway. This Parsi Bhonu includes dishes like Chicken Russian Pattice, Patra Ni Machi, Lagan Nu Stew and even his signature Kahlua Crème Caramel.
Gallops, Mahalaxmi, South Mumbai - It is the first time the restaurant known for their exquisite Indian and continental fare is hosting a Parsi menu on the occasion of Parsi New Year. Unlike most eateries, the menu here is slightly different in an effort to showcase more than the usual suspects.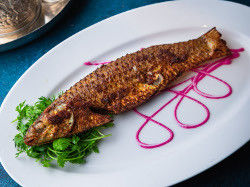 Navsari Ni Boi
There is a Navsari Ni Boi, a fish that you only find in Gujarat and hardly ever on a menu in the city and a Topli Nu Paneer -ricotta like cottage cheese floating in a salt brine. Along with these, you can expect to feast on Patra ni Machli, Dhansak Dal and even a Sancha nu Mango Ice Cream straight from Udvada.
Doolally Taproom, Khar, Western Suburbs - Your friendly neighbourhood brewery is hosting a fabulous Parsi New Year Brunch on Sunday 18th August at their Khar outlet from 11 am to 4 pm. Guests can choose from a beer brunch package or then just the food with a special kids brunch as well. Think all sorts of eggs, just how the Parsis like it, lots of Parsi Poros ( Omelettes ) appetizers like Chicken Farcha and Chutney Eeda ( Egg ) Pattice. You will also find Patra ni Machi, Mutton Sali Boti, Lagan nu Custard and all their other friends.