Hot cross buns
Hot cross buns
One a penny, two a penny
Hot cross buns
There is rarely anyone who would not have sung this song while growing up. It was in the 12th century that a monk had made a cross on the buns to mark Good Friday weekend and how over years this has become a symbol of Easter celebrations across the globe. An Easter brunch is more than hot cross buns with Lamb Roasts, Turkey Roasted Pork Loin and not to forget the Easter goodies which gets sold across confectionaries for the entire week. If you are up for a great Easter Brunch then these are the places to check out in Kolkata.

Waterside Cafe - They call it Eggcitement and the excitement is all across the property. If its Sunday then one cannot miss the chance of enjoying brunch at La Cucina also. At Waterside Cafe, the all-day dining, there is Soup and salad which has Seafood Chowder and Minestrone Classique as the starting point. The vegetarian spread has selections from hummus, babaganoush, Iranian coush coush, amongst others. It is all egg in the non-veg section namely Smoked Salmon Devilled Eggs, Bacon Cheddar Devilled Eggs, Cajun Devilled and some more. Braised Octopus with Baby Tomato, Chicken, spicy Tenderloin Salad is few more to pamper your palate. In additon, there will be a Cheese Station, Kebab Station and Live Egg Station too. Do not miss out on 12 hours marinated Slow Roasted Pork Belly.
Book now! Click here
La Cucina - Veg and non-veg Antipasti, Marsala Brine Slow Roasted Lamb Legs, Assorted Breads Easter Special Pizza, veg, non veg Pasta, Oven Roasted Heritage Chicken are some of the highlights of the menu here. Cappacino Caramel, rustic Lemon Tart with Nuts, are some of the desserts to select from.
Book now! Click here
Time - 12.30 PM to 04:00 PM on 21st April
Cost - Waterside Cafe - INR 2100 plus taxes ( without alcohol) and INR 2400 plus taxes ( with alcohol) | La Cucina - INR 2250 plus taxes ( without alcohol), INR 2550 plus taxes ( with alcohol)
The Oberoi Grand, Kolkata - Threesixtythree° has plenty of treats lined up for this Easter Brunch. Roast Turkey, Naga Pork Curry, Seafood Provancale, Asparagus and Cheese Tart along with classic easter goodies are on the offering.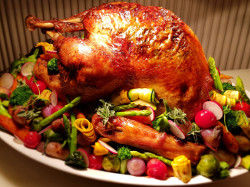 Sunday Brunch
In one of the best all day dining of the city, you can always expect some surprise when you plan your Easter brunch there.  

Time - 21st April 2019 from 12.45 pm to 03:00 PM
Cost - INR 4500 plus taxes for two.
Book now! Click here
Alfresco, The Lalit Great Eastern Kolkata - Alfresco, the all-day dining has a wide variety of Easter delights to select from.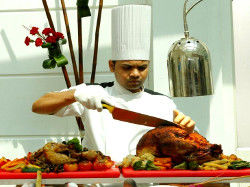 Carving Station
Around 15 salads and soup to start with, followed by a wide array of veg and non-veg dishes like Red Wine Irish Beef Stew, Pan Seared Fish, Garlic and herb crusted Leg of Lamb Roulade, Lemon and Thyme Rubbed Bhekti with tossed Beans and Raisin, Zatar and Tahima Marinated Roast Chicken are on the offer.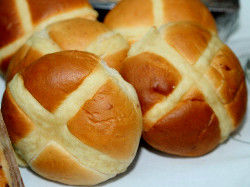 Hot Cross Buns
What is Easter without desserts?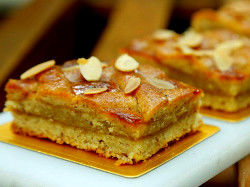 Polish Mazurek Royale
Check out Polish Mazurek Royale, Labneh Pie, German Battenberg Cake, Framboise Paris Sugar Rush from many others and also not to miss the Easter breads.  
Time - Easter Brunch on 21st April
Cost - INR 2050 ( All inclusive) per person  
Book now! Click here 
Seasonal Tastes, The Westin, Kolkata - The all-day dining Seasonal Tastes will have a specially curated Easter Sunday Brunch which will feature Roasted Lamb Three Ways, Turkey Roulade, Spanish Roasted Pork Loin, Slow Cooked NZ Lamb Loin, Quail Biryani to name a few.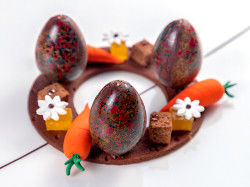 As there will be an Easter wild hunt and a live band an Easter Bunny mascot will make a guest appearance too. The desserts will have Kiddie Cupcakes, Pate De Fruits, Petit Gateaux.
Time - 12.30 PM to 04:00 PM, 21st April
Cost - INR 1499 plus taxes per person
Book now! Click here
Flurys, Park Street Area, Kolkata - if you are from 60s, 70s or 80s too, Easter was incomplete without a visit to Flurys in Park Street.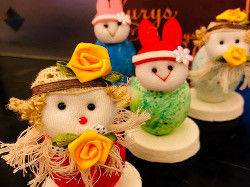 They will have Easter Eggstravaganza which will be the Easter goodies on sale until 21st with a pocket pinch of INR 70 onwards. One can pick from Lemon Fondant Chocolate, Strawberry Fondant Chocolate, Marzipan, Easter Cupcakes etc.
The great Easter Brunch will have a vast collection of soup, antipasti, insalata, carving station, seafood grill station, main course and desserts. Do not miss out Atlantic Smoked Salmon Southern Deviled Egg, Pineapple and Mustard Glazed Ham, Grills of Prawn, Salmon, Octopus and Pomfret. How can you let go the main course where there is Spicy Honey Garlic Grilled Rabbit, Roasted Chicken with Rosemary Garlic, Lamb Steak and Egg with Bearnaise and Saute Spinach, Harissa Marinated Grilled Bhekti. There is also an unputdownable platter of dessert.
Date - 21st April
Cost - INR 1499 per person plus 10 percent service charge
JW Marriott Kolkata - There is a brunch and as well as dinner at JW Kitchen on the occasion of Easter and one will be spoilt with choices. T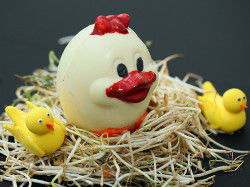 To name a few there are Easter specials like - Maple Glazed Roasted Baby Carrots with Wild Herbs, Roasted Wild Mushroom Pate with Truffle Shortcut's, Roasted Cheese Loaded Zucchini. The main course will have Chipotle Roasted Whole Bhekti, Roasted Lamb Leg, Smoked Mozzarella Vegetable Lasagna amongst others. Easter is incomplete without desserts, so check out Easter Raspberry Lemon Pound Cake, traditional Hot Cross Bun, Easter Pistachio Cake, Easter Croissant Berry Pudding.
Time - Buffet lunch and dinner 
Cost - For Lunch - INR 1799 plus taxes for unlimited soft beverages and INR 2250 plus taxes for unlimited spirits. For Dinner - INR 1775 plus taxes for unlimited soft beverages and INR 1999 plus taxes for unlimited spirits.
Book now! Click here
Afraa Lounge and Afraa Restaurant - There is a cold buffet, make your own salad, Italian antipasti which will see Marinated Mushroom with ginger and rice wine, Roasted Peach with Balsamic and Feta. There are Deviled Eggs and Easter Eggs with Seafood Salad with Chili Mango. The focus will be on Sliced Fish in Chilli Oyster, Roast Chicken with Porchini Cream, and the dessert section will have Chocolate Easter Egg, Miniature Chocolate Caramel Entremet, Red Velvet Tart, Mango Monte Carlo.
Time - 21st April 

Cost - INR 999 plus taxes per person
Book now! 
Afraa Lounge & Afraa Restaurant
Eden Pavilion, ITC Sonar, Kolkata - The Easter Brunch at Eden Pavillion has planned to pamper you with some delectable choices. The menu features roasts and pies, Anglo-Indian delicacies, Thyme-roasted Carrot and Dill Soup, Tuna and Egg ensemble with Tobiko, Berry glazed Roasted Turkey with Herb Jus, Pork Saltimbocca with Rosemary Jus, Four Cheese Scalloped Potatoes, Ecossaise - Scotch egg, Baked Fish Mimosa, Meringue Nests, "Bunny Rabbit" Orange Chiffon Cake, Easter frosting cake and Ricotta Cheese Cake filled "Easter egg shells" to name a few.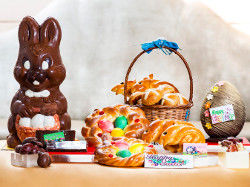 Nutmeg The Gourmet Shop
Nutmeg the gourmet shop has to offer delicious range of Easter Eggs, Hot Cross Buns and Easter special Chocolate Fudge. Do not miss out on great Easter hampers too.
Date - The Easter special brunch is from 19th to 21st April 
Price - INR 1699 plus taxes per person with soft beverages and INR 1999 plus taxes per person with premium beverages 
Book now! Click here
Taj Bengal Kolkata - The all-day dining at Taj Bengal is all geared up for Easter special brunch which will offer Live salad counters, tossed salads, soups, choice of breads, Live nachos and tacos with choice of toppings, veg and non-veg grills etc.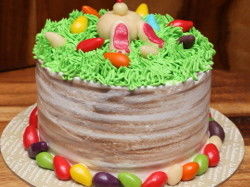 The main course will have veg and non-veg pizzas with a choice of toppings, live pasta counter with a choice of pastas, sauces and toppings, live risotto and curvey counters with a variety of desserts.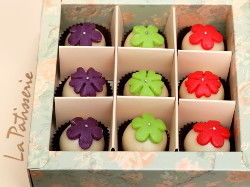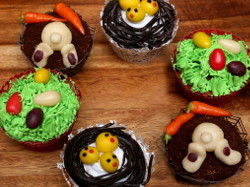 Easter will also be celebrated at La Patisserie and The Promenade Lounge where one can pick up from Easter specialities like Ebony and Ivory Cake, Rum Orange and Chocolate Cake, Simnel Cake along with Nutty Easter Bread, Lemon Cherry Bread and others.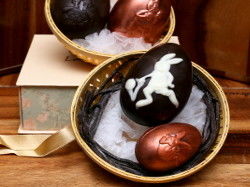 Time - Easter Brunch on 21st April and goodie on sale until 21st April
Cost - INR 2000 plus taxes without beer and INR 3000 plus taxes with wine and beer
The Gateway Hotel, Kolkata - How can you resist Roast Country Duck, Grilled Pave of Tenderloin with Rosemary Jus, Lamb Goulash or Mandarin Orange Marinated Grilled Fish. That is not enough, there are Broccoli and Corn Filled Scooped Potatoes, Eggplant and Zucchini Parmigiana, Live Vegetable Crepes the list is endless.
Time - 07.30 PM to 11:00 PM
Cost - INR 999 plus taxes for non alcoholic buffet dinner