Dhansak, Patra Ni Machchi, Marghi Na Farcha! Tasty Parsi dishes served in restaurants in Ahmedabad.
Parsis are believed to have first landed in South Gujarat between the 8th and 10th century and since then the Parsis have always had a strong connection with Gujarat. In fact, the Parsi community's language is a version of Gujarati language and the traditional dress of Parsi women is the sari worn in the Gujarati style.
However, Parsis have their own distinct religion, culture, tradition and cuisine. They make some really amazing non-vegetarian dishes as the Parsis are predominantly non-vegetarians. Ahmedabad, which has many more vegetarian restaurants than non-vegetarian ones has its share of restaurants offering Parsi food including one vegetarian restaurant serving a vegetarian version of the popular Dhansak which traditionally has mutton in it.
We present to you some amazing restaurants serving traditional Parsi dishes. List of the top restaurant serving good Parsis dishes in Ahmedabad
Silver Leaf Bistro located in Acropolis Mall on S G Highway is a sister outlet of Silver Leaf and it is owned by the same group. This place is open from 11:00 am to 01:00 am and it is a nice outlet on the ground floor of the mall. It has a large Parsi section which, apart from the Dhansak, also serves Surti Khattu Gosht, Ras Chaval and Bhinda Pur Eenda among other things. It also has Akuri on Toast, the famous Parsi scrambled egg preparation.  
Price for 2: INR 1400 

Book now! Click here
This is a much-awarded restaurant and it serves some well known Parsi dishes. It also recently had a Parsi food festival.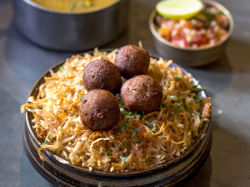 Vegetarian Dhansak
Dhoom Dham serves Vegetarian and Chicken Dhansak, Rustom's Egg and Dhun Bai Na Kheema Cutles Gareby, which are their take on Parsi dishes. This restaurant is open for lunch and dinner. It is owned by a Parsi and the chief chef is also a Parsi, so, expect great Parsi dishes here.
Price for 2: INR 1100
This is the 24-hour restaurant of Cama Hotel, the oldest luxury hotel of Ahmedabad. Also owned by a Parsi family, Silver Leaf has a separate Parsi section with dishes like Mutton Dhansak, Vegetarian Dhansak, Patra Ni Machhi, Kheema Pur Eedu and Khichdi Kheema.
Price for 2: INR 1200
This restaurant is located near Law Garden, a very popular place for recreation in Ahmedabad. Swati Snacks, which originated in Mumbai, is a vegetarian restaurant. It is open from 12 noon to 10.45 pm. It serves vegetarian Dhansaak and is a hugely popular place for snacks.
Price for 2: INR 600
Located on S G Highway, this restaurant is owned by the same Parsi hotelier who also owns Dhoom Dham. Mad by Tomato's is a multi-cuisine restaurant in retro style.
Sali Boti
Open for lunch and dinner, it serves Vegetarian and Chicken Dhansak, Sali Murghi, Sali Boti and Kheema Pav with Eggs.
Price for 2: INR 1300