The restaurant industry in Hyderabad is going through constant churn. While you regularly hear of closing down of many existing restaurants, fresh ones are coming up too in different parts of the city. The new restaurants have varied unique selling propositions - some differentiate on basis of the cuisine they offer, some give a lot of effort on the ambience, while some stress on the point that they are the quickest of the QSRs. We look at a few new food and beverage places in the city, which made their mark in a short time and will be worthwhile to visit in 2020.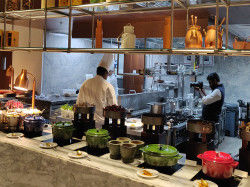 Turquoise, Le Méridien Hyderabad
Turquoise is the all-day dining restaurant of the newly opened Le Meridian Hyderabad. The restaurant is getting known for its sumptuous buffets with multiple live counters. Chef Qureshi's Corner is a special counter that offers three signature Awadhi dishes on a rotational basis with highlights such as Awadhi Murgh Qorma, Nalli Nihari and Galouti Kabab. The buffet has dishes from Indian, Oriental and European cuisines. The dessert counter is another specialty with a large array of offerings.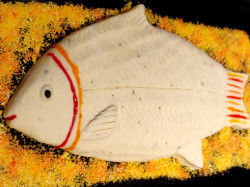 Fish-shaped Sandesh
The a-la-carte menu is no less impressive with items such as Jaw Dropper Burger with artisanal cheese and Guntur chillies, Peranakan Steamed Seabass, Mysore Pak Tart and Double ka Meetha Brulee. Gongura Omelette and Ghee Roast Mushroom Croissant are among the signature breakfast dishes.
Location: Le Meridian Hyderabad, Miyapur Gachibowli Road
Book now! Click here
10 Asia Kitchen, Jubilee Hills, Hyderabad
10 Asia Kitchen located on Road No 36, Jubilee Hills, gets its name from the fact that it serves cuisines of 10 different Asian countries under one roof. The place is getting known for its dim sums, including Half Moon Gyoza, Tofu and Double Mushroom Dumpling, and Shrimp Har Gao. This is one of the few places in Hyderabad where you can go for baos.
Murtabak
Murtabak, Duck Spring Rolls, Gochujhang Lamb Chop and Roasted Chilli Pork Belly stand out among the appetizers. The a-la-carte menu has the favourites of each country such as the Burmese Khau Suey, Thai Massaman Curry, Indonesian - Nasi Goreng and Sichuan - Chilli Tiger Prawns. A dessert which is becoming popular here is the Japanese Cheesecake. They have a popular lunch buffet where you can taste many of their signature dishes together.
Location: 4th Floor, Plot 230, Road No 36, Jubilee Hills
United Kitchens of India, Karkhana, Hyderabad
If 10 Asia is the destination for food for different Asian countries, the new United Kitchens of India at Karkhana Secunderabad specializes in regional Indian cuisines. The cuisines on offer are the same as the other outlet in Jubilee Hills (now temporarily closed for renovation) such as Bengali, Tamil, Rajasthani and Indianized Chinese apart from the local Telugu and Telangana food.
The Andhra style pulavs such as Bhimavaram Royyala Pulav, Palnadu Kodi Pulav and the fusion Butter Chicken Pulav deserve attention.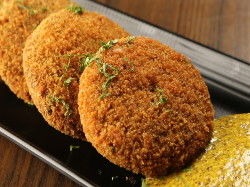 Bhimavaram Stuffed Pithalu from coastal Andhra Pradesh, Hyderabadi Nalli Gosht ki Nihari, Fish Kobiraji from Bengal, Murgh Angaar from Punjab, and Rajasthani Lal Maas are some dishes not-t-be-missed. They have also introduced pizza in the new outlet.
Location: The Purple Leaf Hotel, Karkhana, Secunderabad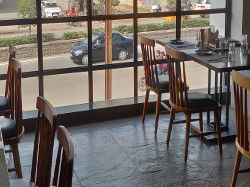 Maguro, Jubilee Hills, Hyderabad
Another Pan-Asian restaurant that has made a name for itself in a short time.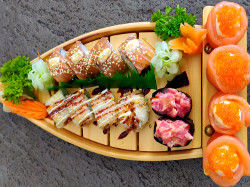 Sushi
Maguro (which in Japanese means Bluefin Tuna Fish) at Film Nagar offers different varieties of sushi (both veg and non-veg) and sashimi, and a platter of sashimi is especially delicious with Salmon, Tuna, Yellow Tail, Eel, and Scallop. They are possibly the only place in Hyderabad to offer Ema Datshi - the Bhutanese signature cheese, and chillies preparation. Another favourite is the Salmon Skin in Teriyaki Skewers. The Garlic Dimsum Soup is a dish I can wholeheartedly recommend. Other remarkable dishes include Tangy Cheese Balls and Massaman Curry, Matcha Green Tea Ice Cream can be a fitting end to the satisfying meal.
Location: Road No 82, Film Nagar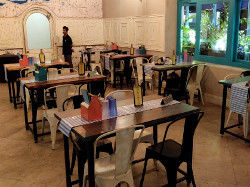 The Bar Project, Begumpet, Hyderabad
The Bar Project is a new watering hole in Begumpet. It is located close to Begumpet Metro station, inside the Country Club premises. The ambience is rather nice, with the open area overlooking the club swimming pool. Quite a few drinks here including Old Fashioned, Whisky Sour and an array of martinis including Coconut Martini and Beer Martini are nicely presented.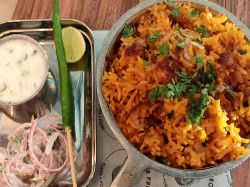 Tawa Pulav
Coming to the food, Mutton Ghee Roast with Malabar Parota, Chapli Kabab, Fish Wrapped in Banana Leaf and Mushroom and Cheese Cigars were very impressive too. Chana Jor Garam had been the actual go-to chakna for many of us during our younger days, and the restaurant thoughtfully has this on the menu. Zafrani Jhinga and Pea stuffed Samosa, also do full justice to themselves.
Location: The Country Club, Near Begumpet Metro Station, Begumpet
*EazyDiner Promotional Feature*