Bengaluru has 8 new restaurants that you can now add to the ever-expanding list of places to launch in the city. 
Mahjong Room, Welcomhotel Bengaluru
The Mahjong Room at WelcomHotel is a distinctive culinary celebration where the Chefs have reformed select dishes from China's Sichuan, Hunan and Cantonese repertoire. The gourmet restaurant offers a carefully curated, extensive Chinese alchemy of food highlighted by the precise skills of shaping, heating and flavouring.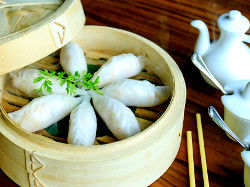 Shrimp Har Gao
Asian Vegetable Spring Roll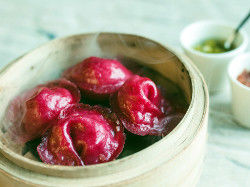 Shiitake and Black Mushroom Gyozas
Signature dishes from the menu include appetizers such as Crisp Lotus Stem with Sesame, Lotus Leaf Chicken and Shitake and Black Mushroom Gyozas.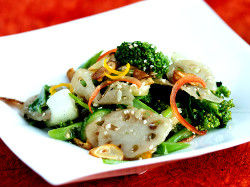 Stir-fried Chinese Greens with Minced Garlic
In the main course, experience signatures like Crisp River Sole with Oyster Sauce and Seasonal Greens, Mapo Tofu with Black Bean and Chili Flakes and Wok Tossed Crisp Pak Choy and Lotus Stem Dumplings in Hunan Sauce. The array of desserts is worth experiencing, Banana Split Toffee, Passion Coconut Lime Shortcake and The Real Orient Mahjong being the signature ones.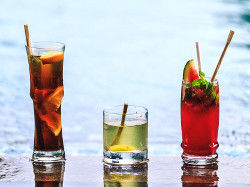 Some of the signature concoctions from the bartender include Sakura Cosmos, The Battle of Chibi, The Monkey King, The Chinese Emperor Iced Tea amongst others. Experience Chinese like never before at the Mahjong Room.  
Book now! Click here
Copacabana, Ulsoor, East Bengaluru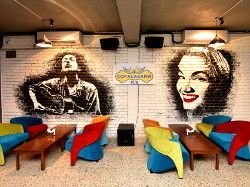 Cambridge Layout has a new address, perfect for after hour sessions with workmates and friends. The brand is back in its 3rd edition as a brand new pub and promises to bring back a hint of nostalgia for old-timers and a fresh environment for the newbies. There is also all-day breakfast, several kinds of martini and good ol' bar bites from across India. Cosmopolitan, Daiquiri, Pina Colada, Margarita, Screw Driver, and Caipiroska are some of the classic cocktails you can opt for here. There are also several kinds of Martinis (Rosso, Bianco, Dry) with choices such as the Espresso Martini or the refreshing Watermelon Martini. The menu also promises several gin-based cocktails such as Pink Lady and the Gimlet and shooters like Jager Bomb and Lemon Drops. Love yourself cocktails, then opt for Copacabana's Cocktail Pitchers (4 for 3) and the massive Cabana Pitchers (8 for 6) are perfect for large groups. Single malts, vodka, gin, beer and wine are other highlights. Where there is a bar, there needs to snacks on offer express style too.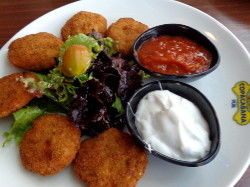 Boneless Chicken Mini Kievs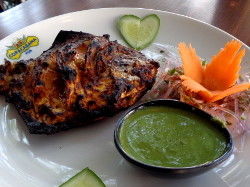 Pomfret
Pick from Cocktail Samosas, French fries, Spicy Military Style Peanuts, and Potato Croquettes from the Express Snacks section. Specials like Chakka Kuru Varathe - jackfruit seeds roasted with coconut, Mussels Fry, Classic Cheese Bhel and Potato Corn and Cheese Kibbeh along with the usual Bacon Wrapped Prawns, Chicken Tikka, Nachos and Paneer Tikka make an appearance on the menu too.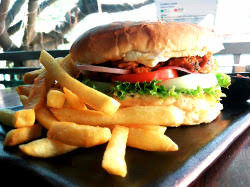 Spicy Copes Lamb Burger
There is also pastas, wood-fired pizzas, juicy burgers and sandwiches to munch on. Finish off with Tiramisu, Apple Tart or Gelatos in flavours like Milk Chocolate and Irish Coffee or sorbets of Watermelon and Mango.
Book now! Click here
A slice of good news for all you pizza lovers! 1441 Pizzeria is the newest entrant in JP Nagar. Widely known in Mumbai & Pune for its traditional and authentic wood-fired pizzas, 1441 Pizzeria is now in Bengaluru. A pizzeria personally guided by Master Chef Renato Viola, World Pizza Champion with his own recipes.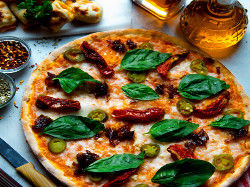 Krish's Pizza
Exquisitely crafted the signature pizzas are the Fiama Pizza with Italian Sauce, Krish's Pizza with Mama's Sauce with Shredded Mozzarella, Smoked Mozzarella, Jalapeno, Caramalised Onion, Garlic, Sun-dried Tomatoes & Basil are an absolute delight.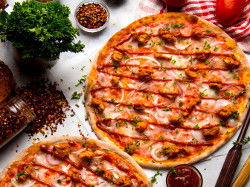 BBQ Chicken Pizza
In addition to Pizzas, the outlet offers a wide variety of specials that include Smoky Cheese Dough Balls, Jalapeno Poppers, Cheese Burst Calzone, and BBQ Chicken Wings among others. No meal is complete without a dessert, and that is taken care of as well, decadent desserts like Tiramisu, Nutella Dough Balls and Chocolate Mousse make sure you leave with a smile on your face. Personalization of pizza has never been so much fun with over 35+ toppings to choose from. There is not a greater sense of satisfaction when you see your pizza being cooked in a wood fire oven with the toppings you chose!  
Sanchez Taquería & Cantina, Indiranagar
Boldly flavoured tacos created at a live taquería and vibrant cocktails crafted at an open bar in a warm, inviting ambience that truly gives you a taste of Mexico right here in Bangalore. Lounge Hospitality has launched their second Mexican restaurant, Sanchez Taquería and Cantina in Indiranagar. Chef Vikas Seth blends traditional flavours of Mexico with his trademark Sanchez touch; some of the favourites are - the Mexican Blue Corn Hard Tacos, Sea Flavored Charcoal Corn Tacos, Modern Soft Roasted Beet Corn Tacos, Healthy Soft Spinach Corn Tacos, Nutritious Grated Carrot Corn Taco and Soft Flour Tacos. Besides tacos, there are the widely popular avocado toasts made from in-house Bolillo bread with a bunch of Sanchez's tasty interpretations to it. The Oaxacan Style Tortilla Soup, aptly known as the queen of soups in Mexican cuisine and the Tlalpeño Broth made of pulled chicken, rice & chickpeas and served with slices of lemon, cilantro leaves, chopped onion, avocado and chipotle on the side, are highlights of the menu. There is so much more. Handpicked by the Chef, each dessert is designed to surprise your taste buds.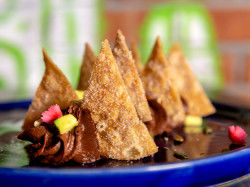 Dark Chocolate Guacamole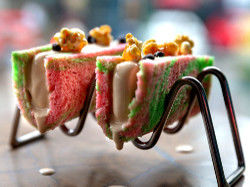 Dulce De Leche Ice Cream Taco
The decadent Dark Chocolate Guacamole made with creamy mashed avocado is a great option for vegans and the Dulce De Leche Ice Cream Taco decorated with chocolate pearls, caramel popcorn & cinnamon sugar stars is an epicurean fantasy.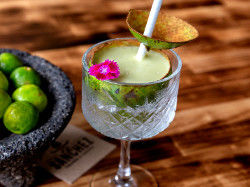 Avocado Margarita
The Margaritas are a must-have with variations based on seasonal fruits - the Avocado one is a must try. Then there are the other concoctions like the tangy whiskey based Munchkin Bliss with a dash of chilli and the fruity Galaxy Sling made from gin, elderflower, kiwi and apple juice. 
Sriracha, Indiranagar, East Bengaluru
Sriracha debuts its second restaurant in Bangalore with unique experiences of the Robatayaki Grill and Khmer cuisine. The extensive menu, designed by Chef Vikas Seth traces a path taken by their chefs across the Orient, making stops at Thailand, Malaysia, Japan, Indonesia, Vietnam, China the relatively gastronomically unexplored Cambodia and the culinary world's hot-spot, Singapore. Watch the chefs expertly showcasing their skills to create robust grills with intense flavours at the Robata. Try grills like the Fresh Turmeric & Red Chili King Prawns with Plum and Pineapple Salsa, the Scallops with Togarashi dust, the Pork Belly Char Siu, the Shitake Mushroom in garlic soy butter and Pandan Leaf Wrapped Cottage Cheese.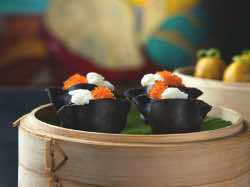 Charcoal Seafood Dumplings
Another highlight is that for the first time in India you will get to experience the characteristic Charcoal Khmer Barbeque straight from Cambodia. Smoke tinted flavours of the meats are derived from the traditional Cambodian grill which is placed on live charcoal "Phnom Plung" or "Fire Mountain" surrounded with soup on the outside. This fascinating live charcoal experience brought to the special dining tables requires prior bookings.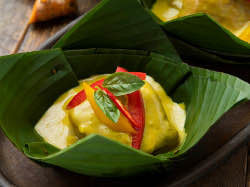 Amok Fish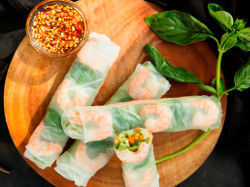 Fresh Spring Roll
If you manage to take a break from the Robata grill and the Khmer Barbeque dive right into the menu's many other offerings like the Khmer specials - Lemon Grass Poached Shrimps Fresh Spring Roll, Coriander Chili Soy Tofu fresh spring roll and the Fish Amok Trey, a traditional Cambodian dish steamed in a cup made from banana leaves. It would be impossible not to mention the beverages designed by mixologist Robert Hospet. Saint Margarita is a delightful concoction of passion fruit, mango and tamarindo. The Cranberry Fizz, Rose Kiss and Rainbow Punch are all delightful accompaniments to your meal.  
Whattay, Kanakapura Road, South Bengaluru
A quintessentially tranquil place just 15 minutes from JP Nagar, Whattay Kitchen & Brew is a gem tucked away amidst nature. A 25,000 sq ft forest-like space, Whattay has been designed around nature going to great lengths to retain every single tree, making it look breathtakingly beautiful.
The incredible ambience is complemented by amazing food and drinks. It has a fusion of local flavours with signature dishes like Nipattu Burger, Namma Potato Wedges and Tamarind Rice Poppers which are reminiscent of our very own old Namma Bengaluru! Our pizzas are another of our favourites, being prepared perfectly in a rotating wood-fire oven which is the first of its kind in the city!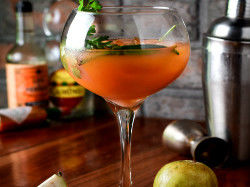 Of course, one cannot miss out on the delicious cocktails. Our brilliant mixologists almost always know exactly what your tastebuds want and are bang-on the flavour every single time! To complete this experience, the occasional live music nights completely transforms the space into a dreamy, magical venue, one you just cannot get enough of!
Levitate Microbrewery opens doors in JP Nagar
A micro-brewery in JP Nagar, on the mini forest road, one of the upcoming hot spots of Bangalore city, designed to distort the rules of gravity.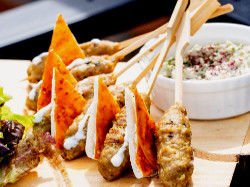 Africolas Lamb Kofta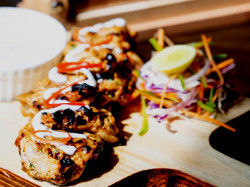 Chicken Charmoula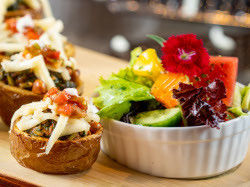 Baked Skin Potato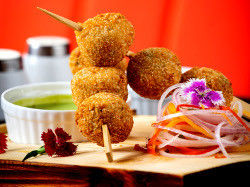 Rava Upma Cheese Balls
Food is vibrant, with a delectable choice of dishes with different textures of crispy crumbs, crunchy batters and saucy marinades with flavors from across the globe.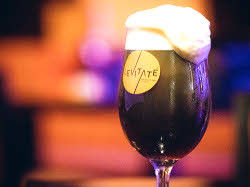 Dark
Beverages include some great craft beers brewed with the best ingredients from Germany, some known flavours and some unknown like the Stout beer - Dark and Smoked, Lager and Lager Strong, Wheat and Wheat Strong and Radler, a flavoured brew with a surprise element. Molecular cocktails, ice sphere cocktails and signature drinks provide an effect of illusion here.
The Pump House, JP Nagar, South Bengaluru
The Pump House is the city's newest brewpub and aspires to create a great experience. The Pump House includes an open-air set-up that features a striking ambience as well as artistic interiors.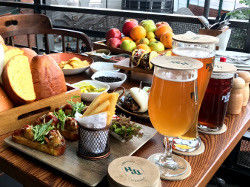 With lip-smacking delicacies and original handcrafted in-house beer, and you have a winner at hand! The Brew Master has been specially flown in from the United States and plays a significant role in the overall functioning of the brewhouse and offers an experience that brilliant, to say the least. The food at The Pump House is hearty, delicious and served up in an atmosphere that wills you to while away the hours here.