The Beer Cafe
Koregaon Park, Pune
₹ 1500 for two
This price is indicative and exclusive of taxes
Finger Food
Today, 11:00 AM to 12:00 AM
G 102, Ground Floor, Kapila Matrix, Koregaon Park, Pune
7861004444
---
This café looking bar is one of the fastest growing chains in India. The yellow decor and brick themed interiors give it a casual and young vibe. It has an array of domestic and international beers to choose from. The food menu is as exciting as the bar menu. Do try their Chicken wings which are served with a choice of sauce.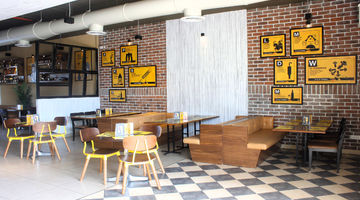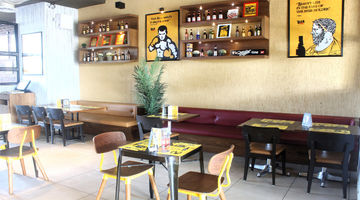 User Reviews on The Beer Cafe, Koregaon Park, Pune
---
(4.0)
Overall Rating
(Based on 43 reviews)
Powered By
Food
Atmosphere
Service
Value
---
raajvikramr
Posted on : 12 Jun, 2018

Worst experience of a cafe ever
Had gone to this place with a friend of mine where the only frustrated server misbehaved with us saying I can't be running for you all the time if have to redeem your points do it once and for all I am very busy .....Mr.Manager was no where to be seen and the best part restaurant had 4 tables only and he was busy Sorry picture of the service .............Kegs also were lying in the open in front of all of us .......
---
AmulAwasthy
Posted on : 10 Jun, 2018

Just Chill
We were looking for some place for a dinner in Phoenix Mall and Finalized "Copper Chimney". Unfortunately it was closed and we had to go beer cafe for Dinner. Place is really chilled out with wide varieties of beer and Surprisingly it has a good food too. Peanut chat deserve a special mention out of all as I was not expecting it that good. Over all a good place to hang out and Relax. Must Visit
---
GIFTCITY
Posted on : 04 Apr, 2018

Nice Ambience, Good Crowd, Good Service
Ambience was good. Beer was chilled. Very descent crowd. Service was good. We was given corner table with nice view. Definitely recommend this place.
---
smpyrrr
Posted on : 13 Nov, 2017

Nice place to have a beer
We visited the place to have a drink, but we ended having a nice dinner along with the best local beers.The prices were reasonable and the music was loud but cheerful.The service was good enough.
---
Manasi_Bhave
Posted on : 06 Nov, 2017

Chilled out place.
Fish fingers which is there signature dish was one of the best i have tasted.. The chicken pizza was yum too.The place is really good to hangout with a group too. Comfortable and lively.
---
Earn Free Meals
Earn 100 EazyPoints per person on every booking and get closer to your free meal.
Refer Now
Other Relevant Links To The Beer Cafe - Finger Food Restaurant in Koregaon Park, Pune
Other Finger Food Restaurant Menus in Pune
Bookable Finger Food Restaurants Near Koregaon Park, Pune
Food Articles and Trends where The Beer Cafe is Featured
Other Branches / Outlets of The Beer Cafe in Pune