Bohemia
Greater Kailash (GK) 1, South Delhi
DELISTED : This Restaurant Has Been Temporarily Or Permanently Closed!
Rs 1000 for two
This price is indicative and exclusive of taxes
Italian
Today, 12:00 PM to 12:30 AM
N 1, N Block Market, Greater Kailash 1, New Delhi
+919650955511
INSIDER TIPS
A personal favourite is the Seafood Linguini
Off mealtimes, sit on the tiny terrace and nurse a healthy fruit and vegetable juice
The lift can be accessed from the back lane entrance
Casual, effortlessly trendy and offering a complete package of food, service and ambience, this is one of the newest entrants into the Greater Kailash N Block Market. Although the cuisine is Med-Italian, there are dishes from all over the region, from Warm Goat Cheese in Vine Leaf to Tapas Tasting Plate Seafood. The food is good, but more than that, it can be shared by a part of people and washed down with a surprisingly good and varied wine list, as well as cocktails and mocktails made with cold-pressed juice.
Wi-Fi
Home Delivery
Alcohol Served
Smoking area
Credit cards
Air Condition
Outdoor Seating
Live Music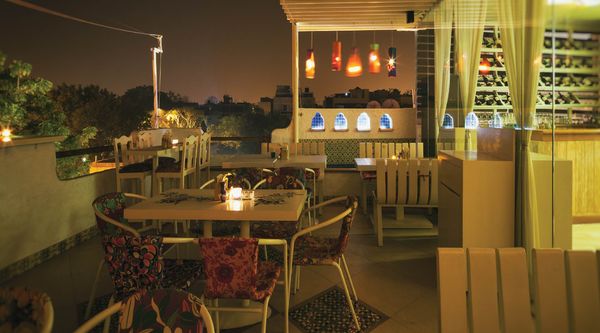 User Reviews on Bohemia, Greater Kailash (GK) 1, South Delhi
---
Vishaka Beriwala
Posted on : 04 Sep, 2016
☆ ☆ ☆ ☆
Calm and cozy cafe
Great place to work or take a break post work. They have wifi and the staff is polite. Thankfully it doesn't get too loud like the other cafes in the neighborhood. Light music, vibrant ambience and nice food and cocktails. The tapas platters are a good bet with a couple of glasses of sangria. The desserts are outsourced to a brand, a couple of the chocolate ones are to die for
---
Anuja Sawhney
Posted on : 26 Feb, 2016
☆ ☆ ☆
Place needs to pick up !
Decor is very tasteful, overall ambience is good .. Staff is trained and very hospitable. But no people :( We visited on a weekend at 9pm and there was not a soul on the 2nd floor. The 3rd floor had 2 families only ! Anyways, we enjoyed the yum food. I do wish this place would pick up coz it truly is a good restaurant with good food.
---
Rashmi Dabli
Posted on : 07 Dec, 2015
☆ ☆ ☆ ☆
Excellent taste !!
We went in a cold December night and found the place warm and welcoming.It's a nice cosy place with good service . The Italian food is too yummy and perfect in taste !! Wow , loved the place . Will definitely visit again .Don't miss the chicken lasagna and the minestrone soup . In most of the Italian joints, the names of the dishes are too complicated to follow, but here , the names of the menu are easy and readable !!
---
Eshika Maji
Posted on : 31 Oct, 2015
☆ ☆ ☆ ☆
A place worth a candle light dinner
This restaurant hides behind buildings and shies away from the world, while unaware of the beauty it possess. The decor to the place was romantic and beautiful, though the loud music undermined that ambience. The drinks were unusual and quite low on alcohol, but special with the watermelon fused strawberry crush and alcohol giving out the perfect blend. The food was delicious and served to please your palate. Although, the features it possessed was compromised by a heavy price tag on things. But, it is a place which is recommended if you have the perfect company by your side, and are on a date or an anniversary with no worries about the expense, but just out to have a magical evening (although sit away from the speakers). Well, I was in the mood, and it bode well for me.
---
Renee Chopra
Posted on : 15 Sep, 2015
☆ ☆ ☆
Alright ish
Last Sunday I decided to check out the much talked about Bohemia. The ambience had a nice positive vibe. We were then served some hard bread with an olive dip which was absolutely brilliant. Unfortunately that was the only silver lining, here comes the cloudy part. I ordered the tapas tasting platter which included a charmoula chicken, lamb, chicken wings and pita bread( the only saviour) The entire platter was cold and rather sad just like the dips (hummus, baba ganoush, tzatziki). The tahini seemed to have been served straight from a pre packed. bottle. The desert was your regular soft centred chocolate pudding which wasn't bad at all. Overall if I was asked to go again, I might for the ambience and olive dip.
---
Read All Reviews
Publish a Review
Nearby Bookable Restaurants
---
Other Relevant Links To Bohemia, Greater Kailash (GK) 1, South Delhi
Food Articles and Trends where Bohemia is Featured
Best Places To Eat in Delhi NCR
Popular Cuisines In Delhi NCR
Top Restaurants To Eat In Delhi NCR
---
EazyDiner
---
---
By continuing past this page, you agree to Terms & Conditions and Privacy Policy. All trademarks are property of their respective owners.
© 2017 EazyDiner Private Limited. All Rights Reserved.