Bohemia
Greater Kailash (GK) 1, South Delhi
DELISTED : This Restaurant Has Been Permanently Closed!
This price is indicative and exclusive of taxes
Today, 12:00 PM to 12:30 AM
N 1, N Block Market, Greater Kailash 1, New Delhi
+919650955511
INSIDER TIPS
A personal favourite is the Seafood Linguini
Off mealtimes, sit on the tiny terrace and nurse a healthy fruit and vegetable juice
The lift can be accessed from the back lane entrance
Casual, effortlessly trendy and offering a complete package of food, service and ambience, this is one of the newest entrants into the Greater Kailash N Block Market. Although the cuisine is Med-Italian, there are dishes from all over the region, from Warm Goat Cheese in Vine Leaf to Tapas Tasting Plate Seafood. The food is good, but more than that, it can be shared by a part of people and washed down with a surprisingly good and varied wine list, as well as cocktails and mocktails made with cold-pressed juice.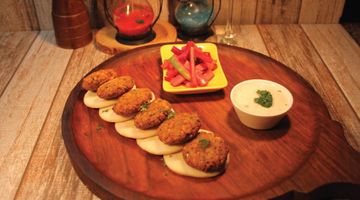 Nearby Bookable Restaurants
---
Other Relevant Links To Bohemia , Greater Kailash (GK) 1, South Delhi
Other Italian Restaurant Menus in Delhi NCR
Food Articles and Trends where Bohemia is Featured
Popular Locations in Delhi NCR
---
Popular Cuisines in Delhi NCR
---
Top Restaurants in Delhi NCR
---