Yum Yum Cha
DLF Cyber City, Gurgaon
Rs 1800 for two
This price is indicative and exclusive of taxes
Chinese
Today, 12:00 PM to 04:00 PM, 06:00 PM to 11:00 PM
Cyber Hub, DLF Cyber City, Gurgaon
7861004444
INSIDER TIPS
The only stand-alone chain offering takoyaki and mochi Ice-cream on the menu
Do try the Fun bottles – the 'Thai orange and kafir lime', will transport you to Thailand
Vegetarians have an ample choice
Astutely ornamented with a stream of crinkle shaped butterflies in vibrant colours at this origami-themed restaurant not only looks pretty but also gives the place a glittering and joyful feel. The food menu is designed to be a bonafide dining out option when one is considering a not so jaded oriental option. Each section of the menu, bargains something varied and interesting and the strength of the menu is a critical pairing of unanticipated ingredients, which works best with simple dishes. Optimal selections of quality sushi and dim sums are the order of the day! The sticky rice with chicken and basil that lands in a blistering stone pot, which the waitperson mixes up, on the table, is absolutely stunning! To end on a sweet note I would extremely endorse the coconut and jaggery mochi ice cream, the crushed sticky rice and sugar created effervescent shell adds to the palate and these fragments are exquisitely velvety in consistency. All in all, a cheery ambience and good service topped by great food; Quick, comfortable and earnest value for money – strong to argument with that!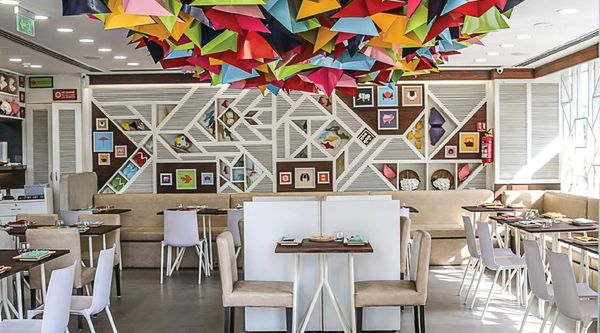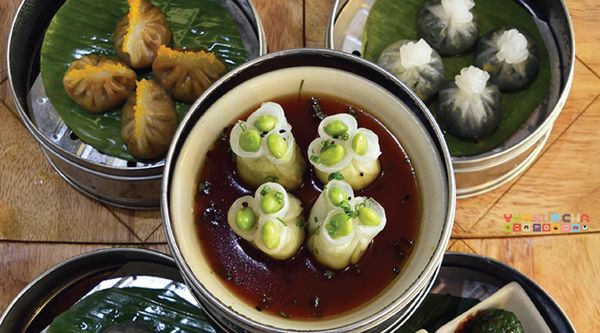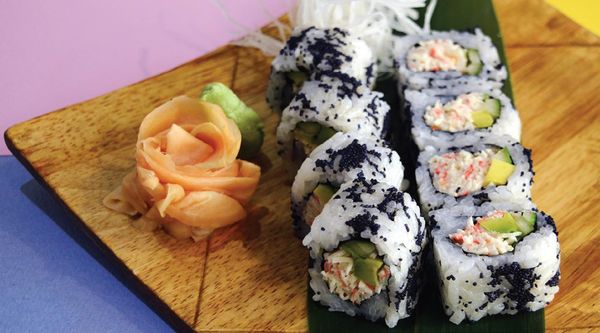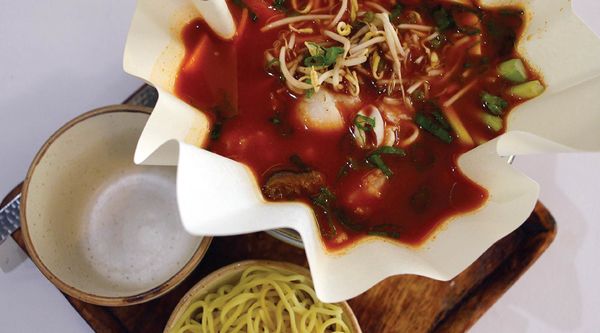 User Reviews on Yum Yum Cha, DLF Cyber City, Gurgaon
---

Deepali
Posted on : 04 Jan, 2017
☆ ☆ ☆ ☆
Comfort Chinese Food.
Yum Yum Cha is my one stop destination for Comfort Chinese. The menu is well designed and easy to read. They have good variety of dim-sums and sushi. We ordered a 5 basket dim sum deal- prawn curry, chilli chicken, prawn and chives, basil chicken and chicken and chestnut. All of them were very soft and nice. We also order a prawn miso soup and sliced garlic chicken starter but both of them were just okay. For the main course we had thai red curry and sizzling spicy basil and chilli chicken noodles- both very flavourful and good. The best thing about yum yum cha are its sauces- they have 5 types of sauces and each of them is just mind blowing, there is sauce for each palate unlike just a chilli sauce which most Chinese places serve. The orange and Kafir lime fun bottles is another thing which I really like; very refreshing and fun.
---
Kabir Midha
Posted on : 15 Nov, 2016
☆ ☆ ☆ ☆ ☆
Love this place
My visit to the Gurgaon location was on the first day of its opening. This place is just excellent. Well done in terms of decor too. The food is just WOW. I love the Mochi Icecream and the coconut flavor is to die for. Try going early or make a prior reservation so that you don't have too wait too much.
---
Sapan Walia
Posted on : 12 Oct, 2016
☆ ☆ ☆ ☆ ☆
Authentic Chinese!! Loved it!
So many Chinese restaurants have cropped up and I had stopped liking Chinese as wasn't getting good authentic food till I tried Yum Yum Cha. The place so colorful.. nice.. but tables are not comfortable to sit at all... One cant even place their legs properly while seated! Anyways coming to the food - Ordered Thai orange and kafir lime fun bottle drink - quite refreshing!; Spicy chicken and coriander cheung fun rolls (I got so excited upon finding them at the menu... I used to have cheung fun in Hong Kong!), and a combination of Spicy salmon and and enoki tempura mushroom sushi, followed by Lamb with spicy yellow bean with sticky rice for the main course. Everything was amazing!! I just couldn't get enough of the food! And the lamb was like wow! Thankfully it didnt have gravy !! I got reminded of my days in Hong Kong truly! I'm dying to go back there!!
---
Kshitiz Gupta
Posted on : 22 Sep, 2016
☆ ☆ ☆ ☆
Loved the dimsums...
We ordered dimsum baskets of 3 kind although being vegetarian options are very few for us but still we loved every bit of it. Their kafir orange mocktails is worth trying and truly deserves to be their special drink For mains we had three pepper noodles with mushroom and vegetables and their presentation is worth mentioning coz its been served in a hot pot where on top you can see only veggies and server comes and mixes the content in front of you and the final products is nothing short of amazing taste. One of the memorable experience in terms of food and superb service.
---
Shefali Saxena
Posted on : 20 Jul, 2016
☆ ☆ ☆ ☆
Great food
Wonderful dimsums . we had a Chicken & chestnut (very good), Char siu bao (very good), prawn hargao (good, covering was slightly thickish). Had their signature Dynamite Sushi, very fresh tasting and good though would have tasted better without the tempura dust on top. A noodles stir-fry - again very good. Pricing reasonable for the quality and portion size.
---
Read All Reviews
Publish a Review
BOOK A TABLE
Earn Free Meals
Earn 100 EazyRupees per person on every booking and get closer to your free meal.
Know more
Other Relevant Links To Yum Yum Cha, DLF Cyber City, Gurgaon
Food Articles and Trends where Yum Yum Cha is Featured
Other Branches/Outlets of Yum Yum Cha
Best Places To Eat in Delhi NCR
Popular Cuisines In Delhi NCR
Top Restaurants To Eat In Delhi NCR
---
EazyDiner
---
---
By continuing past this page, you agree to Terms & Conditions and Privacy Policy. All trademarks are property of their respective owners.
© 2017 EazyDiner Private Limited. All Rights Reserved.