Looking for a romantic spot for Valentine's day dinner that won't burn a hole in your pocket? We've got you covered. Here's a list of scintillating restaurants that offer great food and even better vibes. The average cost for two at all of the below spots is less than Rs. 2000 (exclusive of tax and service charge).
Little Italy, the Pune based chain of Italian restaurants, needs no introduction in the city. It was amongst the first to offer gourmet Italian outside of premium star hotels. It has two outlets in Hyderabad – one in Film Nagar and another in HiTech City. Both boast of chic interiors, but the Film Nagar outlet gets the edge owing to its liquor license.
Click Here! To Book Now
Head over to this colonial themed rooftop bar from Ohri's group for a cocktail dinner. Draped in regal white, the dimly lit bar exudes elegance and offers terrific views of Necklace Road and Hussain Sagar.
Click Here! To Book Now
Exotica is an easy recommendation for candle-light dinners. The strategically lit, dreamy rooftop features gently streams of water interspersed with greenery. Exotica specialises in Indian food, including kebabs and chaats.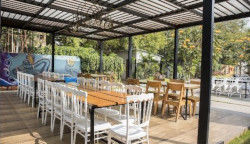 Thinespo is the perfect excuse to incorporate a long drive into your date night plans. Located on the Medchal Road, Thinespo boasts of spwarling lawns, gorgeously lit up al fresco section, and charming and casual air-conditioned dining rooms. The food is unpretentious, hearty, and soulful. End your meal by walking over to the Thinespo Dessert Shack to relish decadent European desserts.
Head over to FSM for a date night blessed by the Church of the Flying Spaghetti Monster. Call ahead and reserve yourself a table outdoors, if you want a candle light dinner. FSM boasts of some of the best salads, pizza, and pasta in the city.
Warm hues of light filtering through the mist from the humidifier and the branches of the venerable cannonball trees makes The Autumn Leaf Café positively enchanting at dusk. The expansive and delectable food selection has you covered whether you're in the mood for a light coffee date or a resplendent dinner.
The Glass Onion
This new restaurant overlooking the Boulder Hills Golf Course is an absolute charmer. The minimalistic aesthetics infuse modern sensibilities into vintage elements such as wooden tables and chairs and Edison bulbs. The Glass Onion also boasts of a well-stocked bar that dishes out classic cocktails with a twist.
Hummingbird Café
Whether you're planning a lunch or a dinner, Hummingbird Café is a good spot for a relaxed, non-fussy date. Grab a seat at the picturesque lawns or head inside to marvel at the adorable interiors peppered with funky curios. The grub includes All Day Breakfast and usual café fare such as burgers and sandwiches, salads, and pizzas.
*EazyDiner Promotional Feature*