It is for the first time, a Vietnamese Food Festival is happening at Chinoiserie, Taj Bengal, Kolkata. Blue Ginger is one of the first Vietnamese restaurants of India, located in Taj West End, Bangalore and from a widespread menu of 70 - 80 dishes, some 25 - 30 signature dishes are now on the offering for Kolkata.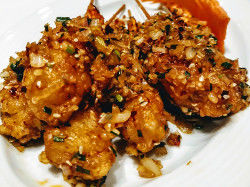 Fried Prawns with Sesame on Stick
The light yet flavourful cuisine is characterized by herbs like lemongrass, mint and basil, making Vietnamese dishes a comfort eating. Just like this part of the country, rice is a staple food in Vietnam too and one can find many variants of rice in the entire cuisine in different forms.
Here are some of the dishes which you should try out at this food festival.
We started with an assortment of appetisers.
Grilled Chicken - Marinated with fresh turmeric which comes in bamboo leaf baskets. The condiments of chilli and rock salt get the additional flavour and texture.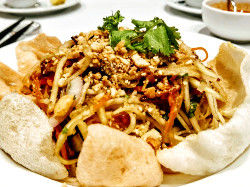 Minced Chicken Salad - The Minced Chicken Salad with lemon dressing and chilli was fresh, and, the tangy lemon flavour from tamarind added to the spunk of the dish.
Summer Rolls - Fresh rice paper rolls stuffed with iceberg lettuce, water chestnut herbs, served with Hoisin peanut sauce was crunchy, not overloaded with flavours yet refreshing. The other variety of this is the one stuffed with roasted duck. In both cases, do not miss out on the crushed peanut and peanut butter sauce.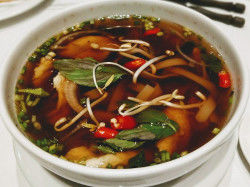 Pho - They say no meal is complete in Vietnam without a Pho. It is considered as a national signature soup of Vietnam. Served in a large bowl with condiments of chilli, basil, lime and bean shoots. Pho is a comfort Buddha bowl. A variation of ramen broth with rice noodles, the stock is either vegetarian or non-vegetarian and is made with a whole lot of aromatic spices. It comes in four variants of vegetable, chicken, tenderloin and prawns. This one is addictive and as someone had said once - no one can stop at one spoon.
Main Course
Wok tossed Bamboo Shoot, Water Chestnut and Broccoli in Saigon Sauce - Saigon sauce is one of the signature sauces used in Vietnamese cuisine. This chilli garlic sauce with a hint of cinnamon and lemongrass is the master flavour for the dish.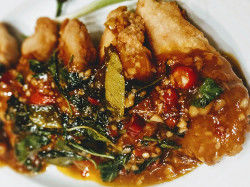 Sir Fried Fish with Lemon Basil Chilli - Crispy Bhekti fillet stir-fried with a sauce, which also had a tinge of sweetness for use of sugar and plum sauce, is a surprise package with jasmine rice served with it. Particularly in Kolkata, this has a chance of becoming the most popular with the guests.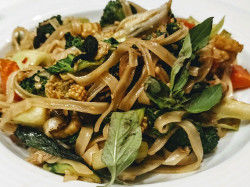 Noodles
Lightly flavoured with basil and soya sauce, the stir-fried rice noodles are welcome to the otherwise predominant Kolkata Chinese noodles available elsewhere. One can opt from a choice of vegetable, chicken, prawn and eggs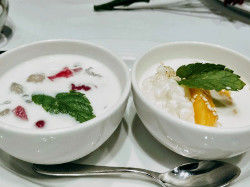 Dessert
In Kolkata, most will write this off as Aam Doi Bhaat but in Vietnam, they call it Mango Coconut Milk Sticky Rice Pudding and the jelly fruit is always very refreshing in summers. It is water chestnut dipped into chilled coconut milk and can be a perfect ending to a great meal.
Book now! Click here

The festival is on until 28th and a meal for two will cost INR 3500 plus taxes.