One's love for culture far and wide finds its way to becoming a dominant art form on the Goa food scene in the format of the American Hamburger. How to make a great hamburger is a question that has bedevilled folks for generations, for as long as Americans have had griddles and broilers, for as long as summertime shorts-wearing cooks have gone into the yard to grill. Here is a look-see at some amazing Chef's who have taken the concept of juicy patties and freshly baked buns to a whole new level of art and decadence.
Hard Rock Hotel Goa, Calangute
Hard Rock has the best burgers in the world.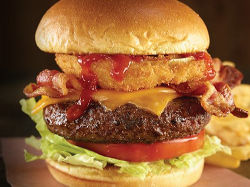 Legendary Burger
They are legendary. Hence, the name: Legendary Burger. Today the Legendary Burger enjoys pride of place in all Hard Rock properties across the globe. Each Legendary Burger features the highest quality meats, fresh ingredients, savoury sauces and rich, melted cheese paired with the ultimate sidekick – Hard Rock's Classic Seasoned French Fries. The one in Goa enjoys high ranks under the watchful eye of 'Executive Chef. Arun Vats' with a tenderized buffalo meat patty with smoked bacon and cheddar cheese with fried onion rings and lettuce.
Planet Hollywood Beach Resort, Utorda
Another behemoth American giant finds itself nestled in the quaint villages down south in Utorda.
Mexican Burger
A first of the Planet Hollywood franchise this hotel dishes up some downright American classics in the Mexican Burger bringing some spicy flavours from Mexico to Goan shores. 'Executive Chef Sundar' with an amalgam of various cultures brings the Mexican Chicken and Refried Beans Burger served with Cheesy Nachos and Chipotle Mayo. As he quips - "This monster is best served by the pool to visually quench your salivating buds before the first bite."
Synonymous to the Legendary American Route 66, the granddaddy of the patty grill is located in the heart of Panjim.
Burger with Fries
A biker true to nature and things wild, Chef lives the epitome of the American dream - Super size style. Try the Wild Hog. Deconstructed from top to bottom would be freshly baked buns encompassing the towering madness of a BBQ slathered moist pork rib with fried pickles atop a cheesy pork patty with fried onion rings. The next decadent level moves down to Crispy Bacon Snuggled in Monterey Jack Cheese and Chipotle Sauce. Need we say more? It is a coronary on a plate but will definitely have you coming back for more post the heartburn.
Way back in 2012, 'Mayank Dube' started his journey in Anjuna to bring burgers that were delicately curated, healthy and fresh. Having previously worked in and consulted restaurants across New Zealand and India for over a decade, and it was his love for burgers that began his journey as a chef in India.
Burger
The burgers are wholesome add tender and even with the largest appetite; you can only barely eat one. Gorge on the Beef with Cheese and Onions or the Beef with Double Cheddar and BBQ Sauce. The burgers are filling, and come with a side of fries. The perfect bun to filling ratio. A great value for money place, this establishment is known to dish up some fabulous gourmet burgers in the heart of Anjuna. He believes in slow food, innovation and taking a holistic approach to businesses in the food industry.
On the tourist stretch as one passes by Karlton's the aroma of Barbecued Chicken and Beef emanates from the kitchens far within.
Grilled Chicken Burger
Stop by and meet Karlton with his creation of the Chicken Breast Burger. Tenderly marinated in buttermilk infused with garlic and onion powder, it has a sweetish tangy taste until the spice kicks in with the sweet paprika salt and pepper added for that extra kick. Crumbed and deep fried this wholesome burger is a mouthful. A perfect inclusion is the bed of coleslaw that accompanies it with Chips and a side Salad.