Picture Courtesy: SodaBottleOpenerWala
Parsi New Year is round the corner and restaurants in Mumbai are gearing up to celebrate! While it is food you can eat all year round, at this time when the community celebrates its new year, the feast is quite different. Do not go looking for any Dhansak as you would not find any during a celebratory meal but there is plenty more to enjoy. Here is your chance to indulge in some typical Parsi fare at these restaurants that are serving the best Parsi style food in the city.
The Taj Mahal Palace Hotel hosts an annual Parsi New Year Brunch and this year the Shamiana that just turned 2 years old is all set to entice you. The buffet style brunch has a spread full of traditional Parsi dishes including dishes like Jardaloo Sali Boti, Chicken Farcha and Berry Pulao. If you have got a sweet tooth then there is Dar Ni Pori which is a lentil based sweet snack or the popular Lagan nu Custard among a host of other dishes. The brunch is only on the 17th of August and a prior reservation is recommended.
Book now! Click here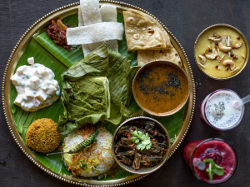 Bhonu (Picture Credit: SodaBottleOpenerWala)
This is the cutest Parsi restaurant in the city and all their outlets are celebrating Parsi New Year from the 10th - 24th of August with their special Dronu which a cheeky play on a drunken Bhonu. Each outlet offers a fixed vegetarian or non-vegetarian set meal with unlimited sangrias and cocktails. So while you gorge on your Mutton Pulao Dar and Vegetable Cheese Cutlets you can enjoy a steady stream of sangria and cocktails. Majja ni life!
Book now! Click here

If you are in Bandra and want a slice of some Parsi Bhonu but do not want to travel to town, pop by the Taj Land's End and enjoy Vista's special Parsi Themed Buffet. It is available for both lunch and dinner on 17th August to celebrate the Parsi New Year. While the main salads, soup, appetizers and cold cults remain, there are some special Parsi style additions to the buffet menu including Prawn Patia, Saas ni Macchi, Sali Boti, Bharuchi Akuri Paneer and more. They have even got a traditional Mawa nu Boi which is a sweet dish eaten on auspicious occasions.
Book now! Click here
'Farrokh Khambata' is known for his incredible Asian fare with popular restaurants like Joss, Izaya and Umame but not many know that his Parsi food is just as popular especially with folks within the community.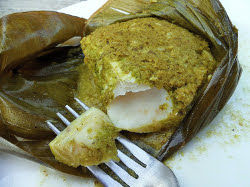 Patra ni Machchi (Picture Credit: Amadeus Lounge)
This New Year the Amadeus Lounge is hosting his special Buffet Dinner on 17th August along with a Live Band and dishes like Patra ni Kolmi, Spinach Crepes with Champagne Cream, Bharuchi Akoori, Vegetable Pulao and even a stunning Leg of Ham with a Pineapple Glaze. This year he also launching a Take away Bhona which is a set vegetarian or non-vegetarian meal which is a parcel take away from the Amadeus Lounge. You must place your order prior to the 16th of August.
The very first restaurant in the city to serve only Parsi food was Jimmy Boy. It led the way for many others to crop up and even small-time catering business but fans who are loyal to Jimmy Boy will stick pick them over any other. The menu is full of different types of Parsi dishes but the real feast is their Parsi Style Lagan nu Bhonu set meal that gives you a chance to experience a typical Parsi Wedding Feast.
While the regular menu, it has a small section for Parsi dishes, this new year they have got a choice of different Parsi-style Fixed Thali meals to choose from. A Vegetarian Thali, a Mutton Thali, a Chicken Thali and a special thali each with an appetizer, main dish, dessert and a drink - of course, all these are special Parsi treats!