China Club
MG Road, Gurgaon
₹ 1900 for two
This price is indicative and exclusive of taxes
Chinese
Today, 12:00 PM to 03:00 PM, 07:00 PM to 11:00 PM
Lobby Level, Tower C, Global Business Park, MG Road, Gurgaon
7861004444
---
INSIDER TIPS
It has a nice dining room that may be reserved in advance for private dining functions
The Chef truly excels in the prawn preparations, slightly pricy but you won't regret it
Compared to other free standing restaurants like Mainland China, China Club is on the pricier side with chicken main courses priced at around Rs 600/- but the food is good
The China Club is famous for its Sichuan cuisine; the spicy food from this region has always been popular with the local diner and this restaurant delivers on all counts. Located in an office district, it attracts the working/business lunch crowd and gets a more casual/family clientele in the evenings. Its elegant decor and well-appointed seating and modern interiors flush with natural light, make this a good venue for slightly formal meals as well.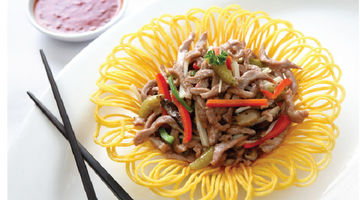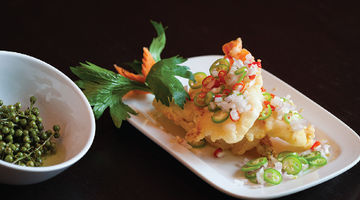 User Reviews on China Club, MG Road, Gurgaon
---
(4.5)
Overall Rating
(Based on 145 reviews)
Powered By
Atmosphere
Food
Service
Value
---
sweta19jcapri
Posted on : 27 Mar, 2018

Fine Dining with Average Food
Having a high rating in Asian cuisine, China Club is one of the niche restaurants in Gurgaon. It's classy and gives a very welcoming atmosphere. The serving is authentic and in huge portion size which is good enough for 4-6 people.Mint Julep and Strawberry Delight in mocktails were refreshing. Stir Fried Corn was crispy and perfectly sauteed. Braised Eggplant with Schezwan Sauce and Bean curd with Schezwan Sauce were accompanied with Fried Rice and Vegetable Noodles. Brownie with Vanilla ice-cream in the dessert was simple and a sound way to wrap up our lunch.China Club is a fine-dining place to enjoy a satiating meal with family, and friends.
---
ShantanuNewDelhi
Posted on : 23 Feb, 2018

Weekday Dinner at China Club
We were 8 of us on a Monday night, not a very busy night for a restaurant. Booking was easy and we were given a round table as requested. My wife and I had eaten there before but we we hadn't been there for many years. The food has remained good and the portions quite good. The Prawn with Ginger and Spring Onion was very good, as was the Sole. The service could have been more attentive considering the restaurant was not crowded: one should not have to wave one's hand to catch the attention of a waiter for a second round of drinks or for ordering dessert - one expects service at the table to be more personalised and prompt. However, the meal was enjoyed by all my guests and that was what mattered.
---
Ambreesh M
Posted on : 22 Feb, 2018

Sunday Brunch !
we were there for a Sunday Brunch. the restaurant wasn't full; the soup and dim sums were excellent however, the main course was really pathetic and was intrigued by how the Manager took a casual feedback without any apology. He did offer a replacement, which was late in the day and would have taken very long to get.. There was no effort for any service recovery, et al quite poor.
---
ashoke2015
Posted on : 06 Feb, 2018

Is it Downhill now?
A fine restaurant of many years standing providing White Napery and Liveried Service. Visited the other night but almost empty. Dull atmosphere, no music and depressing lighting. Could it be because there is a 12 percent Service Charge at a time when the authorities are discouraging Service Charge? Let Happy Customers show their satisfaction voluntarily. Wish this restaurant Good Luck & Success.
---
Sachmach
Posted on : 31 Jan, 2018

An excellent place for a Chinese meal
China Club is easily accessible (ground floor, walk in location in Tower C) and has a very pleasing interior space. The food is fantastic and suits the Indian palate and taste for Chinese food (although it is not authentic Chinese food cooked in Chinese style). The service is excellent and prompt and the background music subdues and subtle. All in all, an excellent place to have a meal if you are fond of Chinese food.
---
BOOK A TABLE
Earn Free Meals
Earn 100 EazyPoints per person on every booking and get closer to your free meal.
Know more
About China Club, MG Road, Gurgaon
One of the best places in town for an authentic Sichuan meal, China Club on MG Road, Gurgaon serves high quality Chinese food. It gets most of its clientele on weekdays from the offices in the vicinity. The décor is typical of a classy Chinese restaurant with lanterns hanging from the ceiling and a private dining are perfect for business lunches. In terms of food, the sautéed prawns with celery and preserved chilli are juicy and the chicken with ginger and spring onions is one of the best dishes on the menu. It also has a fixed brunch on Sundays that is value for money. The location of the restaurant is also favourable as it is one of the best restaurants near MG Road metro station.
Other Relevant Links To China Club - Chinese Restaurant in MG Road, Gurgaon
Other Chinese Restaurant Menus in Delhi NCR
Food Articles and Trends where China Club is Featured