Best Restaurants in The Roseate, New Delhi with 3+ deals
Kiyan
Critic Rating
Cost for two
Rs 2800
Cuisine
All Day Dining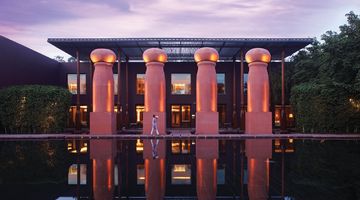 Insider Tips
Go for lunch. It can seem a little dark at dinner timeThis is not a place for ch...
Best Deal
Enjoy 20% off on food & soft beverage and a complimentary Beefeater & tonic with different herbs or a serve of Jacobs Creek Sparkling
Chi Ni
Critic Rating
Cost for two
Rs 4000
Cuisine
Chinese
Insider Tips
The Peking Duck is one of the standout dishes on the menu but I suggest you roll...
Best Deal
Enjoy 30% off on food & soft beverage
Latest Food Trends Related to The Roseate, New Delhi
EazyDiner Highlights of Best Restaurants in The Roseate, New Delhi
At EazyDiner we bring you a curated list of a total of 3 restaurants from across the city that you can choose from.
Restaurants on the website are given rating by the users also. There are total 20 reviews which can help you decide to choose restaurants with good rating and user reviews.
All the restaurants at EazyDiner gets judged by our very own Vir Sanghvi and is credited with a fair review. The reviews are stated to guide you into making the right choice.
At EazyDiner we offer a huge list of restaurants which you can book with us. The cost range is also wide. You can pick restaurants ranging from Rs 1500 to Rs 4000 and above.
Choose from over 3 number of restaurants and get a quick hassle-free table book for along with an exciting offer.
No matter how deep your pockets are, at EazyDiner you can shuffle through the low priced options starting from Rs 1500 to the more high end places stretching to Rs 4000.
We offer a special EazyDeal with you every booking at EazyDiner. This ranges from Mindblowing 50% Discount or Free Beer to certain percentage off on your Total Bill. Enjoy a Free Cocktail or Mocktail treat from our side with the treat you pay for.
Our extensive list of restaurants covers almost all the cuisines under the sky. The most popular cuisines are Chinese and Cocktail Menu.