SodaBottleOpenerWala
Cyber Hub, Gurgaon
Rs 1300 for two
This price is indicative and exclusive of taxes
Parsi
Today, 11:30 AM to 12:00 AM
Cyber Hub, DLF Cyber City, Phase 2, Gurgaon
7861004444
INSIDER TIPS
The chicken Farcha makes for a nice crunchy appetizer
The Masala Pepsi is an interesting desi twist on the plain old cola
Sandwich pick: the Tardeo AC Market Mama's Grilled Sandwich – a spicy potato mash with Amul cheese and chutney
The quirky Mumbai-style Iranian cafe comes to Delhi with SodaBottleOpenerWala. Built with affection and an aesthetic that would please both Freddie Mercury and Monty Python, this cafe with its old-world charm is a nostalgia trip. The food is quintessential Irani Cafe with Bun Maska, Parsi Bheeda Par Eeda (Rs 165) - an egg preparation with lady fingers - and the pricier Kolmi Fry (fried prawns). The signature Parsi dish, Patra Ni Machi is a must-try. The dishes are well-priced keeping in view the modest pricing of the original Irani cafes.
Alcohol Served
Credit cards
Air Condition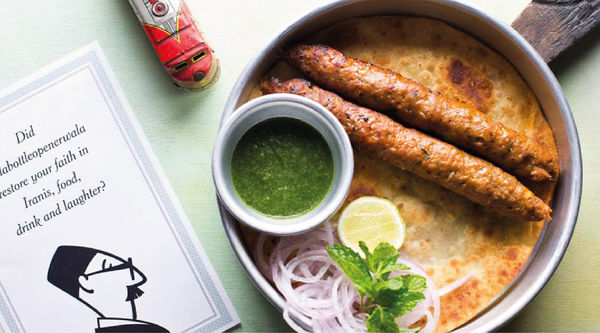 User Reviews on SodaBottleOpenerWala, Cyber Hub, Gurgaon
---
Kunal Kapoor
Posted on : 21 Jan, 2017
☆
Good food
Went here with my office colleagues for Xmas lunch The food served here is delicious. Quite a variety to choose for both vegans as well as non veg. However, the service is quite poor. You literally have to shout out to a server for any incremental orders. Do try the lemon soda and Mumbai style Faluda.
---
Divya
Posted on : 28 Dec, 2016
☆ ☆ ☆
It's different !!
I read reviews and visited this place in the month of June this year. I happened to find a really diverse menu at the restaurant . I had ordered a macaroni which to my surprise came with potato and cauliflower , later I came to know it had a Parsi touch to it . It must have been a great dish but Taste wise I found it was oily. I also tried wada pau which was awesome ..though their quantities were good for one . Do try the lemon Soda it's yum
---
A.n.s
Posted on : 06 Dec, 2016
☆ ☆ ☆ ☆
Yummy food, casual setup
Came here alone because was craving for their chicken cutlet. Found it very heavy and oily, but was still yummy. Previously have had Kejriwal eggs and even Navratri aloo poori here. Their ambience makes it a good place to chill with friends even alone. My friend is really fond of their lemonade mixes. Overall good experience. And economical as well as yummy.
---
Tanupriya Bindal
Posted on : 03 Dec, 2016
☆ ☆ ☆ ☆
Great experience
The experience was great.. The vada pav was great. The cold coffee was so amazing that i hav never had such coffee anywhere.. The menu had interesting names... The corn fritters were tasty and corn bhel was also very good.. The mushroms puffs were also very interesting. Their presentation style was also good.
---
Shobhit Khare
Posted on : 17 Nov, 2016
☆ ☆ ☆ ☆
Great experience
Good music and nice vibes. I was surprised to see no wait on friday night. I loved Nescoffee martini which was a better twist over the regular espresso martini. Vada pav was good. Panner sanju baba was like any other paneer I guess...............................................................................................................................................................................................
---
Read All Reviews
Publish a Review
BOOK A TABLE
Earn Free Meals
Earn 100 EazyRupees per person on every booking and get closer to your free meal.
Know more
About
The first of its kind in Delhi NCR, Sodabottleopenerwala in DLF Cyber City, Gurgaon introduces Mumbai Irani and Parsi cuisine to the capital. The window displays bottles of sweets like orange toffees, poppins, coin chocolates, etc. The red walls and old-fashioned furniture and humorous art work give the restaurant a certain old world charm. The food is served in dented aluminium cake moulds and presented in a simple manner.
The signature must tries on the menu are the bombay rasta sandwich, bhendi bazar sheek paratha, toblerone mousse, papeta par eeda (eggs baked on a bed of sliced tomatoes and potatoes) and Irani keema macaroni. The best and most popular dish on the menu is the mutton berry pulao. The menu ranges from snacks to heartier dishes with even a few dishes with a Gujarati influence.
Other Relevant Links To SodaBottleOpenerWala, Cyber Hub, Gurgaon
Other Parsi Restaurant Menus
Food Articles and Trends where SodaBottleOpenerWala is Featured
Other Branches/Outlets of SodaBottleOpenerWala
Best Places To Eat in Delhi NCR
Popular Cuisines In Delhi NCR
Top Restaurants To Eat In Delhi NCR
---
EazyDiner
---
---
By continuing past this page, you agree to Terms & Conditions and Privacy Policy. All trademarks are property of their respective owners.
© 2017 EazyDiner Private Limited. All Rights Reserved.