The first of its kind, DLF Cyber Hub is the largest platform bringing food and entertainment together. With over 50 food brands, catering to a diverse section of the population, Cyber Hub is definitely a foodie haven. Over the last few years, the food scene in Gurgaon has literally transformed itself. Blink, and there is a new restaurant on the block. This place offers a wide range of restaurant options, from budget diners to expensive restaurants, bars, cafes and bakeries. Wondering where you should be eating in Cyber Hub? Here's a list of the 7 best restaurants in Cyber Hub we highly recommend to you.
Farzi Cafe, Cyber Hub, Gurgaon
This modern Indian bistro in Cyber Hub serves finest modern Indian cuisine, with a high energy atmosphere. With French-inspired illustrations, all-wooded interiors, one of the longest bars in town and molecular gastronomy on your plate, Farzi Cafe indeed takes their diners on a gourmet journey. We highly recommend Farzi Cafe's Bhel Puri, Keema Stuffed Kulchas, Pork Ribs, Duck Samosas and Chettinad Prawns.
Book now! Click here
Dhaba - Estd 1986 Delhi, DLF Cyber City, Gurgaon
If you are looking for a restaurant that serves North Indian food in Gurgaon, then, Dhaba Estd. 1986 in DLF Cyber Hub, is just the right pick for you. The menu is crafted specially by Chef Ravi Saxena, coupled with fun-filled ambience. This restaurant in Gurgaon does not just have a bar – it has a complete Theka, which apart from being well-stocked with IMFL and imported liquor, also boasts of signature cocktails - speciality Tharras which come in actual Pauva bottles! You must definitely not miss the Balti Meat and Naan here. A meal here is rounded off with Desi Paan for sure.
Book now! Click here
SodaBottleOpenerWala, Cyber Hub, Gurgaon
When Iran's population migrated to India in the 19th century, they opened many Irani cafes, especially in cities like Mumbai and Hyderabad. Taking inspiration from these cafes and giving it a fine modern spin is the city's ever favourite restaurant, SodaBottleOpenerWala. When you visit this place, make sure you do not skip out on the Mutton Berry Pulao, Kolmi Fry, Parsi-style Prawns or Laganu Custard which are some of the most loved dishes on the menu.
Book now! Click here
Cafe Delhi Heights, Cyber Hub, Gurgaon
Cafe Delhi Heights charms with its indispensable Delhi essence. From scrumptious meal which is an eclectic mix of various cuisines across the globe to the ambience that spells vogue, Cafe Delhi Heights refines fine dining. The Juicy Lucy Burger that was conceptualized in this kitchen, is now relentlessly copied elsewhere, but the deep-fried burger bun and the kitchen knife stuck in it menacingly is a Cafe Delhi Heights signature.
Book now! Click here
Burma Burma, DLF Cyber City, Gurgaon
This place is a vegetarian's paradise! All the way from Myanmar, this place has got to be on your foodie bucket list. The ambience is elegant and inviting, with walls representative of Burmese artwork. Quench your thirst with the Samosa Soup and let your taste buds rejoice the divine Burmese dishes which are appetizing and scrumptious. The Khao Suey is a must have. Burmese Flat Rice Noodle is an addictive jumble of noodle sheets, vegetables stirred in spicy-sweet soy sauce in a misty wok. A sundae-sized portion of the Burmese Falooda made with reduced milk and varied coconut jelly, bright noodles and tapioca bits make for the perfect sweet ending.
Book now! Click here
United Coffee House Rewind, Cyber Hub, Gurgaon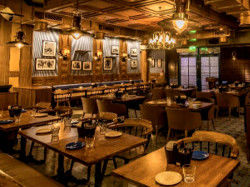 This legendary café-restaurant and bar located in Cyber Hub, is one of the most celebrated in town. The beautiful combination of colours and a romantic ambience make United Coffee House a must-visit. The lip-smacking dishes in Continental, Mediterranean, European, and Asian cuisines instantly raise the bars of the place and take you on a delicious ride. The Paneer Pakodas is an all-time favourite snack as is the Kheema Ghotala for old-timers. Lahori Meat and Dal Makhani tastes perfect with Garlic Naan. Atomic Kala Jamun topped with Kesar Pista ice cream is un-missable for the desserts.
Book now! Click here
These are some of the ultimate restaurants, bars and cafes in Cyber Hub which are a must add to your bucket list. So, the next time you're at Cyber Hub or a meeting or just want to check out the restaurants in Cyber Hub, these places are where you should go to grab a meal.