It is IPL season folks and it is time to gather the gang and bring the house down rooting for your favourite teams. And what better than to do it at watering hole close to you. Here is a look at 7 places in Bangalore that can make this cricketing season an exciting one for you.
Get into the spirit of the game with Q-League
Get into the spirit of the game from 23rd March to 19th May with Q-League. A good game should be enjoyed the right way.
Veg Platter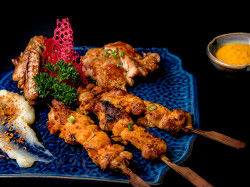 Non-Veg Platter
Our 19ft screen, free-flowing beer and food platters are just the right additions to make the game night all the more exciting. Feel the mood and cheer with like-minded cricket fanatics. Make the cricketing season with your gang memorable.
Deals during afternoon and evening match hours (Mon-Sun): 
Free flowing tapped Budweiser at Rs 899++
Bucket deal of five Budweiser beers at Rs 999++
Veg & Non-Veg platters at Rs 350/480++
Guess the winner! A lucky draw held on Fridays, Saturdays and Sundays where guests are invited to guess who they think will be the winner of the on-going match. Lucky winners get a free-flowing beer coupon that they can redeem during weekdays between Monday and Thursdays
Date: All through the IPL Season 
Venue: 1Q1 Kitchen & Bar, No.1, Express Building, Queens Road
Time: Only during the matches
Social brings you the perfect cricket experience with 8 amazing drinks
It is that time of the year again and everyone's ready to bowl a maiden (or 2) over!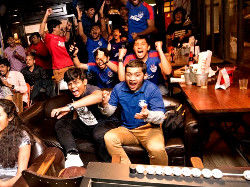 Cricket mania is here and Social's set to get their game on with their captains (read star bartenders) working round the clock to proudly present to you - #SocialStumps!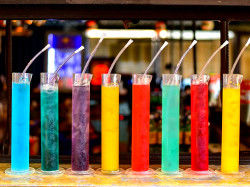 Their signature #LLIIT League is back again, with 8 amazing drinks to show your support for your city of choice with your crew!
The very Berry Bangalore concoction for all you 'Luru peeps, 
The fresh AF Sunny Chennai,
The citrus deliciousness of Hyderabad Hues,
The आमची awesome of Mumbai Mania,
The classy curacao of the Rajasthani Rani
The deep purple of Kolkata Nightcap.
The tangerine flavours of Crimson Punjab
The daily Delhi धमाका
Alongside are their offers on full bottles and unlimited cocktails aplenty! 
Plus, this year you get the chance to fulfil them childhood fantasies of being the Man of the Match! Social is tying up with Hotstar in Bangalore, Mumbai and Delhi for a VR experience so real, you'll swear that you felt that ball crack when you knocked it out of the stadium! Come on down for the cricket experience of your dreams, and get a pint of beer on the house if you hit 2 fours or a six!
Date: 23rd March- 19th May 2019 
Venue: Church Street Social, No-46/1, Cobalt Building, Church Street | Whitefield Social, 29, Phoenix Market City, Mahadevpura, Dyavasandra, Phase-II Industrial Area, Krishnarajapuram | Koramangala Social, 118 Koramangala Industrial Area, Koramangala 7th Block | Sarjapur Social, 7th Floor, Saket Callipolis, Sarjapur Main Road, Bangalore 560035 
Cricket, Food and Beers at Red Rhino!
The much-awaited sports series of the year is here and Red Rhino has a win-win offer for you. Head over to this beautiful brewery for a live screening of IPL and enjoy your favourite appetizers at half price during the day. You also get to enjoy their chilled craft beers at 2+1 all day long.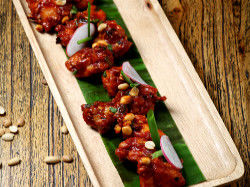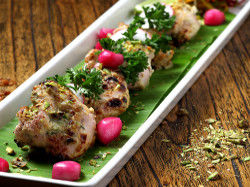 Munch on some Masala Paniyaram, Oriental Wedges, Poppers, Smoking Hot - Red Rhino Chilli Chicken and much more at half the price!
Date: All IPL Match Days 
Time: 03:00 pm - 07:00 pm
Venue: Red Rhino, 4th Floor, Uptown Square, Seegehalli, Near Alliance 10 Downing Villas, Hoskote Road, Whitefield
Celebrating Team Spirit @ Monkey Bar This T20 Season!
So, get ready to be bowled over this T20 season as Monkey Bar Team Spirit brings you to live screening of matches, contests, a special menu of regionally inspired dishes, amazing deals on cocktails and beverages, and a whole lot of fun. Monkey Bar is celebrating the spirit of cricket, the men who play the game, and the fans who make it all exciting, with a regionally inspired menu and special deals on cocktails and drinks.
Hyderabad Capt.Kheema, Chicken Googly_Team Spirit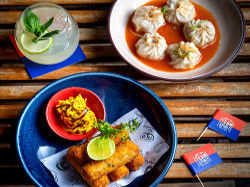 Kolkata_Pork Powerplay, Fried Riders, Toast to Calcutta_ Team Spirit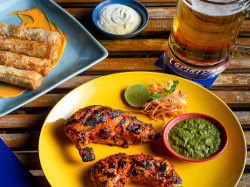 Punjab_Murgh of the Match, Skipper Rolls_ Team Spirit
From Kolkata Fried Riders to Hyderabad Capt. Kheema, from Bangalore Chicken Challenger, to Delhi Butter Chicken Bouncer and Chennai Kothu Super King, Rajasthan Lal Maas Royals and Punjab Murgh of the Match, dig into a special T20 cricket tournament inspired small plates menu at your nearest Monkey Bar.
Mangaa, Monkey Masala Soda, Made Men, Toast to Calcutta_ Team Spirit
Throw in a few drinks from the special priced signature cocktails menu from our home cities, including Mangaa, Toast to Calcutta, Mad Men and Monkey Masala Soda and you have a full-fledged party. For Rush Hour between innings, there are special deals on shots, select alcohol too!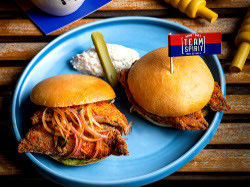 Bangalore_Full Toss Fish_Team Spirit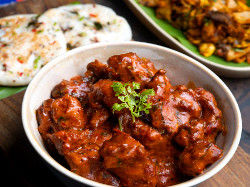 Chennai_65 Not Out, Kothu Super King_ Team Spirit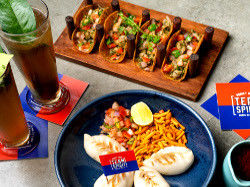 Mumbai_Gully Bao, Taco Indians, Monkey Masala Soda_ Team Spirit
The Monkey Bar Team Spirit menu offers dishes not only from our home cities of Mumbai, Kolkata, Bangalore and New Delhi but also a selection of special small plates from Hyderabad, Chennai, Rajasthan and Punjab, so, every fan can enjoy their favourite dish.

Date: Till the end of the IPL Season
Venue: Monkey Bar Bangalore, #610, 12th Main Road, HAL 2nd Stage, Indiranagar
This promotion is on at Monkey Bar Delhi, Mumbai and Kolkata as well.  
IPL fever at XOOX Brewmill
The much awaited IPL season is finally here and it is time to book your seats to watch the game on the largest and sharpest HD TV in town! Make your reservations at XOOX Brewmill for your game night and cheer away with your team.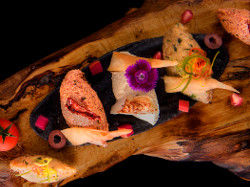 Mezze Fusion, Charcoal Pita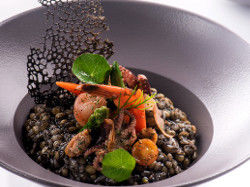 Squid Ink, Spelt and Barley Seafood Risotto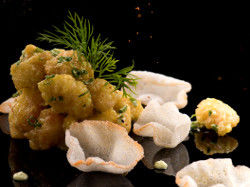 Wasabi Rock Prawns
Enjoy some fresh craft brews with Ghee Roast Chicken Pizza, Garlic Bread and much more.
Date: Till the end of the IPL Season 
Venue: XOOX Brewmill
Catch the cricketing extravaganza live at Gokulam Grand Hotel and Spa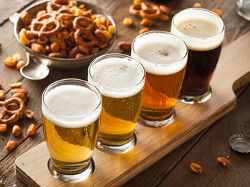 Feel the excitement reach fever pitch at Gokulam Grand Hotel & Spa and for this cricketing season head to Obsidian Sports and Music Bar at the hotel to enjoy offers on food and beverage that will keep you hooked to the game. The joy of watching cricket gets multiplied when you are with your squad, hoot for your favourite team and see the magic unravel every day on the field.
Enjoy unlimited house beer or IMFL with a vegetarian and meat-based snack at just INR 1444++. Buy two pints and get the 3rd for free; buy three pints and get the 4th and 5th free. There are a range of munchies like Lal March Paneer Tikka, Methi Corn Seekh Kebab, Hari Matter Ki Seekh, Tandoori Fruit Chaat, Achari Fish Tikka, Murgh Kasoori Kabab, Tawa Murgh, Achari Murgh, Kerala Tawa Fish and Basil Fish Tikka and more.
Date: Till the end of the IPL Season 
Venue: Obsidian Sports & Music Bar, Gokulam Grand Hotel & Spa
Smoor Launches Personalised Chocolate Bars this IPL Season

This season of IPL, Smoor introduces personalised bars available in 80% dark and Vanilla Milk.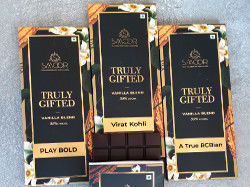 You can customise your luxury chocolate bars with funky messages and captions to cheer your favorite team. Print the names of your favorite players, perfect for gifting and fun. Available in all Smoor stores for Rs. 500 onwards.
Smoor Lounge, 100 ft road, Indiranagar - 080 25211901
Smoor Lounge, Forum Mall, Koramangala – 080 22067901
Smoor Lounge, Orion Mall, Malleshwaram – 080 22682150
Smoor Boutique, 1 MG Mall, Trinity Circle – 080 22086586
Chocolate D'Luxe, The Collection, UB City – 080 41214925
Smoor Boutique RMZ Ecoworld- Bangalore
Smoor Lounge, Phoenix Market city-Whitefield road
The Quad – KIAL Airport, Bangalore
*EazyDiner Promotional Feature*