Best Restaurants in Holiday Inn Chennai OMR IT Expressway, Chennai with 3+ deals
Enjoy 20% off on food bill
10% off on food & soft beverage
---
Exclusive
25% off on food & soft beverage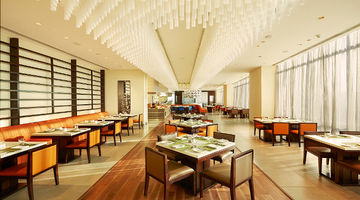 10% off on buffet
---
Exclusive
List of Other Popular Cuisine Restaurants in Holiday Inn Chennai OMR IT Expressway
---
Nearby Bookable Restaurants in Holiday Inn Chennai OMR IT Expressway
Latest Food Trends Related to Holiday Inn Chennai OMR IT Expressway
EazyDiner Highlights of Best Restaurants in Holiday Inn Chennai OMR IT Expressway
EazyDiner brings to your fingertips a treasure trove of 3 restaurants across the city just a tap away.
Among the many delicious cuisines that come under our list, the city's most popular restaurants that get the maximum reservations are Multicuisine or Cafe cuisine.
We offer a special EazyDeal with you every booking at EazyDiner. This ranges from 10% Discount or 25% Discount to certain percentage off on your Total Bill. Enjoy a EazySave Deals treat from our side with the treat you pay for.
Along with a problem free reservation at your desired place from a wide list of 3 restaurants in Holiday Inn Chennai OMR IT Expressway, get an added bonus of an amazing deal.
The best restaurants in Holiday Inn Chennai OMR IT Expressway gets judged by our very own Phantom and is credited with a fair review. The reviews are stated to guide you into making the right choice.
At EazyDiner we bring to you a wide range of bookable popular restaurants along with a diverse cost range beginning from ₹ 1000 to ₹ 2400.
Whatever is your budget at EazyDiner we have a wide range of restaurants to choose from. The low cost options start from ₹ 1000. The high range restaurants can cost up to ₹ 2400.