FIO Cookhouse and Bar
Nehru Place, South Delhi
This price is indicative and exclusive of taxes
Today, 12:00 PM to 12:30 AM
Epicuria, Nehru Place, New Delhi
7861004444
INSIDER TIPS
If you are on a date, take one of the tables beside the tall windows overlooking the terrace garden. They assure you dollops of privacy
Check out the books stacked up on the shelves if you are solo. The restaurant has a fairly up-to-date collection of food and drink books
This is one of the city's better-looking restaurants, so you will have plenty of reasons to shoot a selfie with your significant other
Fio Cookhouse may not be located in a manicured green sprawl like its sibling, Fio Country Kitchen and Bar, but it makes up for this loss by being located in a terraced garden that shields it from the vibrations of the Nehru Place Metro Station and gives it a sense of being a private island as well. And it transforms seamlessly from being a cool and casual fine-dining restaurant in the day to a high-octane party zone at night. Yet, it doesn't let one avatar overshadow its overall character – here is a restaurant that takes its food as seriously as its partying spirit. The menu is part-Italian, part-North Indian, and its Chefs take fish seriously (you know it when you ask for Fio's signature Olive Crusted Rawas and the Mahi Kasundi Tikka). Our favourites extend from Fio's Deconstructed Caesar's Salad (where roasted pumpkin lends the classic a zesty twist) and the pizzas (especially the one with smoked salmon, camembert cheese and chives) to Ananas Glazed Pork Ribs and Butter Beans, Mushroom and Spinach Roesti, to the unmissable Viennese Choco Raspberry Mousse and Tiramisu Jar.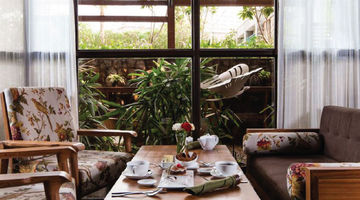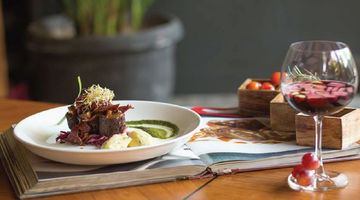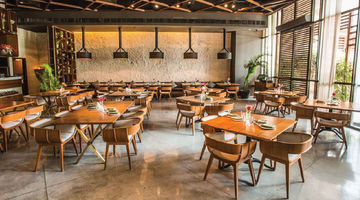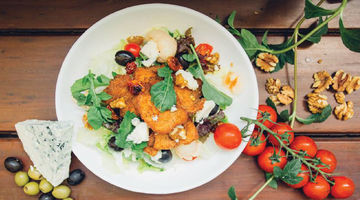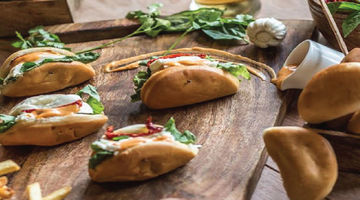 User Reviews on FIO Cookhouse and Bar , Nehru Place, South Delhi
---
Overall Rating
(Based on 70 reviews)
Powered By
Atmosphere
Food
Service
Value
---
SamarthModi
Posted on : 29 Jul, 2017

Kept an Eye Out
With a great ambience and location the amazing food was topped off by delightful service. With the staff keeping an eye out for everyone and helping the customers and the consumers whenever needed. The ambience and the music is top class, and there are no words to describe the service. Go and experience luxurious food and a royal sense of help.
---
srilekhab2017
Posted on : 11 Jul, 2017

Good Food & Best Service
The personalised service received during our lunch was amazing. The food is prepared to give some authentic Mediterranean/ Italian experience.
---
Anjali C
Posted on : 10 Jul, 2017

Horrible Experience
Went for lunch yesterday 10/7/17 with 3 college friends, to NEVER EVER GO AGAIN! On a hot and humid day you obviously decide to eat in an airconditioned restaurant. We all have eaten here before too. One of the worst experience we had yesterday. The place had too many flies, yes too many flies annoying you - buzzing around you, on your food, glass, in your drinks glass. All the 2 hours we were there we were shooing them away. Moreover, the other table people left they switched of the AC. Within minutes we started feeling hot. We had to ask them to switch on the AC. Believable!!! A person, presumably a manager came to defend when we were continuously asking for getting rid of the flies. He got 2 candles placed on the table saying they will shoo away the flies. Trust me the candles was of no use! Finally a racquet was asked for by us and then I dont know how many flies were exterminated, and more kept appearing. The reason for flies was that they had a big party on Sunday night and they did fumigation after that. To let out the smell they had o leave the doors open! We said why did you not shut the place for lunch? A very bad experience and it was sheer mental torture. Will never ever go again!!!! Please check the place before you decide to eat here!
---
SBTraveller-Explorer
Posted on : 27 Jun, 2017

Fantastic Lunch Spot
We came here as a group of 8 for lunch and all of us left well-fed and happy. The veg appetisers were delicious, the pizzas enormous, and cocktails/ sangria all had interesting and different flavours. Staff are friendly, if sometimes a little slow, but we would thoroughly recommend this place for lunch/ dinner!
---
guptaratika
Posted on : 14 Jun, 2017

everything excellent
This place is a sheer delight in terms of ambience, service, staff and food of course. the preparations and presentations are immensely appealing and their portions are good too. staff and manager are very considerate and polite. clean and roomy bathrooms.
---
BOOK A TABLE
Earn Free Meals

Earn 100 EazyPoints per person on every booking and get closer to your free meal.
Know more
About FIO Cookhouse and Bar, Nehru Place, South Delhi
Al fresco dining has caught on Delhi like fire. The residents are preferring to dine outdoor than spending time cooped up inside four walls. The idea of eating under awning of stars and breathing in the crisp smell of trees has taken a root in the society. FIO cookhouse & bar at Epicuria at Nehru place is one such paradise. Serene place and lighted pebbled pathway leading to your seats leaves a sense of mystical romance. Hand in hand as you walk down the trail with your partner builds anticipation for the surprises to come. As you come to the seating expanse the sight that meets your eyes is unbelievable. Wooden tables dotted all over the courtyard prettily are lighted with dim candles. Overhead strings of fairy lights twinkle away adding to the romance.
The staff approaches and lead you to your seats, handing the menu in a courteous way. Soups and salad section hosts wonderful combinations. Mushroom & thyme, Fio casa salad, pollo pomello salad, minestrone pimentos soup are all delicious. Between the courses bread basket is accessible to keep you occupied. The starters like country bruschetta, chilli garlic butter prawns, polenta crusted calamari, phylo tazza are readily cooked in the kitchen. If Italian is the way you want to go then various pizzas and pastas are on the menu. Take advantage of little gnocchi which are tiny pillows of potato tossed with sun dried tomatoes, pesto and nuts. By the time main course is ordered you are heady with expectation. The restaurant serves contemporary cuisine so Ananas glazed pork chops are recommended. Vegetarians can opt for roesti primavera as it is too yummy with crisp potato pancake and exotic vegetables. For modern indian food rajmah ki gilauti and kosha murg offers lot of potential. Violet cheesecake jar is the final finishing touch to a superb meal. Fresh baked 15 min cake has earned lot of praises too.
All in all FIO cookhouse is a moderately expensive restaurant yet very much in demand. On lazy winter days the open courtyard seems attractive for the customers. So make a booking before visiting. This place is meant for both family and intimate dinners. It's large enough to organise both the parties at the same time without losing its peacefulness.
Other Relevant Links To FIO Cookhouse and Bar , Nehru Place, South Delhi
Other Italian Restaurant Menus in Delhi NCR
Food Articles and Trends where FIO Cookhouse and Bar is Featured
Other Branches / Outlets of FIO in Delhi NCR