Onam is a harvest festival, and appropriately enough, Onam Sadhya showcases the astounding diversity of produce that Kerala is blessed with. This feast is an indispensable part of Onam celebrations and usually features nine or more courses of delicious vegetarian fare. Here is a look at some of the best places to savour a traditional Onam feast in Hyderabad.
Whether it is Sakranti or Ugadi or Onam – when it comes to celebrating festivals from the southern states, Dakshin at ITC Kakatiya is always an impeccable choice.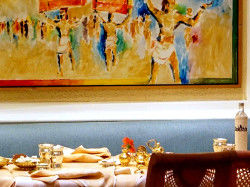 Dakshin's exquisite décor inspired by temples of Southern India and the mellifluous classical music sets the right tone for a festive meal with your friends and family. On 11th September, Dakshin will be offering an Onam special Thali during both meals for Rs. 2100 (plus taxes).
Simply South by Chef Chalapathi Rao has crafted space of its own amidst city's food lovers. The flagship Film Nagar outlet will be serving an Onam Sadhya Thali on 10th and 11th September for Rs. 649 (plus taxes).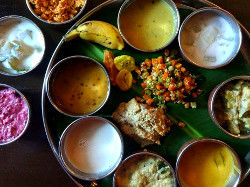 The Thali will feature two dozen dishes and accompaniments including Avial, Olan, Vellarika Moru Curry, and Erissery. The Hitec City outlet will be offering an Onam special buffet on 11th September for Rs. 599 (plus taxes).
Ohri's Uppu, Banjara Hills, Hyderabad
Uppu, the latest in Ohri's bouquet of restaurants, has made its mark in a short while with its excellent portrayal of the culinary traditions of the Southern states.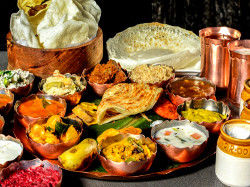 Celebrate the bounties of the harvest with Uppu's special Onam Thali that will be available from 11th to 13th September at Rs. 425 (plus taxes). While Onam feast is traditionally vegetarian, Uppu has also curated a non-vegetarian Kerala Thali, priced at Rs. 525 (plus taxes), for the meat lovers.
Collage, Hyatt Hyderabad Gachibowli
On the afternoon of 11th September, diners at Collage by Hyatt Gachibowli can choose between a lunch buffet or a curated Sadhya meal. The usual Collage buffet will be augmented with an Onam station serving traditional Malayali dishes. The PDR will be reserved for guests who wish to enjoy a specially curated Onam set-menu featuring Pulissery, Erissery, Aviyal, Thoran, Ada Pradhaman, and more. The Sadhya will be priced at Rs. 2000 (plus taxes).
Incredible One Hotel, Paradise Circle, Secunderabad
Incredible One Hotel in Secunderabad's Park Lane is hosting a Kerala food festival to celebrate Onam. The lunch buffet will be available from 11th to 13th September, while the dinner buffet is available until 15th September. Expect to see vegetarian and non-vegetarian delights such as Koon Ulli Theyal, Avial, Alleppey Meen Curry, and Malabar Mutton Curry. The buffet is priced at Rs. 450 (all-inclusive).
Pepper Treats, Gachibowli, Hyderabad
Pepper Treats is a humble diner in Gachibowli that is known for serving lip-smacking food from God's Own Country without pinching your pocket. Its Sadhya lunch will feature two dozen traditional delicacies including Thoran, Avial, Kalan, Olan, Erussery, and Pal Payasam for Rs. 375 (all-inclusive). The nondescript dining room has only about half a dozen tables, so reserving your table in advance is highly recommended.